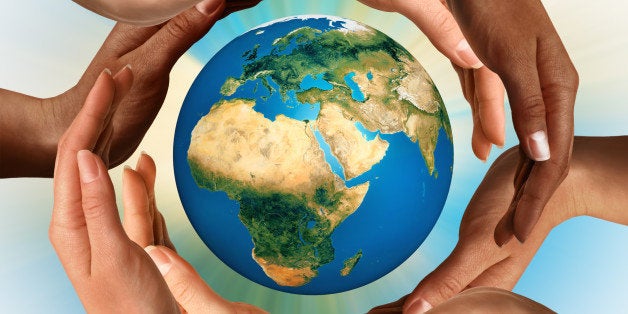 "If we become a gay affirming church, I will step down." These are the words I told my congregation after I disclosed that I had become affirming of same-sex relationships. It seemed like a contradiction. Many people were surprised by my statement since they assumed that this is what I had wanted, but my deeper hope was motivated by Jesus' prayer -- that, even in the midst of our differences, we would be one.
The past few months and years, the church has become increasingly polarized on the LGBT debate. We have neglected to see the importance of what Jesus prayed. Our churches have become dysfunctional and our witness has diminished. So at the core of our church's discernment process has been -- how we should live out the high priestly prayer. Jesus believed that unity is the very thing that would cause the advance of his kingdom. It is not only the believing that there is only one Lord, one baptism, and one body of Christ, but it is to live it out in practice. This unity doesn't assume we will agree on all things. But it does assume that those who have come to faith in Christ are part of the "one faith, one baptism." And yet, each Sunday our churches are segregated by our theological and verbal disputes. And each Sunday, Christians are excluded from the table because of our disagreements. As I've wrestled with Jesus' high priestly prayer, I can't help but see that the bigger question is -- how do we practice what Jesus prayed? How do we welcome members of the LGBT community even if we are not all in agreement on same-sex marriage?
It was because of this question that four months ago, our church decided to adopt the so called Third Way. We wanted a place that affirmed that there is only one body, one Lord and one faith. We wanted a place that acknowledged the deep disagreements and yet the safety to be able to talk intentionally and lovingly through those differences. We wanted to affirm that we had a shared brokenness and the way of discipleship was not to move away from one another, but with one another.
As our church was in the dismissal process, I was invited to attend the executive director's yearly meeting in Nashville. I explained to them that the Third Way was possible because the SBC, in regards to Article XV, was already a Third Way denomination. I stated that we all knew pastors who were officiating remarriages in our denomination that were the result of non-permitted divorces. And according to the SBC, this constitutes adultery. Therefore, the act of officiating these remarriages was in direct contradiction to Article XV. And yet, we don't dismiss the churches where these remarriages are taking place. In fact, within the same church, there are some pastors who hold the traditional view and therefore will not officiate these remarriages, and there are some pastors who will. These churches practice a third way where they give space to disagree. We don't draw a line of separation. We know how to extend grace to couples who are in these marriages. We know how not to condemn, even in the midst of disagreement. And my request was that we extend this same grace to LGBT couples. Because to not extend grace is to grant straight privilege. It is to say that in our Baptist practice we will agree to disagree on straight issues but not on LGBT ones.
Jesus speaks to the inconsistency of judgment when he taught, "Why do you look at the speck of sawdust in your brother's eye and pay no attention to the plank in your own eye? How can you say to your brother, "Let me take the speck out of your eye," when all the time there is a plank in your own eye?" As the body of Christ, we must practice consistency on how we administer grace.
When I met with Dr. Albert Mohler, he expressed that to accept the Third Way would eventually lead to gay affirmation. In a recent article he posted he stated the following in response to our meeting: "[Danny Cortez] is a gracious and kind man who really seems to believe that there is a third way in this situation -- but who also admits that the third way is not a lasting destination. (emphasis mine)" I feel as though Dr. Mohler incorrectly stated that I had conceded that the third way is not a lasting destination. In actuality, I agreed that there may indeed be churches who enter into a Third Way dialogue that will land on gay affirmation. That being said, I still maintained that there will be churches that never land at all. I explained that the Third Way wasn't so much a destination but a journey. And that every church will have a different nuance on the conversation. However, the important goal is that we journey together.
This is not to say that it will be easy. Since our church became a Third Way congregation, we have had monthly meetings in the backyard of a member's home. And around the fire pit we talk openly about the theological disagreements we have regarding same sex relationships and other matters of controversy. There are evenings where the discussion is hard and emotionally felt. But at the close of the evening, we are able to look across the circle and acknowledge, "You are family. I am committed to you. I am committed to the body of Christ." And at the end of the night, there is wonder and amazement, that we have not only survived another day, but that the Spirit of God is teaching us how to love more deeply. There is beauty in giving a safe space to one another to be in process.
There are many sins we can point to as an indicator of the demise of our faith. We can look at all manner of sexual sins and violence and greed. But I believe the biggest impediment to fulfilling the great commission is the disunity of the church. Our disunity prevents the world from identifying the body of Christ, from seeing us as Jesus says the world should see us. This disunity is keeping us from coming alongside one another in our shared fallenness and redemption. We can't do discipleship alone. We need each other. But we have embraced segregation as normative. We have allowed our disagreements to separate us. Our fire burns unconvincingly. We minimized the high priestly prayer. And our message is no longer beautiful.
Our hope is that the whole body of Christ would see that this debate will not be won through words, but rather a posture of humility, a willingness to admit we may be wrong, and an intentionality toward fellowship. It is the apologetic of love that must be upheld. As Paul says, "Make every effort to keep the unity of the Spirit through the bond of peace." After all, "there is only one Lord, one faith, one baptism." We belong to one another and our refusal to live out how God sees us dishonors our Lord.
So I write this in the spirit of the Third Way -- to acknowledge the disagreement, to clarify our position, but to also embrace the oneness of the body. I admit that I hold differing views with Albert Mohler, and yet I want to state clearly that I affirm his faith and deep desire to know God. I uphold him as a brother. So I pray that every member of the body of Christ would keep from disparaging remarks. And I pray we learn to live as one. Let us move towards celebrating our solidarity through listening, forgiveness, and fellowship.
"Make every effort to keep the unity of the Spirit
through the bond of peace. There is one body and one Spirit,
just as you were called to one hope when you were called;
one Lord, one faith, one baptism; one God and Father of all,
who is over all and through all and in all."
--The Apostle Paul
"I have given them the glory that you gave me, that they may be one
as we are one -- I in them and you in me --
so that they may be brought to complete unity.
Then the world will know that you sent me
and have loved them even as you have loved me."
-- Jesus
Support HuffPost
The Stakes Have Never Been Higher
Related
Popular in the Community