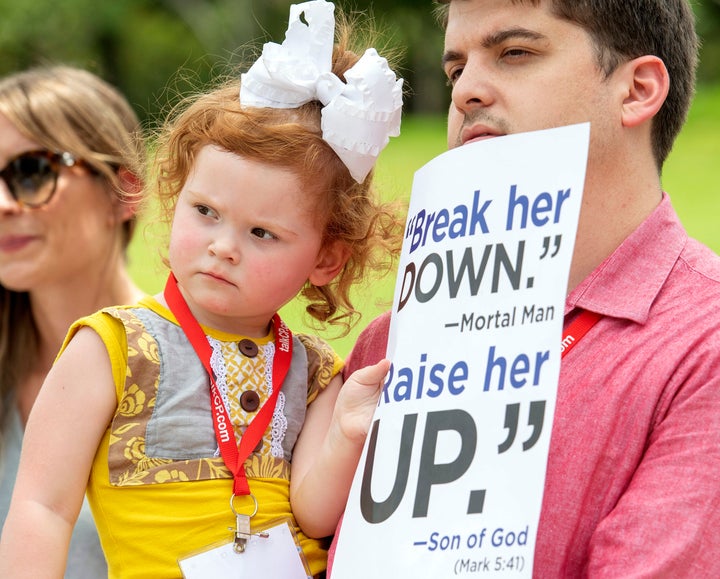 Leaders of the Southern Baptist Convention, the second-largest faith group in the U.S., have vowed real "change" in the aftermath of a damning investigative report by the Houston Chronicle and San Antonio Express-News that uncovered decades of sexual abuse by hundreds of church leaders and volunteers.
According to the three-part investigation, the first installment of which was published on Sunday, about 380 Southern Baptist pastors, ministers, youth pastors, Sunday school teachers, deacons and church volunteers have faced allegations of sexual misconduct since 1998. More than 200 of them have been convicted or took plea deals, the newspapers reported, and nearly 100 are currently in prisons across the nation.
The victims of the accused number more than 700, the report said. They include teenagers and children, some as young as 3, who were "molested or raped inside pastors' studies and Sunday school classrooms."
Many victims said their stories of abuse were ignored or silenced by church leaders. One victim, who alleged she was raped and impregnated by her pastor when she was a teen, said her church leaders had urged her to get an abortion. When she refused, they threatened her and her child, she said.
Dozens of pastors, employees and volunteers were reportedly allowed to return to work in Southern Baptist churches despite being dogged by sexual abuse allegations.
In the aftermath of the Chronicle's and Express-News' report, leaders of the Southern Baptist Convention have promised to crack down on abuses in the church and to provide a safe space for victims to come forward.
In a multipart tweet on Sunday, J.D. Greear, SBC's president, said he was "broken" by news of the rampant sexual abuse and vowed to "pursue every possible avenue" to "stopping predators in our midst."
"We — leaders in the SBC — should have listened to the warnings of those who tried to call attention to this," Greear wrote, though he did not indicate whether he had been approached personally by victims. "I am committed to doing everything possible to ensure we never make these mistakes again."
"As a denomination, now is a time to mourn and repent," Greear added. "Changes are coming. They must. We cannot just promise to 'do better' and expect that to be enough. But today, change begins with feeling the full weight of the problem."
Russell Moore, president of SBC's Ethics and Religious Liberty Commission, said in a blog post on his website that "no church should be frustrated" by the newspapers' reporting but should instead "thank God for it."
"The report is alarming and scandalous, the courage and grace of these survivors is contrasted with the horrific depravity of those who would use the name of Jesus to prey on them," Moore wrote.
Michael Criner, senior pastor of the First Baptist Church of Bellville, Texas, tweeted that he was "grieved" by the report and called for change in the convention. Hance Dilbeck, the executive director-treasurer of the Baptist General Convention of Oklahoma, said in a statement that he welcomed the investigation's findings.
"Jesus teaches us to be more critical of ourselves than we are of others. In as far as this article helps us to deal more honestly and clearly with sexual abuse in our churches, and more redemptively with survivors, I welcome it. We need strong voices from within our fellowship and from the outside pushing us to strive to do better," Dilbeck said.
In his blog post, Moore insisted that "church autonomy is no excuse for a lack of accountability."
"Yes, in a Baptist ecclesiology each congregation governs its own affairs, and is not accountable to anyone 'higher up' in a church system. And yet, the decisions a church makes autonomously determine whether that church is in good fellowship with others. A church that excuses, say, sexual immorality or that opposes missions is deemed out of fellowship with other churches. The same must be true of churches that cover up rape or sexual abuse," he wrote.
Popular in the Community