With summer looming on the horizon, it's time for us Southern Californians to start planning those adventurous day trips that -- for some reason having nothing to do with the weather -- are easier to accomplish this time of the year.
To help you with your aesthetically pleasurably travels, we've compiled 11 of our favorite art destinations in the SoCal area, waiting just outside the art capital that is Los Angeles. From a U.F.O. abductee's dome to a ceramics museum to a survivalist habitat, these are the art spots too weird and wonderful to exist in L.A. (And the best news is, a lot of them are located outdoors.)
From the hidden gems to the established sites you've been meaning to check off your list, these are the creative locales only a car ride away and most definitely worth the trip. Behold, 11 art destinations waiting just outside the City of Angels.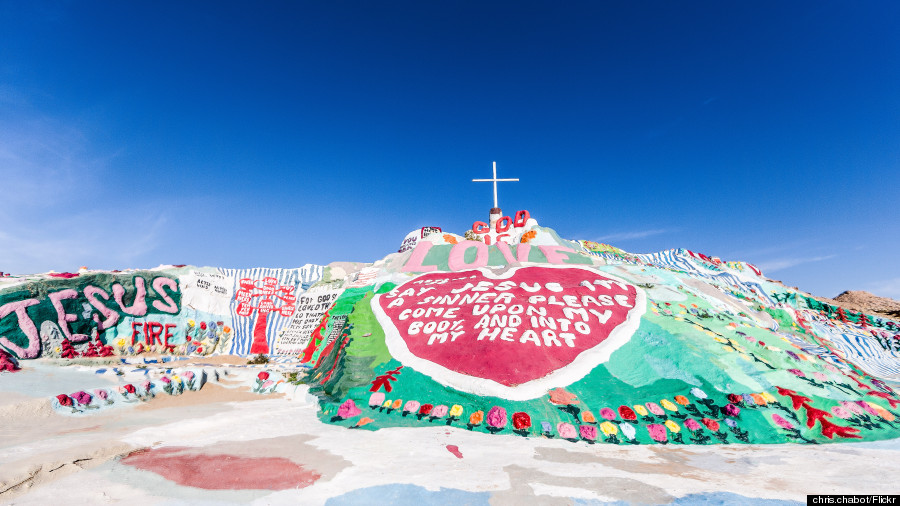 At 50 feet high and 150 feet wide, Salvation Mountain is an outsider art mecca in the middle of the SoCal desert, located about 90 minutes from Palm Springs. The colorful folk piece, created by the late Leonard Knight, combines religious scripture with an onslaught of colorful trees, flowers, suns and birds. It's made entirely of local clay, donated paint, and lots and lots of love. (Salvation Mountain, Niland, CA 92257)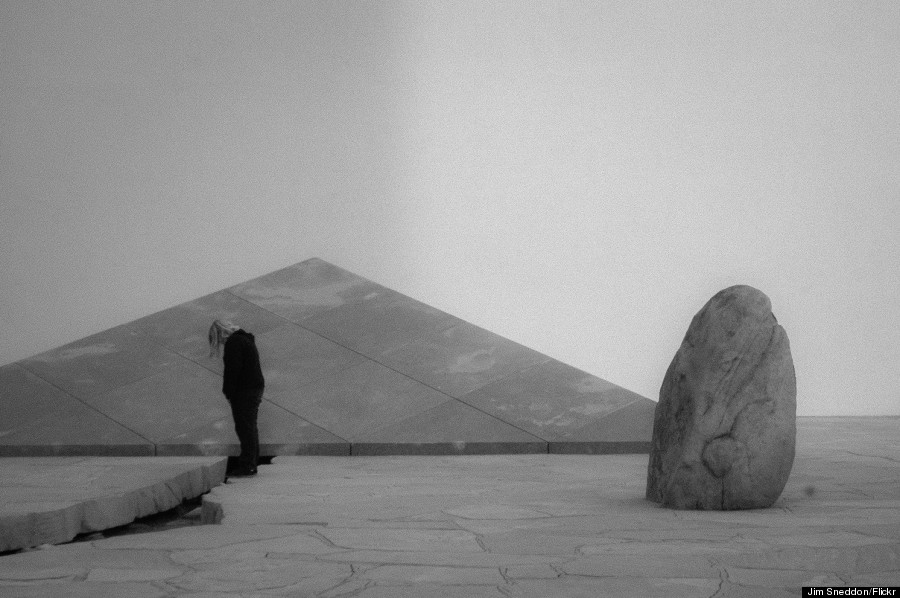 This hidden sculpture garden in Costa Mesa was made by Japanese-American artist Isamu Noguchi, hence its nickname, "Noguchi Garden." The gem, surrounded by corporate office buildings, is a peculiar work of urban earth art and an open plaza apt for rock-jumping. The peaceful, safe space is a magical way to experience the tranquility of nature in the most unexpected of scenarios. (611 Anton Blvd., Costa Mesa, 92626)
3. Museum of Contemporary Art San Diego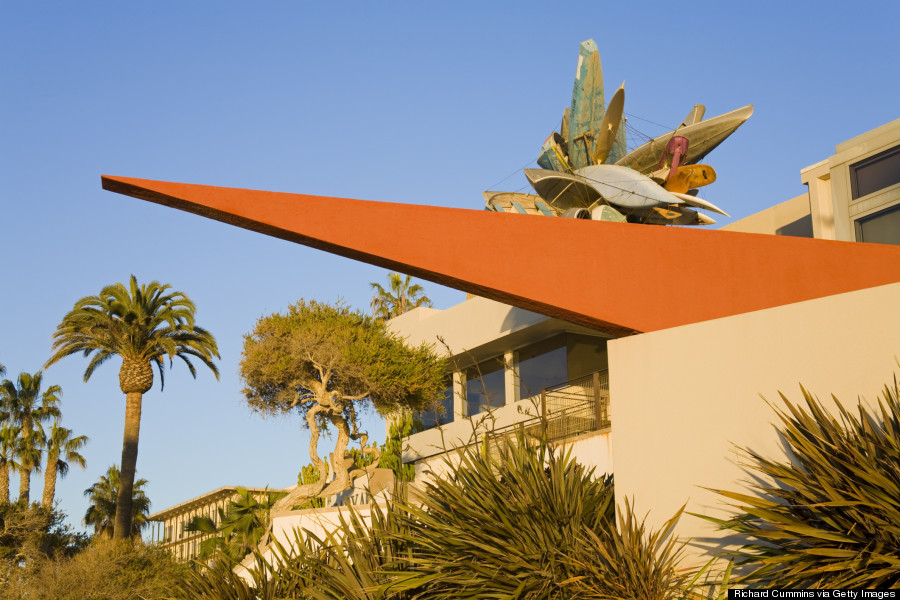 Located in La Jolla, the three acre oceanfront MCASD is a sunny alternative to L.A.'s MOCA. This summer, head over to watch Tim Youd retype the entirety of Raymond Chandler's "The Long Goodbye" and, at the downtown location, see James Drake's "Anatomy of Drawing and Space (Brain Trash)," a maddening compendium of 1,246 drawings, all made in the past 2 years. (MCASD La Jolla, 700 Prospect Street, La Jolla, CA 92037)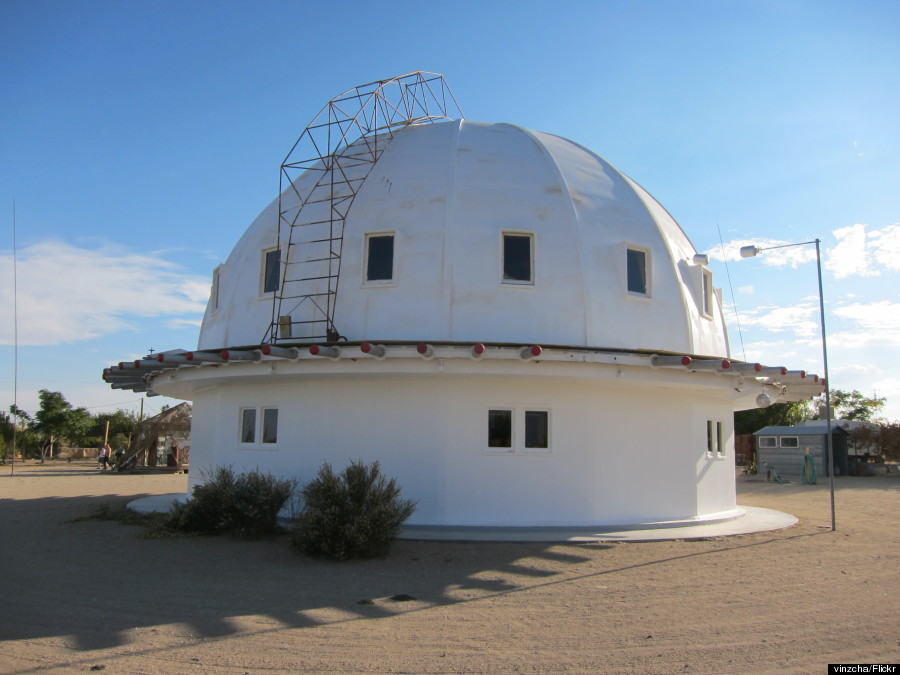 Located in Landers, CA, the Integratron is a dome built in the 1950s by self-proclaimed U.F.O abductee George Van Tassel. Reportedly made following the instructions of inhabitants of planet Venus, the space is supposed to be capable of rejuvenation, anti-gravity and time travel. More realistically, a visit to the dome could feature a U.F.O. convention, yoga, skywatching, an '80s rock concert or a "sound bath," which sounds cooler than time travel in our book. (2477 Belfield Blvd. Landers, CA)
5. Museum of Latin American Art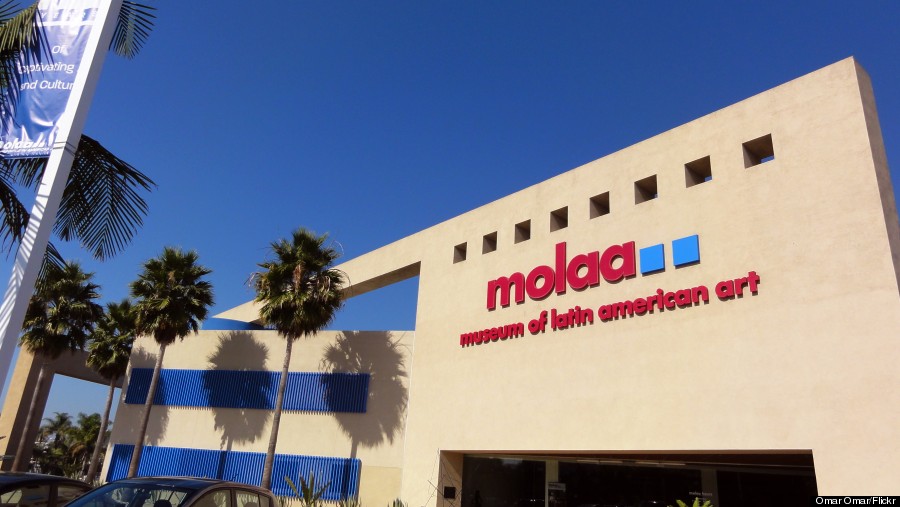 Located in Long Beach, MOLAA is the only museum in the country dedicated to modern and contemporary Latin American art. The space features a 15,000 square foot sculpture garden featuring works by artists including Los Carpinteros and Tunga. Head there this summer to see an exhibition dedicated to Frida Kahlo's personal photography collection. (628 Alamitos Avenue, Long Beach, CA 90802)
6. Elmer Long's Bottle Ranch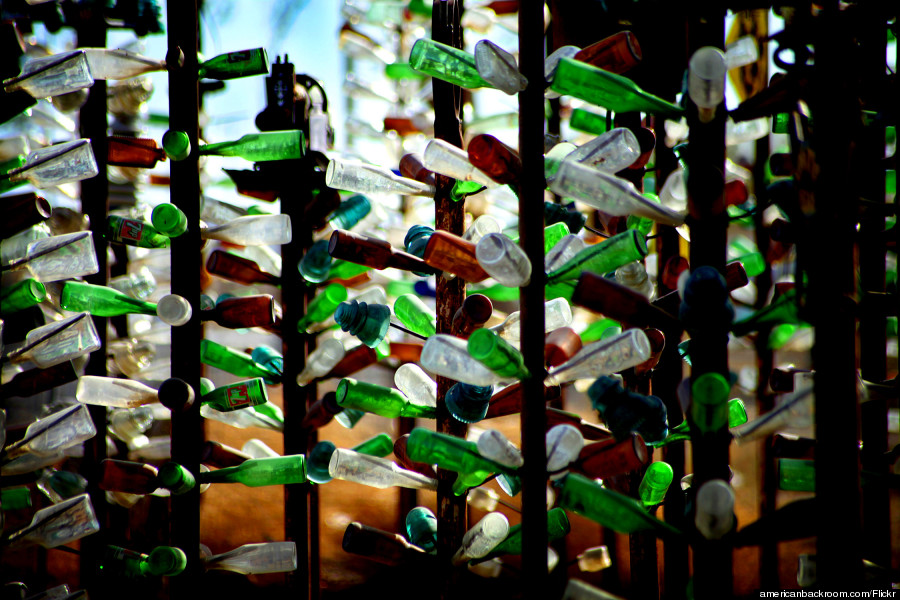 Where recycling, nature and art collide, Elmer Long's Bottle Ranch features over 200 trees made from glass bottles of all shapes, sizes and colors Long collected with his father when he was a child. Long himself now spends time at the obscure art space he's created, sharing his stories with all who pass by the bewitching desert stop. Visitors can enter for free and listen to the trees as they swirl and clank in the wind. It's located between Victorville and Barstow on Route 66. (24266 National Trails Hwy, Oro Grande, CA 92368)
7. Noah Purifoy Outdoor Museum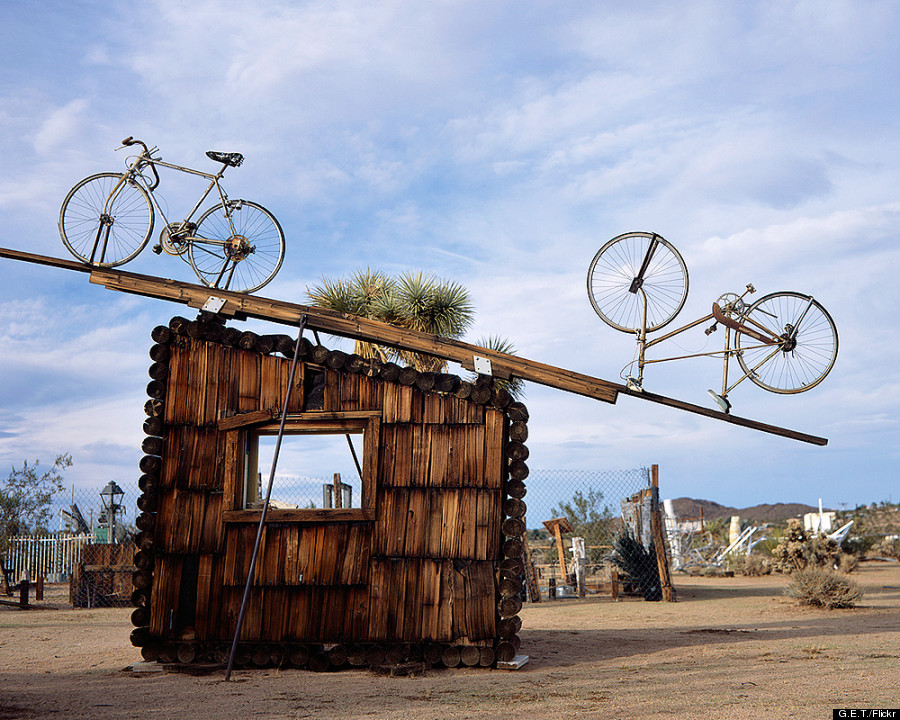 Measuring in at seven and a half acres of open land, the Noah Purifoy Outdoor Museum, located in Joshua Tree, is a desert oasis of assemblage sculptures made by Purifoy between 1989 and 2004. First working with material from debris from the 1965 Watts Rebellion, Purifoy later expanded to focus on found materials in general to create social change. His sculpture garden, made from beautiful junk, resembles an alien desert oasis made of objects that look slightly familiar yet ultimately unrecognizable. (63030 Blair Lane, Joshua Tree, California, 92252, United States)
8. Anza Borrego Desert Park Sculptures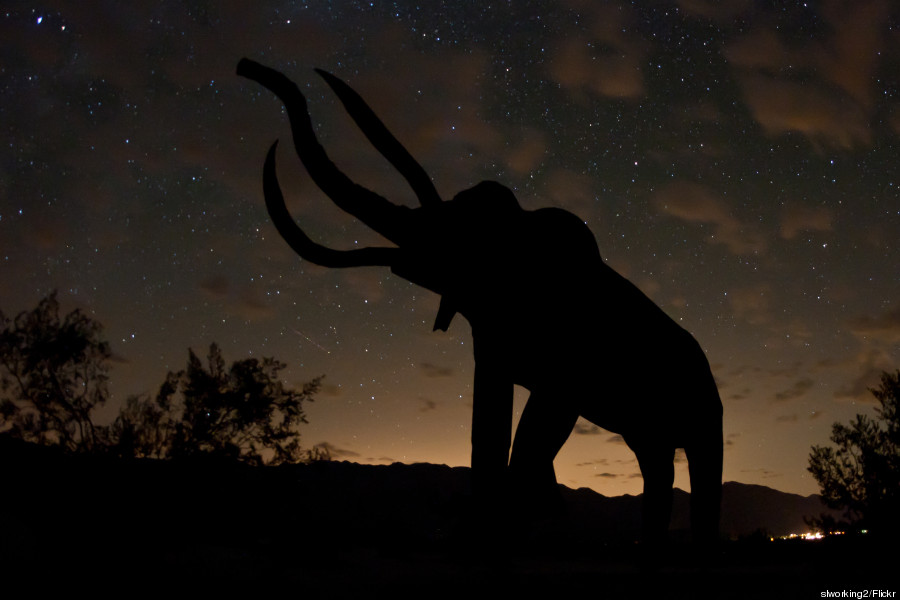 Thanks to fossils found in the Anza Borrego area, we know creatures ranging from Ground Sloths to Sabertooth Cats once roamed the now desert in its greener days. Artist Ricardo Breceda combines history and myth with his series of animal sculptures depicting the habitat's current denizens, extinct species and imaginary friends with equal beauty. It's hard to tell which of the 130 looming rusty sculptures are real and imagined, but that's just the point. (200 Palm Canyon Dr, Borrego Springs, CA 92004)
9. The American Museum of Ceramic Art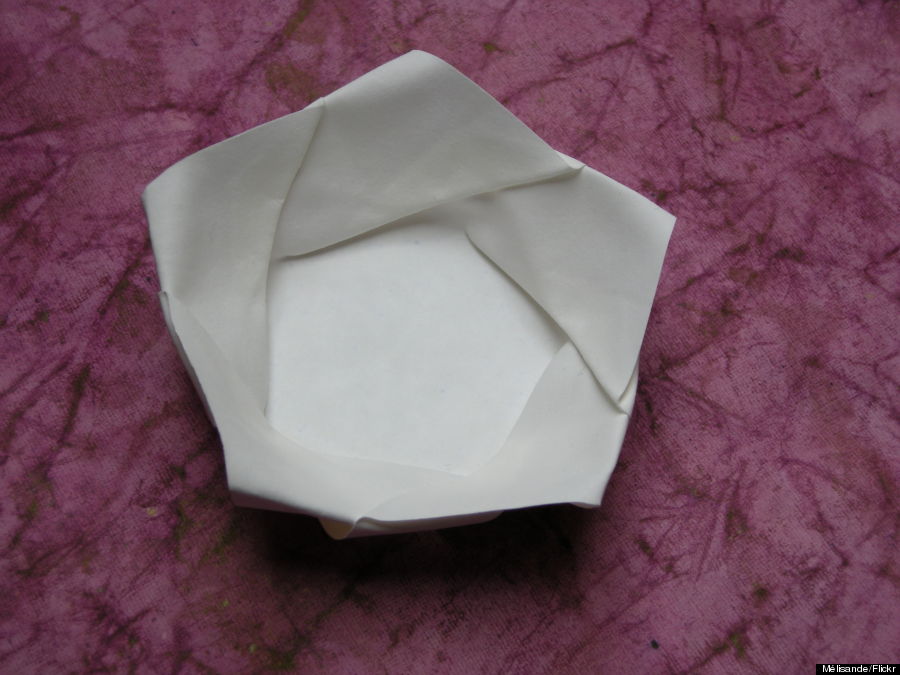 If you have a soft spot for all things clay, The American Museum of Ceramic Art is one of the few places in the country you can truly nerd out. Since it opened in 2004, AMOCA has exhibited ceramic artworks from the Arts and Crafts Movement, the '60s Clay Revolution and the current Studio Pottery Era. Head there now and you'll see an exhibition of high school ceramicists alongside heavyweights like Jamie Bardsley. (399 North Garey Ave. Pomona, CA 91767)
10. World Famous Crochet Museum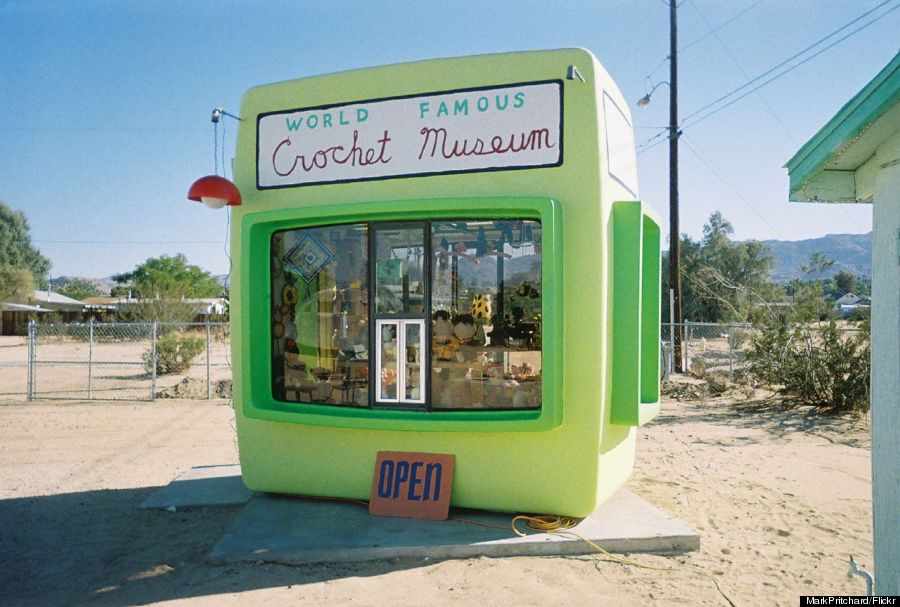 Located in Joshua Tree, the World Famous Crochet Museum is exactly what it sounds like, boasting crocheted treasures including oreos, Humpty Dumpty and kangaroos, among other things. The space is curated by Bunny, a crocheted alligator who doesn't know how to crochet herself, she's just a fan. (61855 Hwy 62, Joshua Tree, CA 92252)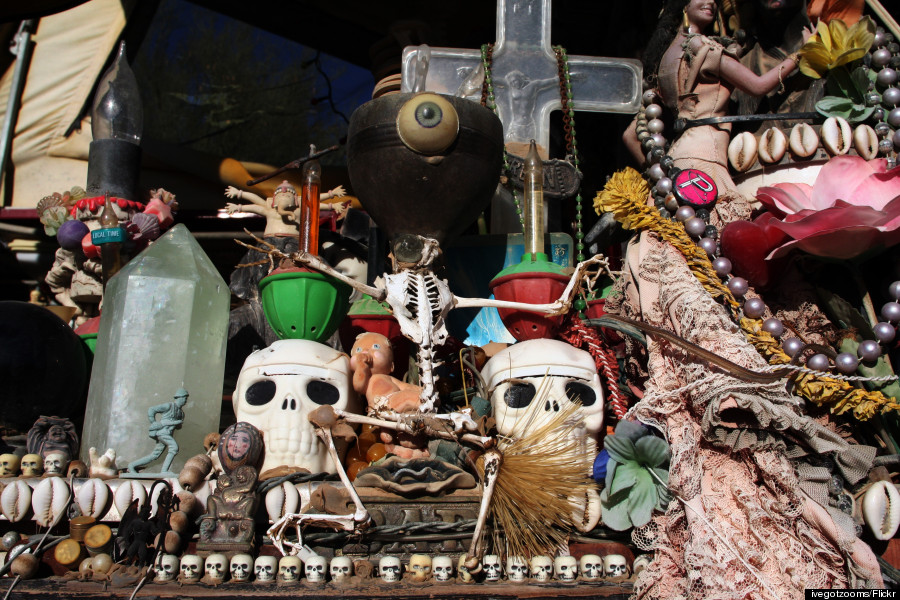 East Jesus, the brainchild of the late Charles Russell, dubs itself an "excarnation of mutation, of our dead gods, of our earliest dreams of escaping the sea... a reverse-engineered Garden of Eden." The experimental site, made entirely of salvaged and recycled materials, surrounds a revamped shipping container in the desert, transforming it into a refuge for artists, survivalists, scientists and wanderers of all kinds. (23 Sidewinder Rd, Niland, California 92257)
Calling all HuffPost superfans!
Sign up for membership to become a founding member and help shape HuffPost's next chapter