It was about 9:30 a.m. Wednesday, and Ventura resident Matthew Fienup was driving up the 101 Freeway to Santa Barbara.
In the previous days, several fierce and unpredictable fires had erupted in two of Southern California's most iconic counties, Ventura and Los Angeles, and more would follow in the days to come.
Driving north along what's typically a stunningly beautiful stretch of California coast, Fienup could see a wall of fire to the right of the freeway. As he passed Faria Beach, about 15 miles north of the city of Ventura, there was some hope. The large palm tree nursery that's visible from the freeway was still there. When he drove back two hours later, it was gone.
"It wasn't just on fire, it was gone. It had entirely burned down," Fienup recounted.
Fienup is the executive director of the Center for Economic Research and Forecasting at California Lutheran University. As a Ventura resident and an economics researcher, he's watched in horror as the Thomas fire has devastated the land he calls home.
The Thomas fire is the largest and most uncontrolled of five major blazes that have hit Southern California in the last week. Combined, the fires have burned through more than 250,000 acres in multiple counties and have affected more acreage in Southern California in one week than the 21 massive blazes combined that ravaged the northern part of California throughout the month of October.
The devastation the fire has wrought on the Ventura economy, Fienup says, will be felt for years.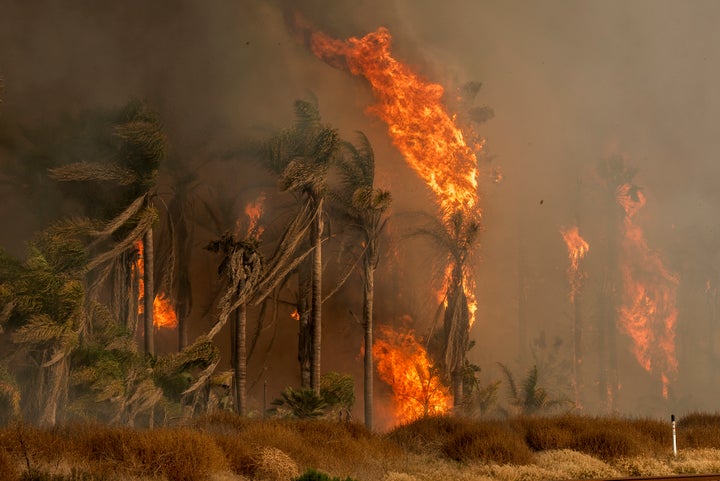 Ventura County is covered with orchards, mostly growing avocados and citrus. The city of Ventura alone has nearly 7,000 acres designated as agricultural land. Fruit produced in the region is marketed mostly through large packing and shipping companies and distributed all across the country.
It's still too early to assess the complete effect of the wildfires on the local agriculture industry, but what's clear already is that the damage will be significant, John Krist, chief executive officer of the Ventura County's Farm Bureau, told HuffPost.
The Thomas fire swept through hillsides containing thousands of acres of avocado groves between Ventura and the neighboring city of Santa Paula. Krist gauged that probably at least several hundred acres had been damaged or destroyed.
Portions of the fire that reached into Carpinteria and Ojai also blazed through land heavily planted with avocado and citrus orchards. The CEO suspects there were also major losses in the orange and mandarin orchards on slopes above the Ojai Valley, where fires wreaked havoc last Wednesday night.
As of Monday evening, the Thomas fire was still just 20 percent contained and actively spreading into neighboring communities.
It will take some time before growers can fully assess how much of their crop they ultimately lost, and the devastation may not be limited to burn areas.
Farmers have experienced significant losses as record high Santa Ana winds, which have fueled the fires, have also flung fruit off the trees.
Growers will also have to repair damaged irrigation systems and monitor the denuded hillsides that could give way to mudslides and debris flows once the winter rain arrives.
Farmers will ultimately have to wait several weeks before deciding what to do with the scorched trees. "Some may look terrible now but recover. Others that appear to have suffered only moderate damage may collapse later when stressed," Krist said.
It isn't necessarily difficult to replace damage trees, he noted. But it could take up to five years before a new tree starts bearing fruit.
It's one thing for a natural disaster to hit an area with a strong economy, but in a place like Ventura, which was was already experiencing economic hardship, the repercussions may be devastating.
Ventura's agricultural industry had been struggling in recent years, hit hard by California's record drought. While the drought officially ending in the rest of the state in April, it is ongoing in Ventura. In addition, the local agricultural industry had a hard time adapting to new regulations on the chemicals that can be used on farms, as well as overtime and minimum-wage standards. All of these factors contributed to reduced crop yields in recent years.
"Ventura County is uniquely unhealthy compared to neighboring counties," Fienup said. "That's where a natural disaster of this sort is really troubling. I don't think Ventura County is well-positioned to absorb an impact of this size."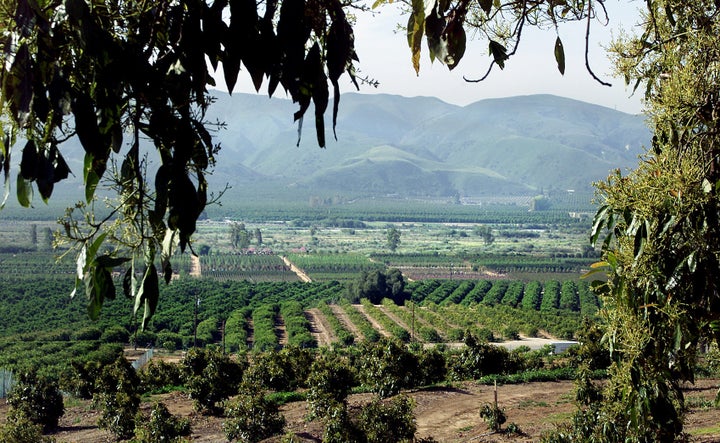 He said the county's recovery will likely be "slow and difficult" and pointed to the Tea fire that destroyed 210 homes in the nearby community of Montecito in 2008. As of 2016, 31 percent of the homes destroyed in that fire still had not been rebuilt.
If there's anything that gives Fienup hope right now it's that Ventura County "has a very strong community identity."
"It's the cohesiveness of that community that I think gives it real strength," Fienup said. "There have been amazing examples of generosity as people reach out to those who have lost their homes."
But, he added, "the economic reality is much less hopeful."
Popular in the Community