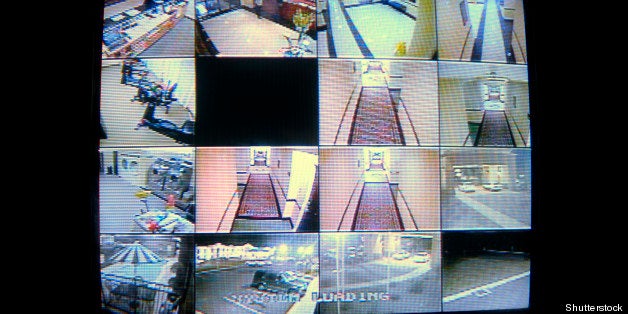 If terrorists ever strike Southern California, police and federal agents here will immediately ask the same question those in Boston did Monday: Where are the cameras?
The answer: almost everywhere.
Though there's no guarantee terrorists would be recorded in the act, the chances grow almost every day -- as does the size of Southern California's network of public and private surveillance cameras.
Immediately after the Boston Marathon bombings Monday, the FBI started combing through footage taken by cameras in the area. CNN reported Tuesday federal officials said they had not yet found footage of anyone placing the bombs.
Likewise, in a Los Angeles-area attack, video footage would be one of the first tools -- not only from traditional surveillance cameras, but from the smartphones now carried by nearly everyone.
"Cameras have gotten so affordable, and the quality is so good for the money," said Capt. John Romero, whose division coordinates hundreds of cameras for the Los Angeles Police Department. "There's going to be so many cameras out there that we will be able to piece it together. "
Surveillance cameras have been around for decades. But in recent years, as new technology has made them cheaper and better and terrorism concerns have made them more attractive, their numbers have grown dramatically.
Cities, police departments, transit agencies, businesses and regular people across Southern California have installed thousands of cameras, some paid for with federal homeland security grants.
The city of Gardena now has 125 of them in its six square miles -- and more in the works. Redlands, with about 70,000 people, has more than 100 cameras.
Larger cities, including Los Angeles and Long Beach, have hundreds more.
And with Web-enabled cameras now common, requiring only a Web browser and a password to view, police can now monitor even private cameras (with the owners' permission) in real time or after the fact.
When police explain new surveillance cameras to residents, they talk almost exclusively about crime.
Gardena Police Chief Ed Medrano said his city's cameras have helped catch drunken drivers and a man who shot someone in a park. Capt. Tom Brascia, the commander for the LAPD's Topanga station in the San Fernando Valley, said he expected them to be most useful in solving property crime.
But quietly, without any official plan, the Los Angeles region has also built a massive homeland security apparatus everyone hopes will never be needed.
Twenty years ago, police investigating a store holdup or a vandalism would ask that same question: Where are the cameras?
But in those days, using video evidence meant an officer or detective driving to a store and poring over grainy VHS tape -- if someone hadn't already taped over it.
Now, police in cities including L.A., Long Beach and Gardena can view live or archived digital video and control cameras miles away with a few clicks.
When the LAPD unveiled 16 new surveillance cameras in the southwestern San Fernando Valley in January, police showed reporters how they could rotate the cameras with a mouse or a joystick.
Last year, Long Beach began using a system that integrated about 400 public and private cameras throughout the city. Video feeds are monitored by dispatchers in a room at the Police Department.
In Gardena, the cameras are so clear that viewers can make out whether someone is smoking a cigarette or a joint. And when there was a call for an argument at a park recently, Medrano said, he was able to scan the entire park and discover there was no problem before officers had even arrived.
At the LAPD's Real Time Analysis and Critical Response Division, Romero's officers can access hundreds of cameras in addition to those monitored at individual stations.
He did not want to discuss where in the city the cameras were or exactly what capabilities they might have in the event of a terrorist attack.
"The issue is that, do we really want to be talking about our methods for deterring terrorism?" he said.
The cameras aren't all watched in real time, something that would require many hundreds of officers, volunteers or civilian workers doing nothing else. But they make digital recordings that are kept for 30 days -- or longer if necessary.
A detective can pull up footage in minutes or seconds. After a terrorist attack, the FBI could do the same.
Privacy advocates, civil liberties groups, libertarian and Tea Party groups oppose the growth in cameras as an invasion of privacy.
"Of course, when people are walking down the street, they can be seen by other members of the public, but it's a very different thing to have their activities in public recorded and maintained by law enforcement," said Peter Bibring, a senior attorney for the ACLU of Southern California.
Jacob Sullum, a senior editor with the libertarian Reason magazine, said a network of cameras covering an entire city would violate the Fourth Amendment's ban on unreasonable searches and seizures because they could track people constantly, something impossible for police officers alone to do.
But the number of cameras seems likely to keep growing.
Torrance Mayor Frank Scotto said his city will add cameras when it can afford them.
"I think it's a great tool and a great way to catch criminals," he said. "I believe that technology is advancing so quickly that, in the future, a surveillance camera will be at every corner. Some people believe it's infringing on privacy, but if you're not doing anything wrong, your privacy won't be affected. "
Dennis Zine, a Los Angeles city councilman who used discretionary money to pay for 16 police cameras in his western San Fernando Valley district, said he thinks the monitoring will be more centralized in the future.
If there is an attack in a public place in California, the most important "surveillance" camera might be not the one installed on a rooftop, but the one in your pocket. At any public event, especially those like the Boston Marathon that seem likely to be terrorist targets, there's bound to be someone holding up a smartphone. A lot of someones.
After the Boston attacks, the FBI asked anyone with pictures or videos to email them to boston@ic.fbi.gov.
That kind of sharing, whether ahead of time or after the fact, is likely to be central to the future of video surveillance, Romero said.
That would help solve one problem: the expense of maintaining an ever-growing network of government-owned cameras. An L.A. City Council report last year found some of the city's 368 cameras hadn't been working for years and said police should dedicate more resources to them. Broken cameras kept police from getting evidence on the stabbing death of a 53-year-old man on L.A.'s Skid Row, the report said.
City Council members are expected to vote soon on a motion to spend money to fix broken cameras.
When LAPD officers monitored Occupy protests in the city, they used traditional surveillance cameras. But they also used footage from mainstream media and from "citizen journalists" broadcasting live video on sites such as Ustream, Romero said. People were, in effect, giving police the tools to watch them.
Privacy concerns, so far, have been no match for the march of technology.
"There is no expectation of privacy when you come to the public sphere, whether it be the airport or walking down the street," Zine said. "Some people say, 'This is Big Brother watching you.' Well, this is Big Brother protecting you. "
Staff Writers Neil Nisperos and Rick Orlov contributed to this report. ___
(c)2013 the Daily News (Los Angeles)
Distributed by MCT Information Services
REAL LIFE. REAL NEWS. REAL VOICES.
Help us tell more of the stories that matter from voices that too often remain unheard.
BEFORE YOU GO
PHOTO GALLERY
Boston Marathon Explosion (GRAPHIC PHOTOS)