Firefighters from across California, some 5,700 in total, traveled to Ventura and Los Angeles counties on Thursday to help halt the massive wildfires that have destroyed more than 500 structures.
In San Diego County, firefighters worked to stop a rapidly intensifying blaze that prompted officials to clarify burn estimates from about 500 to some 4,000 acres in less than three hours. Authorities continued to release evacuation warnings throughout the night as the fire spread with zero percent containment.
The blazes are fueled by strong winds, which have made it increasingly difficult to get them under control. The Santa Ana winds, which blow in hot and dry from the California desert, could potentially reach hurricane-force speeds of 75 mph on Thursday, creating an "extreme fire danger," according to an alert sent by the countywide emergency system in Los Angeles.
The National Weather Service has warned that winds are expected to increase from Thursday morning through Friday, with the strongest gusts hitting 80 mph, likely seen in the mountains. Damaging gusts up to 60 mph will also be possible in the valleys and parts of western Los Angeles and eastern Ventura Counties.
"At the end of the day, we need everyone in the public to listen and pay attention. This is not 'watch the news and go about your day.' This is pay attention minute-by-minute … keep your head on a swivel," Ken Pimlott, director of the California Department of Forestry and Fire Protection, said.
Such warnings were shared with some 12 million people in seven counties around Southern California on Wednesday after the state's Office of Emergency Services sent an unprecedented text alert about the fire dangers. It was the broadest alert ever sent by the office, deputy director Kelly Huston told the Associated Press.
"I would rather be criticized for potentially annoying someone, than for not delivering a critical alert under these dangerous fire conditions," Huston said.
Here's what you need to know about each of the fires:
Thomas Fire:
The fire had increased to 115,000 acres, or about 180 square miles, and about 440 structures have been destroyed, officials announced Thursday evening. It is only 5 percent contained, fire officials said.
For roughly three hours early Thursday morning, the fire forced the 101 Freeway to be closed between Routes 126 and 150. That closure eliminated all routes between Santa Barbara and Ventura Counties, the Los Angeles Times reported.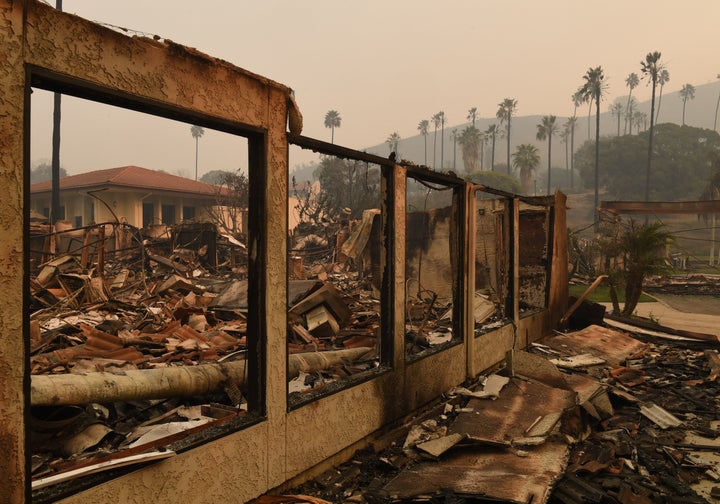 Creek Fire:
Meanwhile, the Creek fire, which is currently raging in the San Fernando Valley north of Los Angeles, has consumed 12,605 acres and is 10 percent contained. At least 30 homes have been destroyed because of that blaze and 2,500 others have been evacuated, Reuters reported.
Rye Fire:
Skirball Fire:
The Skirball fire, which is threatening large estates in the Bel-Air neighborhood of Los Angeles, has grown to 475 acres.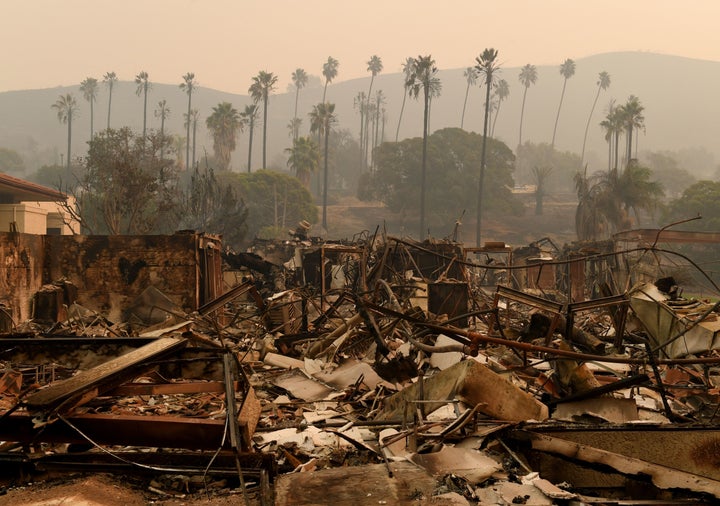 Lilac Fire:
Roughly 120 miles south of Los Angeles, fire crews in San Diego County on Thursday ordered a mandatory evacuation of residents in an area of Bonsall where a fast-moving vegetation fire dubbed the Lilac fire has spread to more than 4,000 acres. The fire is 0 percent contained, authorities said on Twitter.
Two structures have been destroyed by the fire and 12 others damaged, and fire officials ordered four air tankers to help battle the blaze on Friday morning.
Other smaller fires in Huntington Beach and Malibu were quickly put out Thursday morning, although the Huntington Beach blaze damaged a school and a bank, CBS Los Angeles reported.
A quarter acre was burned by the fire in Malibu but no structural damage or injuries were reported, fire officials said. NBC Los Angeles said that roughly 200 firefighters were at the scene to extinguish it.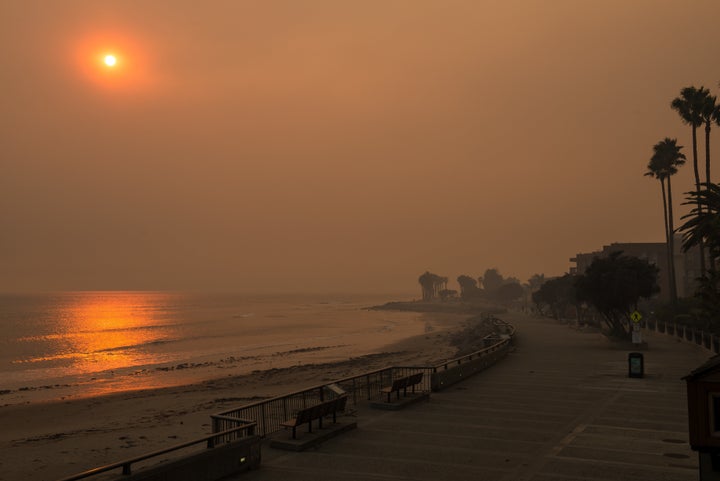 This story has been updated with new information on the fires' developments.
Before You Go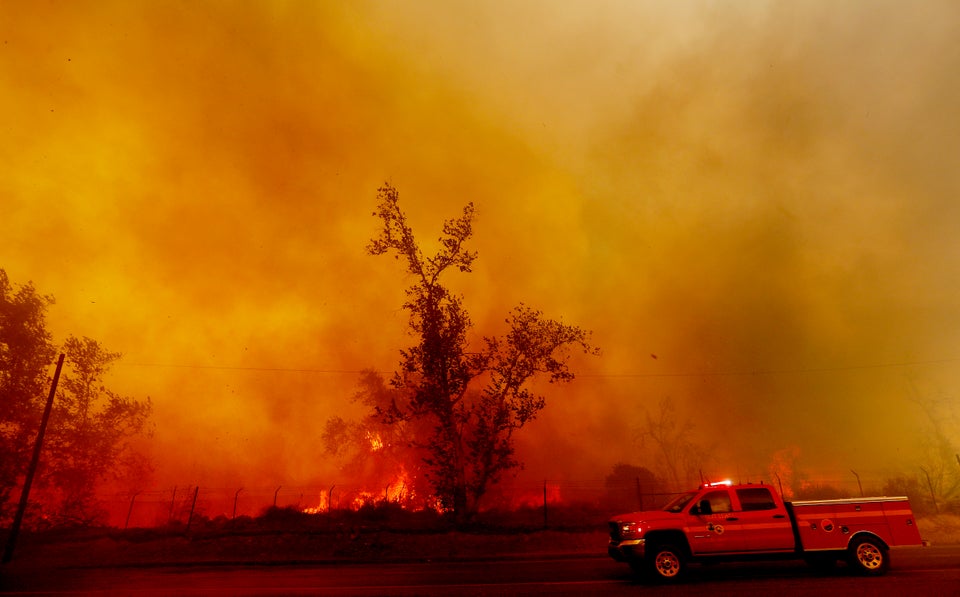 Ventura County Wildfire Devastation