There are people from the South, and then there are Southerners, people who revel in the history, charm, and utter originality of Dixieland.
People who understand manners. People who know how to charm one second, and cut you dead with a Scarlett O'Hara side stare the next. People who don't complain about the heat, because they carry linen hankies and chic hand fans.
One of these people, I'm happy to report, is me. Another is the writer and journalist Julia Reed, whose work I've been enthusiastically following since she wrote political profiles for Vogue.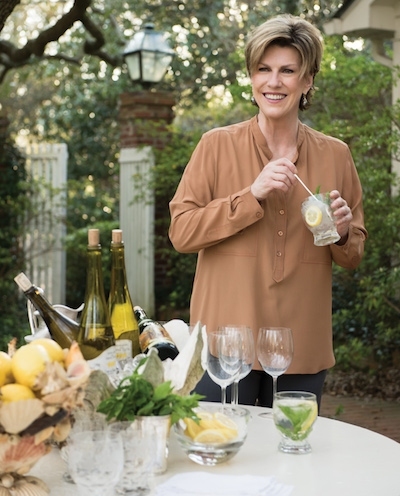 Now you can catch her columns in Garden & Gun (required reading for any self-respecting belle or beau), and her books, the latest of which is Julia Reed's South: Spirited Entertaining and High-Style Fun All Year Long.
"Long before farm to table was a thing, we were just doing it," she explained in Washington for a luncheon at Tudor Place to talk about her book.
There are lots of other things we have just been "doing" long before they became fashionable. Here's more of her country-fried wisdom, perfect for summer entertaining:
1. The warmer months afford more excuses to dip into the spirits. Julia's go-to is her prized family Sangria recipe. "Keep drinking it and you won't even know you're hot." My favorites are Julia's Creole-inspired "Pimm's Royale" (Pimm's No. 1, Brut Champagne, cucumber, and orange and lime slices), and the Lavender Mint Lemonade (add Vodka at your discretion). Another spirited piece of advice: "Champagne loves two things in food: salt and fat." So don't think twice about serving your best champagne with fried chicken and ham biscuits. It turns out they are a perfect match!
2. Want to impress your Yankee guests? Keep it simple with soul-food favorites. "Make that cheese thing with the vegetables," one of her dazzled dinner guests requested, referring to her cornbread. Her parties in New York were hot tickets thanks to "simply making the stuff we know best, from pimento cheese sandwiches, squash casseroles, and rare beef tenderloin with warm yeast rolls." According to her book, you can top those off with okra fritters, sliced heirloom tomatoes, and blackberry cobbler for the perfect summertime supper. Just don't forget the feminine touches like wildflowers in mason jars, grandma's china, and pastel table linens. Julia likes to decorate the table with the high and low, everything from dainty decanters to finds from the local flea market. Get creative with the place cards.
3. If it's Summer, it's Tomato Time, or "Tomato Palooza." Julia's gazpacho with tomato sherbet was a classic at a country club in Nashville, and she passed along to her friend the late Nora Ephron, who in turn served it to satisfied guests in the Hamptons. "This is an amazingly refreshing dish for a hot day," Julia says. She also loves her tomato tarte tatin recipe and pairing sliced chicken breast with tomato vinaigrette. Oh, and tomato goes swimmingly with rose, "the twin totems of summer to me," she says. "The wine's color is made for a tomato lovefest, but so is the taste."
4. Country Music is the Soundtrack of Summer. Julia suggests that no barbeque or al fresco soiree is the same without a good playlist. Some of her favorites are "Walking the Dog" by Bonnie Raitt and Weepin' Willie Robinson, "Summertime" by Janie Joplin, and "Fried Chicken," by Eden Brent, a fellow Mississippian.
5. It's all about the Porch, or Veranda. If you don't have a summer party to attend or throw, just head to the porch, every southerner's happy place. Just don't forget the glass of lemonade, a Eudora Welty novel, and your sun hat. You're all set, all summer long.