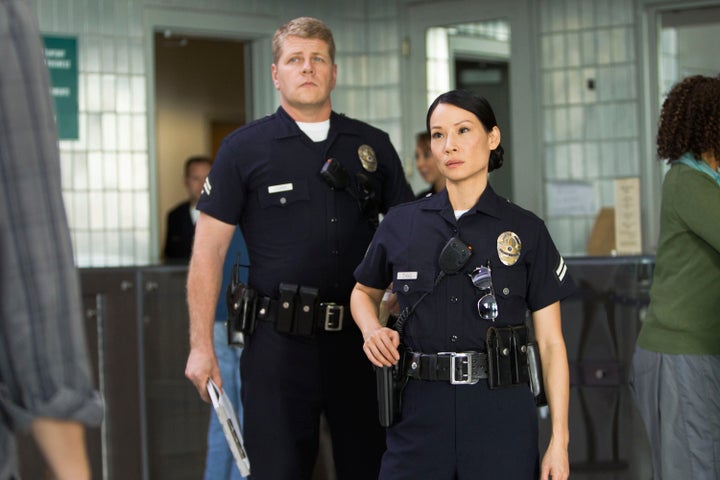 For three seasons, "Southland" fans loved watching the partner dynamics with the show's LAPD cops, but the current fourth season (Tuesdays, 10 p.m. EST on TNT) shook everything up.
One of the show's biggest, most surprising additions has been Lucy Liu, whose Officer Jessica Tang partnered up with the troubled John Cooper (Michael Cudlitz) upon his return from rehab, freeing his former trainee Ben Sherman (Ben McKenzie) to ride with Sammy Bryant (Shawn Hatosy). Fans were concerned about splitting up one of the show's most popular duo -- Cooper and Sherman -- but Tang has been embraced, mainly because her arrival has given even more depth to Cooper's struggles.
I caught up with Lucy Liu to talk about fan and crew reaction to her character, the highs and lows we've seen her go through this season and some partner tensions to come. She also confirmed what we've all been dreading: Yes, she signed on for only one season, and no, that hasn't changed. So how will we end things with Tang? Keep reading for more ...
I've loved having you on "Southland." Besides it being one of the fastest filming shows on TV, what was it like having to get up to speed to start this season?
They made it really easy for me, but yes, it's sort of like shooting an independent film. We just wrapped this season, which was very sad ... it's just been a real joy working with everybody and getting to know everybody. My partner, Michael Cudlitz, has been very forgiving with me in terms of asking him questions, because he's been doing this for a while, which helps. He really was able to give me some insight; like sometimes, if you learn something in the script, it might change on the day [of shooting]. The address might change or the situation might change -- you have to be incredibly flexible, and it's very improvisational even though it's scripted.
I was just on set the other day, and it still amazes me that you all crank these scenes out in the middle of L.A., stopping traffic, using real pedestrians in the shots.
It's crazy! Because I was driving for the majority of the episodes, they sort of said, "Well, when you come out, remember traffic isn't locked down, so make sure that you don't get hit by a car." [Laughs.] I was like, "OK! I'll try to be aware!" You're very much used to everything being locked down before you do anything [on most sets], but this is different. If anyone walks by, they love it, because then they become part of the show itself. Bystanders, pedestrians, looky-loos -- they're all on film, and they're in the show, which is kind of cool.
That's been a huge part of the show for a lot of fans -- details like that keep the show looking and feeling like we're following actual LAPD officers. But with the relationship between Tang and Cooper, it has been so special to see that other side this season. It's a side of him we hadn't seen before.
You know what's funny? The hair and makeup people actually voiced that after they saw the first episode, they realized that it was a very different Cudlitz and a very different John Cooper because they got to see him interact with his peer and with somebody that he didn't have to train. They were really impressed with his dynamic with a woman, and that he could have a conversation as opposed to sort of ordering someone around, telling them what they're supposed to be doing and what they're doing wrong. They got to see that, and they really liked that part of him. They've been with him, obviously, from the very beginning, and for me, we just developed that dynamic as we were working. For them to say that, because they've been living in it for that long, it was very cool to hear, because that means that they saw something fresh in our relationship.
Well, it was one of the bigger question marks going into this season ... obviously people were excited to see you come on, but knowing that the dynamics were shifting and partners were switching was a fan concern. People don't always love change. Have you gotten a positive response from fans?
A lot of the police officers that are in the show, and working behind the scenes or as background and extras, they basically are so excited about the character that has come to life on the show. They keep asking about next season, and I'm like, "I'm actually not on next season, so ... sorry!" They're like, "What do you mean you're not on next season?" So it's kind of hard to develop something and have people really like the character, and then see her kind of go away. But I guess that the really wonderful thing is, at least you leave people wanting more, which is a nice feeling, as opposed to, "When is this relationship gonna end already?" [Laughs.]
But it is bittersweet. Obviously the show has to keep changing to be realistic -- people should die, people should move on -- but is it pretty definitive with Tang? Or is anything left open-ended?
Um, well I think it was just a one-season thing ... but it has been an incredibly enjoyable experience. It's been very creative and it's very physical, I have to say. I finished the season, and I got home and my whole body just collapsed. It just shut down, and suddenly I was so sore and everything started just kind of creeping in. I guess you just hold on to anything that you have until you actually have to let go and you can let go ... I think it's all kind of the culmination of the whole season. Suddenly you know that you've finished, and your body sort of says, "You know what? So are we." [Laughs.]
Well, Tang's been tossed around quite a bit this season ...
Yeah, Tang's had a lot of drama. I like the fact that they've given her an emotional background too, without really having that much exposition. I think that's a really nice quality they've brought to her character, and a really nice layer that people experienced ... it gives you a little bit of the idea that she's not some superhero.
Yes, she has a softer side. That scene with Tang and Cooper in the alley after she organized drinks in his honor was so sweet ...
I know, and I think the last episode that aired really solidified their relationship and their partnership. She says in the beginning of the episode how, as a police officer, you're not supposed to become emotionally involved with anyone or anything, any situation. But clearly, in terms of a partnership and people that you work with, that's a very different story. To see them have that dynamic I think was very powerful and very impactful.
Exactly, because it went from showing that she cares about and respects her partner to this angry rage, trying to protect him from the camera crew when he was injured.
Yeah, it was horrible. I think what you see in that moment is protection that she has over her partner and friend that she's developed a relationship with. I also think that the idea that what they do every day is to protect people and serve them, and here's a civilian basically watching someone get killed. The balance of that is so off-putting and so jarring ... I think the shock value of capturing something over saving someone or getting involved is what hits home in that particular episode.
Yeah, they'd be thrilled to get a cop dying on camera!
To witness something is so much more interesting than to actually get involved and get your hands dirty. All they do, as cops, is get their hands dirty.
I'm glad that you mentioned that you're sticking around until the finale at least -- what kind of action does Tang have coming the rest of this season?
I think you're going to start seeing a complexity of judgment in the next few episodes coming up. There's a situation that occurs that creates a bit of tension between her and her partner, and it's about choice. It's about how everyone judges things from very different perspectives, and how that kind of climaxes into the season finale, essentially. I know that's vague, but I don't want to give anything away -- it'll be better and more fun not knowing.
You've been an ass-kicker before, but this is the grittiest I think we've ever seen you. Do you agree?
I think for television, yeah. Everything else on television is pretty bright, pretty glamorous ... usually television is about more of a fantasy life. This is not a fantasy life. This is, I hope, a real person -- somebody who is not really enamored with anything else but what she does, but also wants to probably get out of where she is now because of what happened to her in the past. But this show is not about makeup and hair and what you're wearing. It's wonderful, because I had one wardrobe fitting and that was it. [Laughs.] I never had to go back in -- it was so refreshing! I wore one thing the whole show. There's a freedom in that that's wonderful.
And now that you've wrapped, you're still keeping busy. I am so pumped to see you co-host "Live! With Kelly" this week (Tues., Feb. 28).
She is such a fun, happy, interesting, vivacious person. I loved her with Regis, and obviously, you can never fill those shoes, but I've hosted with them before -- though I've never hosted with just Kelly and myself ... But there's something really fun about being on the other side where you can ask the questions. [Laughs.] That's kind of nice! There are other actors on the show as guests, and you know what it feels like. We have Kristin Chenoweth and Poppy Montgomery, so it'll be fun.
"Southland" airs Tuesdays, 10 p.m. EST on TNT.
Calling all HuffPost superfans!
Sign up for membership to become a founding member and help shape HuffPost's next chapter
BEFORE YOU GO