I have never seen anything like it. And I've seen a lot in a theatre. But War Horse at the Segerstrom Center in Costa Mesa, Calif. (now through February 3) is something that just has to be experienced to be explained.
The story is from a children's book by Michael Morpurgo first published in Great Britain in 1982. It was adapted for the stage by Nick Stafford, debuting in Britain in 2007 and making it to Broadway in 2011. It, of course, was also a movie from Steven Spielberg.
The story is a simple one. A young horse named Joey falls in to the hands of a farmer and his family, including their son Albert. Albert raises and loves him, trains him and even turns the riding horse in to a plow horse to win a bet and save the farm. Dad then sells the horse for 100 pounds to the Army to participate as a officer's horse in World War I. When the officer that takes him is killed, Albert rushes off to war at 16 to find Joey.
Meanwhile Joey has trials and tribulations of his own, falls in to German hands and eventually almost dies in barbed wire only to be reunited with Albert at the end. It's dramatic, moving and intense. The actors in the recent touring group are all at the top of their game and use the minimal staging and lighting effects to their advantage.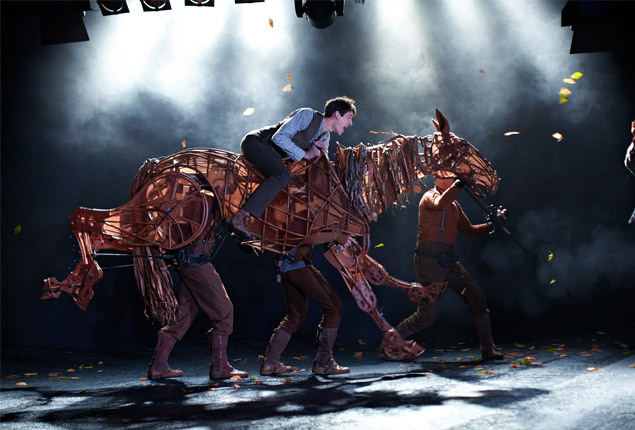 The London Cast of War Horse
But the star of the play is Joey, and Joey is a masterwork of puppetry creation. It is created by the Handspring Puppet Company from South Africa, founded in 1981 by Adrian Kohler and Basil Jones. The two met at the Michaelis School of Fine Art in Cape Town, and, as Kohler said in a recent TEDtalk , they met in 1971 and fell in love. They've been a couple ever since, but Kohler took some time to come around to the love of puppetry. But come around he did, with this production as their crowning jewel to date.
"A puppet struggles to be a live on stage," Kohler stated. "Where an actor may struggle to die on stage, a puppet has to struggle to live."
The choreography of the play by Toby Sedgwick makes the production part dance, part drama and all innovation. Audience members might be put off at first by Joey, as he struggles to live, but by the end of the play they are as invested in the character as if it were a living, breathing horse.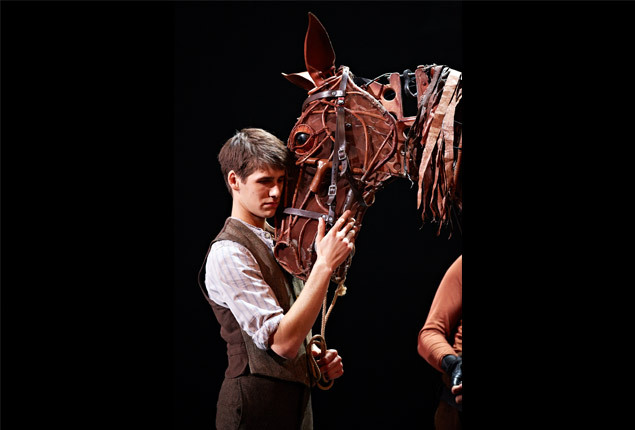 There is nothing like War Horse on stage and any fan of a complete entertainment experience should get to Segerstrom in Costa Mesa before February 3rd or find the touring schedule here.
On the opposite end of the spectrum over in Long Beach is the innovative production of the Jules Verne classic Around the Word in 80 Days, adapted for the stage by Mark Brown and directed for the International City Theatre by Allison Bibicoff under the artistic direction of caryn desai (no caps in her name, not a typo!). It is at the ICT's stage at the Long Beach Performing Arts center through February 17th.
The play features five of the hardest working actors on any stage, anywhere, as they take on 35 roles between them. The story follows the original, with Phileas Fogg (Jud V. Willford) wagering his men's social club that he can, in fact, make it around the world in 80 days. He brings along his trusty servant Passepartout (Michael Uribes, who steals the show on several occasions) and the duo end up saving an Indian woman's life (Melinda Porto), being chased by an over zealous British dectective (Brian Stanton) and joined by a series of characters played by Mark Gagliardi. These five bring every scene to life and the innovative use of a map by set designer Staci Walters with pieces of it becoming other things keeps the set changes quick and the production fun.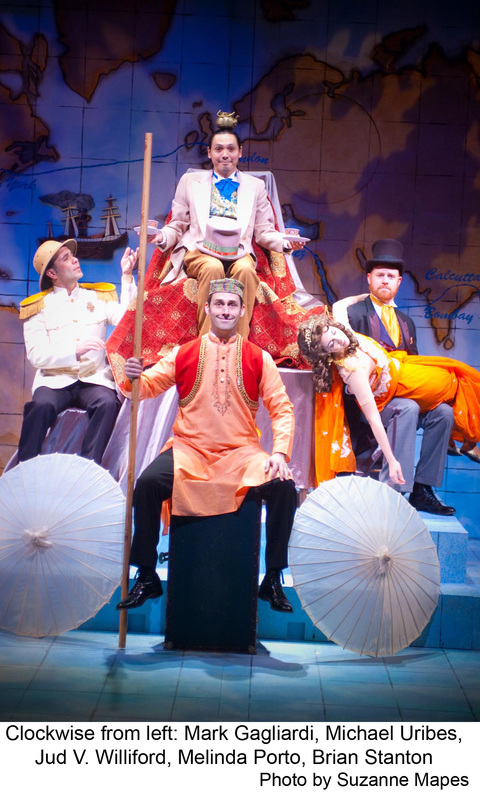 This is theatre at its root: not the million dollar productions of the Pantages or Segestrom, but challenging and inventive theatre from fiercely dedicated and talented craftsman and women from all disciplines bringing smaller stages to life around the country. The International City Theatre in Long Beach was helmed by my former drama teacher from Long Beach City College, Sashin Desai from its inception in 1985 until 2011, when his wife, caryn desai, took over the reigns as artistic director. It now serves up first rate productions like this one and has become a vital part of the Southern California theatre scene.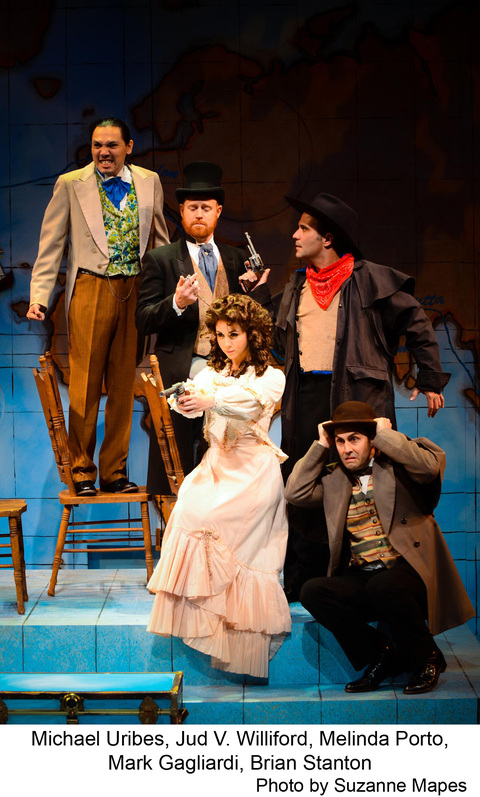 Each actor shows great versatility, and stamina (I was worn out by the end of the over two-hour production, let alone them!) with no favorite since each shines. There's a great season ahead for ICT, one that deserves theatre fans to subscribe and keep the theatre alive. In fact, every community has a ICT of some kind, so find it and go remind yourself that big productions are great, but smaller productions are the life's blood of the actors, directors, producers and craftsman and keep the arts alive on stages throughout America.
From innovative, enormous productions like War Horse, to fun, well-acted and crafted smaller productions like Around the World in 80 Days, theatre is alive and well in the Southland right now, so get to a play soon.
Next stop, Jekyll & Hyde February 12th at the Pantages and Wicked February 21st at Segestrom Costa Mesa. Stay tuned.
War Horse photos by Brinkhoff/Mögenburg
Around the World in 80 Days photos by Suzanne Mapes
To hear Karel daily on The Karel Show download his App at iTunes and the Android Marketplace, watch his daily Ustream show or listen to his show M-F 3pm to 6pm PST, 9p to 12a Saturday and 7p to 10p Sunday at http://www.thekarelshow.com for a list of affiliates or live streaming.
REAL LIFE. REAL NEWS. REAL VOICES.
Help us tell more of the stories that matter from voices that too often remain unheard.