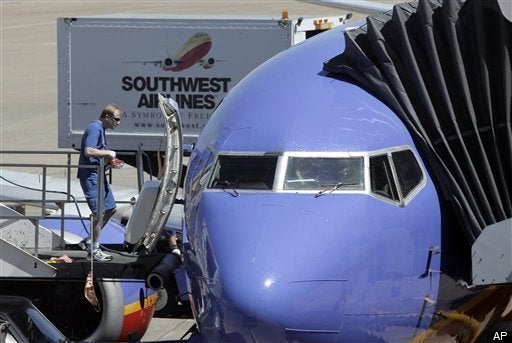 First Southwest Airlines got into trouble because they notoriously kicked Kevin Smith, a hefty director, off of a flight last year. Now a Sacramento woman claims she was asked off a flight so a hefty passenger could have two seats.
The 5"4', 110-pound unidentified woman was removed from an early-evening Southwest flight from Las Vegas to Sacramento so a larger passenger could have an extra seat, according to the Sacramento Bee, who spoke with the local woman.
The woman, who was flying standby, had already stowed her bags and sat down only to be told she would have to deplane immediately because a late-arriving passenger required two seats. Oh, and the kicker: the person requiring two seats was only 14 years old.
"It didn't seem right that I should have to leave to accommodate someone who had only paid for one seat," she told the Bee. She's even more annoyed because she says Southwest personnel berated her when she questioned the decision to boot her from the plane, though she ended up on the next flight out. "It's small potatoes, in the scheme of things," she says.
Airline spokeswoman Marilee McInnis agrees.
"We know this was awkward and we should have handled it better," Southwest spokeswoman Marilee McInnis told the Bee, adding that the airline intends to apologize to the local woman.