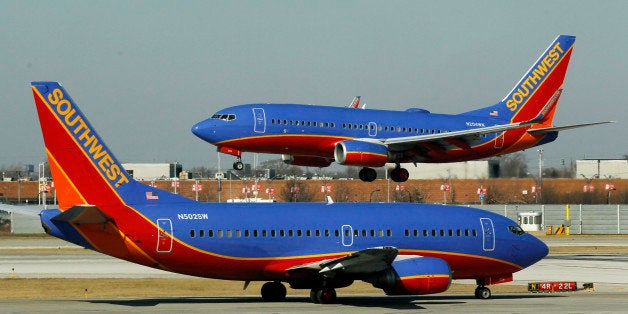 WASHINGTON, Jan 15 (Reuters) - The U.S. government on Thursday fined Southwest Airlines Co $1.6 million in what it said was the biggest civil penalty levied against an airline for violating rules barring long waits for passengers in planes on the runway.
The Department of Transportation said Southwest had failed to abide by the rules last January when 16 of its aircraft were delayed on the tarmac at Chicago Midway International Airport. Passengers were not given the chance to get off the planes after three hours, and the airline did not have enough staff in place to avoid the delays, it said.
"We have aggressively enforced, and will continue to aggressively enforce, our tarmac delay rule to ensure carriers have adequate resources to minimize passengers' exposure to lengthy tarmac delays," Transportation Secretary Anthony Foxx said in a statement.
In a statement, Southwest pointed to severe weather it said hampered its efforts in the incident.
"We are disappointed that the government would seek additional money, after the enormous penalties imposed on Southwest by Mother Nature during the January 2014 winter storms," adding that the department did credit it for taking voluntary steps to fix its operations before issuing the order.
Federal rules adopted in 2009 bar airlines from holding passengers on a runway for more than three hours without offering them a chance to leave, although exceptions for safety and security are allowed.
The $1.6 million penalty is the largest to date out of the 17 such fines it has issued, the department said. It fined United Airlines $1.1 million in 2012 and American Eagle Airlines $900,000 in 2011, but officials said they fined Southwest more given the number of planes and passengers involved. All three incidents were in Chicago.
According to the department, Southwest's crew scheduling system malfunctioned Jan. 2-3, 2014, triggering a staff shortage that, together with a severe winter storm, led to the delays.
Southwest said in its statement that while the airline was able to get passengers safely to Midway despite the snowstorm, the tarmac was full of planes from canceled outbound flights.
"Our efforts fell short in the face of challenging operational conditions," it said. It added that the airline had since taken steps to improve its operations and prevent another such delay. (Reporting by Susan Heavey; Editing by Will Dunham and Peter Cooney)
Calling all HuffPost superfans!
Sign up for membership to become a founding member and help shape HuffPost's next chapter