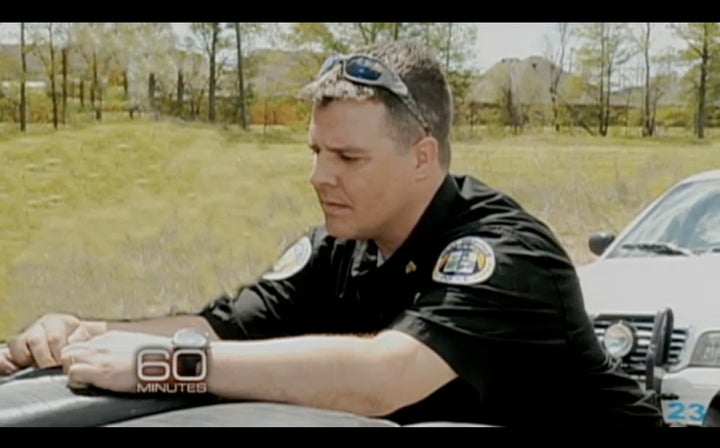 The FBI considers them one of the nation's top domestic terror threats. Their members include cop killers and a convicted Oklahoma City bomber. They call themselves "sovereign citizens," and have taken various measures to fight the U.S. government. But now, the government is fighting back.
Sovereign citizens are a loosely organized group of people who claim they are not subject to government laws. Estimates suggest there are as many as 300,000 sovereign citizens in the U.S. Sovereign citizens have been known to oppose taxes, file liens against public officials, sign documents with a red thumbprint, and use homemade license plates.
Many sovereign citizens are not violent, and they focus on the role of government, a relatable, much-debated issue in the U.S. Alfred Adask told "60 Minutes,""I think the government has gone far beyond its Constitutional limits." When asked about the group's growing numbers, Adask said, "What's driving people to it is they're beginning to understand that the government has moved away from fundamental principles that this nation was built on. Where are the limits in limited government? The sovereignty movement is attempting to rediscover those limits and reassert them."
The problem is where the line is drawn. Adask once said, "We have the right to keep and bear arms in order to shoot our own politicians." The violence used by some sovereign citizens is cause for serious concern.
"60 Minutes" recently reported on Jerry Kane Jr. and his 16-year-old son, Joe. A divorced, out-of-work truck driver, Kane and his son began pushing a debt reduction scam around the country. At one seminar, Kane spoke out against members of authority, saying, "I don't want to have to kill anybody. But if they keep messing with me, that's what it's going to have to come out, that's what it's going to come down to is I'm gonna have to kill. And if I have to kill one, then I'm not going to be able to stop."
On May 20, 2010, Kane and his son were pulled over on a highway by police officers. A dashboard camera shows that his son then shot and killed both officers. "60 Minutes" reports that the men were hit with a collective 25 bullets. One of the dead officers was Sgt. Brandon Paudert, West Memphis Police Chief Bob Paudert's son.
Following his son's death, Chief Paudert has become fixated on sovereign citizens. Paudert told "60 Minutes" correspondent Byron Pitts, "They're willing to die for what they believe in. These international terrorists that bombed the twin towers, they were willing to die for their beliefs. The sovereign citizens, the Kanes, are the exact same thing." Since the shooting, Paudert has traveled the country, educating law enforcement officers on sovereign citizens.
Actions are now being taken against some members of the sovereign citizen movement. The News Virginian reports that sovereign citizen Michael Creath Jones, 31, was arrested and charged with five misdemeanors last week after a state police officer pulled the man over for having a fake painted license plate. Jones allegedly locked his doors, refused to identify himself, and later resisted arrest.
Also last week, a sovereign citizen was sentenced to 21 months in prison after filing hundreds of financial liens against government officials, The Associated Press reports. Ed George Parenteau, 53, said he was trying to fight municipal corruption, but apologized and agreed to cooperate with authorities.
The act of filing liens against government officials as retribution has been dubbed "paper terrorism," which can ruin a target's credit, reports "60 Minutes." Robert Vosper, a small-town justice reports, "I have liens against me in three states in this country for a half a billion dollars."
Whether it's paper or physical attacks, "60 Minutes" reports that there has been a noticed increase in sovereign citizen-related violence against police and judges. In light of recent arrests and the actions of men like Chief Paudert, it seems the targets may now be fighting back.
This post has been updated to clarify that many sovereign citizens are non-violent.
WATCH the "60 Minutes" segment:

Popular in the Community