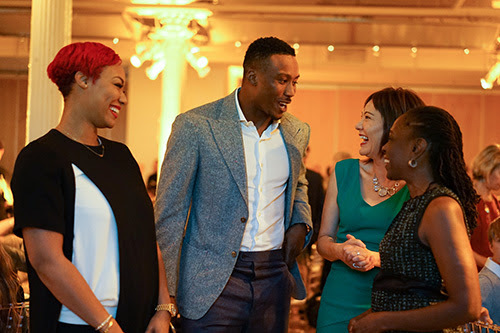 Last week, Flawless had the pleasure of attending NAMI-NYC's annual Seeds of Hope Gala, one of our favorite benefits held every year honoring important work in mental health advocacy. Among the many awe-inspiring honorees were NYC's First Lady, mental health advocate Chirlane McCray, and New York Jets wide-receiver Brandon Marshall. These two leaders are the very embodiment of the light, kindness, and openness that we aim to spread across the country -- they are the very embodiment of our philosophy at the Flawless Foundation of seeing the perfection in everyone.
Chirlane McCray is a mover, a shaker, and an inspiration. McCray took the stand and spoke openly and thoughtfully about her own parents' silent, undiagnosed challenges with depression, and about her daughter's recent revelation that she had been struggling with anxiety, depression, and addiction. McCray admits that she and her husband, Mayor Bill de Blasio, had no idea what to do: "There was no established path to take." She went on to declare what we at Flawless know all too well -- that her family was far from alone. As a society, McCray went on to say, "When it comes to mental health, we don't talk about it."
After starting their daughter on a path to treatment, McCray and de Blasio sat down and discussed how they could widen access to treatment for all New Yorkers. Mental health would have to be made a priority, she remembers them agreeing. And so, with that, the Mayor and First Lady of NYC conceived of a roadmap for change, a roadmap designed to create a more inclusive mental health system throughout the city. This plan, which put simply, looks to change the culture of attitudes toward mental health and aims to provide better resources that are easier to access -- this plan is the most comprehensive mental health roadmap in the world. Here's what happens when we start acknowledging mental health as an issue that affects us all. Vision into Action!
One of the night's other honorees, wide-receiver Brandon Marshall, also had a remarkable story to tell. A talented athlete, Marshall was diagnosed with borderline personality disorder, and has received extensive treatment . When he first started attending his psychotherapy sessions, Marshall would write down small metaphors, or small odes to the way his disorder made him feel. "I've been trapped all my life...by all my emotions," he recited. Marshall wasn't the only one in his family to struggle with a brain disorder, and he felt lucky that he had the resources to provide treatment for both his mother and brother, which came at a huge financial cost. Marshall wondered aloud: "How many other people are suffering, suffering in silence?"
For a public figure, a football icon, to openly discuss his mental health challenges -- that is really inspiring. And Marshall says he looks at football as a means to fulfill his purpose, which is to change the dialogue about mental health. The organization Marshall founded, Project 375, is an extension of just that. "We are where the cancer and HIV community was 25 years ago [...] The wall of stigma is getting weak."
We honor these incredible activists for sharing their stories, creating open dialogue about these issues, and spreading light on this cause that affects us all. Chirlane McCray and Brandon Marshall, #YouAreFlawless!
REAL LIFE. REAL NEWS. REAL VOICES.
Help us tell more of the stories that matter from voices that too often remain unheard.