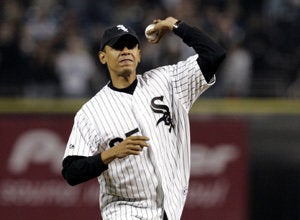 We all knew Barack Obama is a White Sox fan, but the presumed Democratic presidential nominee took it a bit further in an interview with ESPN.
Obama joked about the stereotype of Cubs fans, who probably are tired of being described as partying people-watchers instead of serious baseball fans.
"You go to Wrigley Field, you have a beer, beautiful people up there," Obama said, according to transcripts released by ESPN. "People aren't watching the game. It's not serious. White Sox, that's baseball."
Related
Popular in the Community