For people who work so much that they can't be bothered to eat (let alone make a grocery list, buy the items and cook anything), Soylent "food product" 2.0 is here to save you. Or so you may think.
First sold as a mix, but now packaged in a trendy pearlescent bottle (hence the "2.0"), Soylent was envisioned by its Silicon Valley creators as a "disruption" to the way we eat food. (The creators are, after all, start-up entrepreneurs too busy to cook nutritious food.)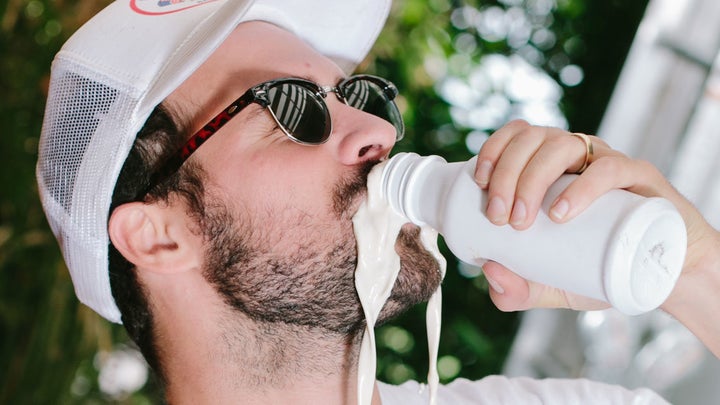 A mixture of protein, fats, fiber, carbohydrates, and other daily necessities, Soylent 2.0, which will begin shipping this month, is precisely 400 calories per bottle -- a "nutritionally complete staple food designed to provide maximum nutrition with minimal effort. It's the easiest, affordable way to squeeze in a healthy meal on-the-go without even trying," according to the pitch sent with samples from their publicist.
Soylent 2.0 tastes like a chalkboard-eraser-Elmer's-glue smoothie, but it really is convenient and, if not tasty, palatable.
But for Bonnie Blodgett, a professional gardener and columnist for the Pioneer Press in St. Paul, Minnesota, the product poses a deeper societal problem: "Soylent strikes me as just another example of our species' refusal to see how essential it is that we live with and not against nature," she told The Huffington Post.
"I learned the hard way how humans are wired to eat not just for energy and nutrition but for stability, meaning, joy ... Soylent is the 'logical,' 'science-based' ultimate solution to the 'problem' of eating in an industrialized world in which humans are increasingly allowing themselves to be treated like widgets, not living creatures," she said. "The industrial model that is destroying our planet denies the essential facts of human life: that we eat not just to survive but to understand and be part of the chain of life."
So would we accept a quick chug of some flavorless protein shake, rather than going out for a meal when life gets a little busy? Sure. But a full-Soylent existence? Hard pass. Soylent is another in the long list of stuff best used in moderation.