For every registered charity in the Little Red Dot, there are over 13 people interested in board service with a non-profit organization (NPO), according to LinkedIn data. That is, while there may be over 2,200 charities in Singapore, there are more than 29,000 individuals based in Singapore expressing interest in serving on their boards.
Unfortunately -- if you're one of the 29,000 anyway -- these supply-demand dynamics are truly unique to Singapore. Those 13 hands up? There are less than two of them in Hong Kong. And even fewer in New York.
Number of People Interested in Board Service Per Registered Charity, By Location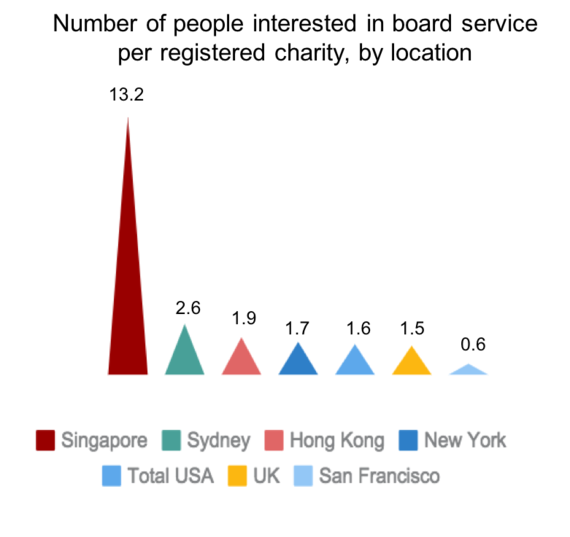 Source: LinkedIn data, Conjunct Consulting and government websites.
Why?
With its high population density, Singapore is no stranger to competition; and given its relative wealth, Singapore has fewer charities per population than the other cities above. But why are there so many hands up in Singapore for so few opportunities? Are Singapore-based professionals more charitable? Or, more cynically, are they simply ambitious, recognizing that NPO board service can play a valuable role in their career progression, with some private sector experts recommending NPO board service as an important part of the career ladder.
We'll leave the "why" of this imbalance aside for now.
But let's try and at least address the "how."
How?

These dynamics are theoretically great news for non-profits, which should be able to be highly selective when composing their boards.
Earning a board seat requires far more than just a hand up, says Jane Prior, Chief Executive of the Bone Marrow Donor Programme (BMDP), which aims to find a donor for every patient who requires a transplant. "It's a major commitment," she says, and "the personal connection... it's what makes you give up your Sundays." Her son's diagnosis and (successful) transplant drove Ms. Prior to get involved with BMDP in 2005 by using her skills as a PR professional to build awareness for BMDP's programs, and she's been at the helm since 2012. "In some ways, it's a payback for my son Daniel; but it's also a commitment to Singapore."
So, if you are a qualified individual, passionate about a cause and keen to contribute to a NPO in a leadership role, how can you set yourself apart to beat those unfavorable statistics?
To answer this, we needed an expert. Ms. Winifred Loh is Managing Director of the Centre for Non-Profit Leadership (CNPL), which, through its BoardMatch programme, has so far placed 540 professionals in 240 NPOs, at various Board and Committee positions. (If you're one of the 29,000, by the way, the CNPL has 92 opportunities available.)
While the number of NPO board seats available annually is not tracked by CNPL, Ms. Loh acknowledges the supply-demand disconnect. Not all charities are actively seeking new or external board members. Large, mature NPOs tend to be more open, as they grow their networks and expertise; but smaller, emergent non-profits may be reliant on the founder's immediate network, with limited turnover.
Even large NPOs may look from within. When AWWA went through succession planning two years ago, one-third of its 15-member Board was filled with what it termed "new blood;" even then, these new members had "proven their commitment and passion by serving on various AWWA committees." A track record of commitment and volunteer experience with the NPO should not be discounted.
The three keys to the boardroom
Those interested in NPO board service -- in Singapore or beyond -- should keep a couple of factors in mind:
Be genuinely committed. Joining a non-profit board should be based on your passion for the cause, not about a new bullet on your CV. "The motivation of a candidate is the most important factor" when selecting a board member, says Ms. Loh, and "board chairs and executive staff can tell if a candidate is really sincere about helping the NPO." Prior agrees that "board members who bring the most value are those where there's a personal connection to the cause."
Flexibility and EQ can go a long way. Candidates should be prepared to "roll up their sleeves and reach out to others" in order to best support the NPO, says Ms. Loh. She refers to the the "VUCA" (volatile, uncertain, complex, ambiguous) nature of the non-profit sector, a byproduct of its limited resources; this can be challenging even for seasoned professionals from the private sector and success may depend largely on an individual's interpersonal skills.
Be clear about how you can deliver value and make an impact. NPOs are wary of what Ms. Prior calls "armchair generals," or board members who share opinions and advice but stop there in terms of effort. A board's job is "not about being retrospective," she says, and members need to proactively contribute to set the strategic vision of the organisation. While it's good to have relevant professional skills, equally important is allocating time to deploy them because, according to Ms. Prior, for an NPO, "when you need something, you need it now."
Getting Involved
It has never been easier to get involved in the non-profit sector, and volunteering your time or skills is a natural first step on your path to board service. (Full disclosure: I work with a non-profit organization which links professionals to skills-based opportunities in the non-profit world.) Seek out opportunities directly with non-profits working in areas where you'd like to give back, or seek a reputable intermediary to find a well-matched opportunity.
Natalie lives in Singapore and works in the non-profit sector.
Support HuffPost
The Stakes Have Never Been Higher
Related
Popular in the Community