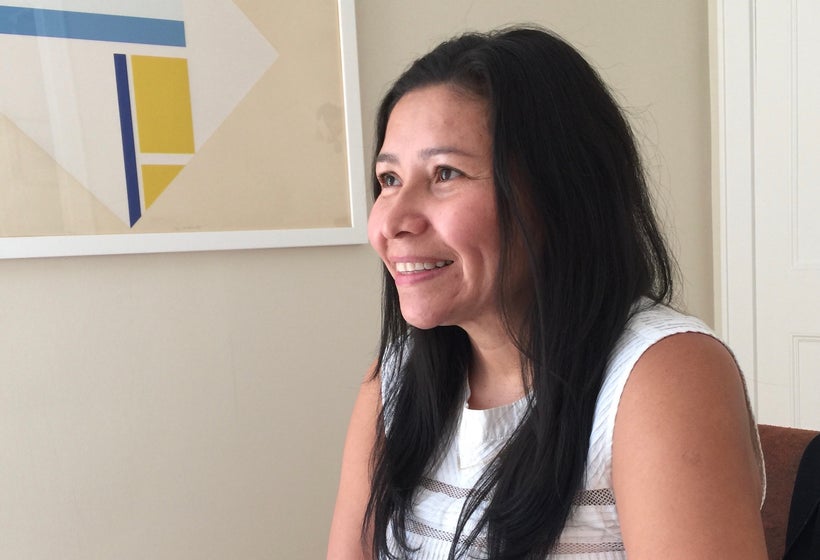 From my Soy/Somos series, a real-life collage of Latinos in the USA. Read the introductory post here. Soy/Somos: We Are Many.
"I remember sitting in front of the mirror when I first arrived here and telling myself, "What is the past tense? I want. I want ED. I repeated the ending hard. I want ED so much to speak in English! (laughs) Now as a speech pathologist I use the same technique with others. Using the mirror while speaking helps people understand the parts of the face used in forming words that are difficult for them."
We had a flash of rain just before Elba arrived, my window panes wet, the sun already streaming in. Elba's black hair ends in feathery points past her shoulders. Her face is all cheekbones. This was our first meeting. Elba is married with two young children. She arrived in this country when she was fifteen, and I began with this question.
Elba, why did you come here at fifteen?
"My mother was a live-in nanny in the US. She had left me with my grandparents, aunts and uncles in El Salvador while she came for work. She left when I was four. When she was ready with all the papers, I was fifteen. "
The thing about Latin America, it happened with me—I said to Elba—the family gathers around you when they're needed--abuelos and tíos. This doesn't exist much in the United States.
"It's true. We lived in Mejicanos, a small town in San Salvador. My grandfather would buy me little clay plates and bowls when he'd go to the market. He'd singsong, "What do you think I brought you, what do you think I brought you?" He'd pick me up and I would look in his pockets. It was a beautiful childhood. My mother would call, and I would write letters to her. We always had a form of contact even if it wasn't physical.
"When I came, the change of culture was drastic, and I didn't know any English. We had lived on a farm with animals, a lot of land, and trees. In our small town everyone knew each other. Now I was in a huge city with tall buildings—my mother lived in the Bronx. The people looked so different from me, the shades of their skin, their features...
"My mother se dió cuenta. She understood what I was seeing and sat down with me. 'I want you to remember to treat all people with respect,' she said. 'Don't feel bad because they don't look like you. If someone treats you badly, te alejas, just move away.' That's it. I have tried to hold these words close to me all these years.
"In school they put me in an English as a Second Language class. We were kids from Vietnam, Russia, Latin America. I was treated well, but I felt far from others because I couldn't communicate with them. So what I did was get close to the three other Hispanic girls. The school was on Fort Jackson Ave. I was going to school a long day. In San Salvador it had been from 8 to 12 only. My grandparents or aunts would pick me up at school. In the US we'd lunch at school, and I had to walk home alone. They had to teach me how to unlock the door and how to be careful. I would call my mother as soon as I arrived from school. I remember my wish to communicate with others. I felt that space. I wanted to socialize. I wanted to have more friends."
Is this the motivation of most people who want to learn the dominant language? Wanting friends?
"Actually the most important thing is being able to speak with confidence. Some people when learning the language don't feel confident. When they try to say the new words, they don't give themselves enough space, enough time, to speak. Then they make mistakes and don't want to try again. Then, what do we do as Hispanics? We look for the comfort of someone who speaks Spanish."
When did you learn enough English to be able finish your school program?
"One of my teachers, Mrs. Fugazzi, said, 'I think we can place you in a regular English class. I give you my word that If you feel uncomfortable, you can return to the bilingual program. I said OK. They asked me to write an essay about my childhood. They recorded me. I did well. They advanced me to a higher grade, and I ended up in an honors English class they called 'Humanities.' We did cosas super chéveres. Went to museums... discussed painters and poems...sat on rugs speaking about current events...I couldn't believe it!
"At the end of three months the teacher asked if I wanted to return to the bilingual program. I said, "No!" That opportunity opened up a whole world for me. Mrs. Fugazzi had red hair. (smiles at the memory.)
On various Soy/Somos interviews I've discovered that there is one person who notices something about an individual and makes a tremendous difference in her life.
"There's always one. I want to be that person for someone."
Elba, after high school, what did you want to do beyond that?
"I wanted to be a psychologist. To work with children. I went to college and majored in psychology. After that I worked as a social worker in an agency for children in foster care. One of the supervisors had to evaluate a six-month old child who was not eating. She asked me if I would join her. Yes, I said. "OK." I didn't know speech therapists worked with feeding problems. After that she included me in her visits. This was another special mentor for me. I returned to school to add another major to my studies, Speech and Language Pathology. Then I completed my Masters at Mercy College in Dobbs Ferry.
"The quantity of children who have speech problems is huge. For example, you expect that a two-year old will be able to say short phrases like "I want juice" or "I am hungry." A child may not have the acquisition of language expected for their age. Problems with language may be due to developmental delay, brain injury, hearing loss, autism. Adults may have swallowing troubles that affect their speech.
"When bilingual children have difficulties with English this is not considered a disorder in terms of language acquisition. They are second language learners, and they do English proficiency exams. So you know the material in Spanish or Russian, but you don't know it in English, and we need to teach you English so you can do both. The trend now in the NYC Department of Education's second language learning is dual-language classrooms. A certified teacher who speaks two languages teaches the same subject, one day in English, one day in the other language—whatever this may be.The purpose is to get the kids immersed in both languages so they can be fluent in both. I think this is excellent."
Elba, how do you do it--a busy career, a meaningful career—managing two young children and a husband?
"It's hectic. There are days that feel very long and I'm exhausted, and I ask, did the kids eat? Did they get hurt? No? It's time for bed. Forget the shower, they'll do that tomorrow. But at the end of the day, I go home and I'm happy and I feel loved. My husband is involved in everything with our kids. I know that I can fall and you will catch me. He's messy... "
Have you gone back to El Salvador?
"I've gone back twice, but not in a long time. That trip is pending for me. (laughs) My grandmother passed away a few years ago. It was difficult for me to leave my grandparents, but they lived very long with so much love. My grandmother raised 13 children, grandchildren, great and great great grandchildren. So my third cousin has a child who has a child."
I don't want to put words into your mouth, do you feel a dual identity? Let me put it this way. Do you feel like an American?
"Yes, I do. I identify with this culture. I've made my life with my family. We are a part of it. I do treasure my culture. I love my language, my religion. And I love the vibrant ways that we have. You know we speak with our hands, we greet each other warmly and are always gathering around food and celebrating. This goes back to my childhood. We had big lunches at the patio with the family. I sat at the kids table. The adults table was huge with food: Pupusas, Yuca... We try to recreate this as much as we can. My cousin will have a big party on July 4th. It will last from July 3 at 4 p.m. to July 4 at 3 p.m. It's a 24-hour event!
"This country has provided me with opportunities to grow professionally and as a woman. It has opened doors for me to live my dream. I am a successful Speech and Language Pathologist. I have so much work that I turn down daily because I don't have time. I've made wonderful friends from so many different places. I am more well rounded because of it.
"One of the things I don't like that happens here is that us Hispanics tend to stereotype us. We look at each other and think we don't speak English. So many people come to me in Spanish because they see me and think that I don't speak English. I am offended by this sometimes. We have this perception that anyone who looks a certain way doesn't have all of these things. And that is not the case. We could have started the other way, in English, and we would be just fine.
"We shouldn't box ourselves, because everyone else already does."
REAL LIFE. REAL NEWS. REAL VOICES.
Help us tell more of the stories that matter from voices that too often remain unheard.
This post was published on the now-closed HuffPost Contributor platform. Contributors control their own work and posted freely to our site. If you need to flag this entry as abusive,
send us an email
.