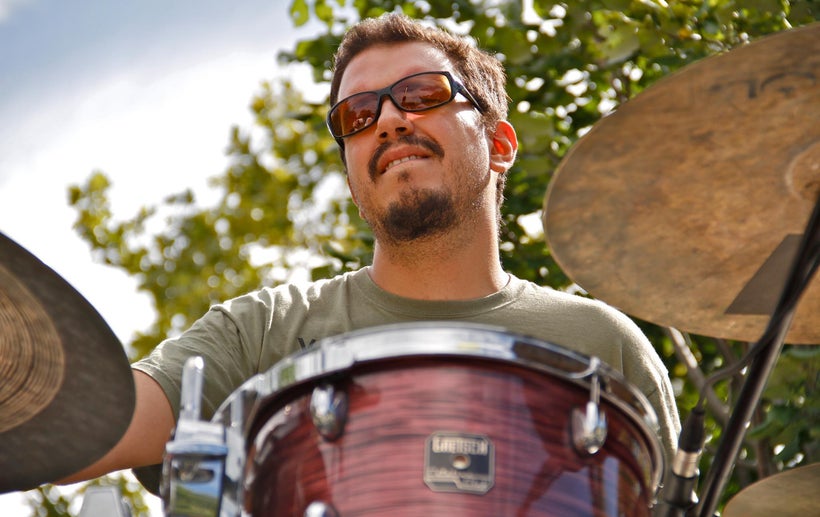 From my Soy/Somos series, a real-life collage of Latinos in the USA. Read the introductory post here Soy/Somos: We Are Many.
I met Andrés through a mutual friend who plays the harp. Andrés is a musician born in Colombia, studied five years at the prestigious Berklee College of Music in Boston. He lives in New York. He's soft-spoken, his English near perfect. We talked about the music he loves and about the extraordinary riches of diversity.
"I think this country is losing sight of what makes it great. In my first few months in New York while biking in Brooklyn things would change radically from place to place. In Greenpoint the stores are in Polish. People are speaking in Polish. The bakeries smell amazing. Then you bike a little south and it's the orthodox Jews and the way they dress. If you go to Jackson Heights in Queens, it's all Colombians—and Bangladeshi. Flushing is another Chinatown. I walk down the street and I hear three different languages. I love not understanding.
Andrés' mother, a nurse, his father, a doctor, noticed that Andrés loved music when very young. They gave him a small keyboard, and it turns out that Andres was good at it. From an uncle who collected CD's Andrés discovered classic rock, Pink Floyd, and Santana.
"I was always tapping, like the table, like the feet, like cucharas de madera (wooden spoons) on the living room sofa. This is true of all percussionists I know. There's an internal drum beating. I started taking drum lessons when I was eleven. This was the one! With my first lesson it was instant love. In high school I got into rock and long hair. In college I moved to the Latin world of percussion, Cuban music through percussion, drumset, and Colombian rhythms like cumbia and mapalé.
"Actually the first plan was to go to Cuba for my studies. I'd asked my Cuban drumset teacher in Bogotá who guided me to ISA in Havana. That's the Instituto Superior de Arte. You have to start at the lower level conservatory, he said, and then you have to be good enough to get into ISA. My dad took me to Havana for three days to get a sense of the schools. We did a lot of talking. That was so wonderful for me. How serious are you about drumming? He was the one to ask, Why not the US? That was some far away ivory tower for me. I'm not good enough! But I knew about Berklee. I'd been big into the progressive rock band Dream Theatre, and they went to Berklee. So it turns out that I went to Cuba to talk with my father to decide to study in the United States. I got a partial scholarship to Berklee but it wasn't clear how long I'd be able to stay because of the money.
Andrés told me that although he went to a French school in Bogotá, Colombia is heavily influenced by American culture. He watched American movies with subtitles in Spanish. He wanted to read American lyrics and books like Lord of the Rings in the original version.
"When I arrived here I could understand, well, anything! I remember the first night. I went to this pizzeria and people were eating and talking. I could get it. But if I spoke, I would sound like an idiot. At Berklee I thought there would be like four Colombians, but there were about forty! Some kids born in Colombia like me, others whose parents were born in Colombia, so they were American. And when I went to the cafeteria and realized that people working in the kitchen were Colombian too, I went 'wow.' In Boston there is a huge community of people from Antioquía; that's a province in the interior of Colombia.
"There were students from all over the world, far from all that is familiar. But then we were all crazy about music--and also a little crazy just by itself. And so we connected. We each had cultural quirks. For example, in Bogotá we sometimes put pieces of cheese in our cocoa. My friend from Italy would say, that's disgusting. Then you'd see someone else doing something weird. You learn quickly that your little world is not the beginning and the end. It's a small part of a bigger thing.
"I graduated with a dual major in Jazz Drumset Performance and Contemporary Writing and Production.I discovered that jazz is part of the culture here, like gospel in church. This made me want to dig into my own roots. Colombian students that were composing were using Colombian roots in some way. My younger friends today are mixing Colombian music with jazz and hip hop. Cuban music is so famous and big, also Brazilian. We are trying to do that for Colombian music, to rescue it. Some of it is ancient music, interesting connections between Africa and Spain and the native Colombian. That started for me at Berklee, and when I moved to New York I met other people who are deep into this. We teach each other.
"The US visa I have now is an 0-1 Arts visa: 'Outstanding ability in music.' It allows me to freelance in music and record. I'm a professional musician. I can travel, go in and out of the country on tours. The visa is good for three years. I could even play at Carnegie Hall." Andres laughs.
For the 01 visa you have to have an intended schedule for the amount of time that you are requesting the visa. You need recommendations, job offers, people committed to hiring you for recordings and concerts. I asked Andrés if he saw himself going back to Colombia. He told me that with his seven years in the United states he's been developing networks and gets the culture. The great thing about music and freelancing, he says, is that you can do your homework and have projects in various places. For the first time in his life he had gigs for every day of the week. In Bushwick and in Park Slope in Brooklyn. a day in Harlem accompanying a jazz singer who is Dutch.
"I am going back to Colombia for three months to study with the masters, especially on the Caribbean coast where there is a rhythm called bullerengue. You know that bulla means noise. The band I am playing with is called Bulla en el Barrio. Bulla are the songs and rhythms of the blacks in the Caribbean coast of Colombia, passed on by oral tradition. When black slaves got together they would sing and drum. And so the criollos--or whites--would say, 'Allí están esos negros con esa bulla.' Noisy.
"In bullerengue there are two drums, the alegre drum, the happy drum that is always talking and looks like a conga, then the llamador which is smaller, the one that holds everything together. You can think of it like a clave. Other than that it is voice and dancing. The singers inform what the alegre should do and what the dancers are doing.
"What more vulnerable way of coming together than people dancing and making noise. Being child-like, not hanging on to your beliefs, even if for half an hour. You move your feet, you feel awkward, but you feel alive. The next person who crosses your way and looks at you bad, you don't go 'argh.' Maybe you smile and say forget it, and you are fine.
"Soy una esponja. How do you say that in English? ("I'm a sponge," I said to Andrés.) With bullerengue and Jazz and Rock, I just want to absorb and absorb and squeeze--and what comes out will be my creation, combined with being a person and being an immigrant and being in NY and speaking in English and seeing people on the train."
REAL LIFE. REAL NEWS. REAL VOICES.
Help us tell more of the stories that matter from voices that too often remain unheard.
This post was published on the now-closed HuffPost Contributor platform. Contributors control their own work and posted freely to our site. If you need to flag this entry as abusive,
send us an email
.