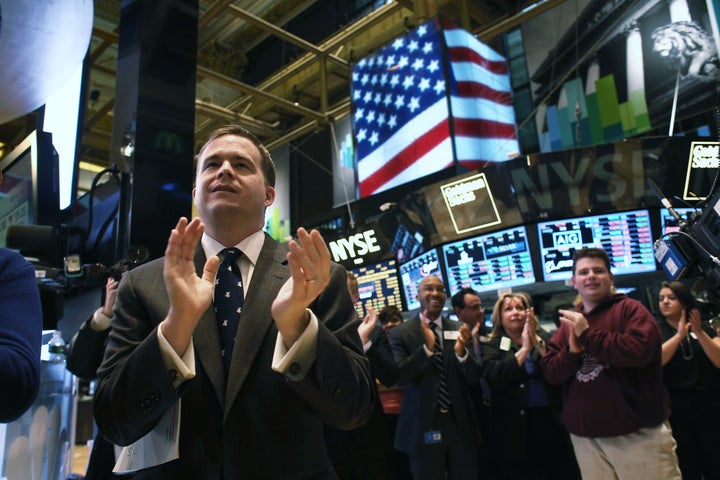 More than four years after the financial crisis began, the broadest U.S. stock-market index is back at a record high.
Unfortunately, the rest of the economy hasn't caught up yet.
The Standard & Poor's 500-stock index on Thursday gained 6.34 to close at 1569.19, topping its previous closing high of 1565.15, set in October 2007. The S&P 500 is a broader index than the Dow Jones Industrial Average, which crossed its own 2007 high about three weeks ago, and it far better reflects the state of corporate America. The Dow hit a fresh record of its own on Thursday, gaining 52.38 to close at 14,578.54. The tech-heavy Nasdaq Composite Index gained 11 points to 3267.52, about 35 percent below its dot-com-bubble high, set in 2000.
The S&P 500 has more than doubled from its March 9, 2009, financial-crisis bottom of 676.53, another big milepost on the road to recovery. And the S&P 500 is arguably a more important stock-market index than the Dow, not only because it includes 500 companies instead of just 30, but also because it does not weight individual stocks by their prices. That means an $800 stock like Google does not have a freakishly large influence on the broader market index.
All that said, the stock market, no matter how you measure it, still has remarkably little to do with the real economy, where unemployment is still high and wages are stagnant.
Stocks are setting new records in part because corporate profits are setting new records, too. Unfortunately, this profitability is helping workers none too much. Unemployment still hovers just below 8 percent, higher than in most post-World War II recessions. And with the labor market weak, employers haven't had to raise wages. Average hourly earnings for private-sector workers have gained just 8 percent since the stock market bottomed in March 2009, while corporate profits have jumped 77 percent and stock prices doubled.
There are other ways to look at this divide. Since the recession ended, corporate profits have made up about 85 percent of the gains in total national income, while employee earnings have made up just 4 percent, according to the liberal think tank Demos. The rest of the boon from the recovery has gone to other forms of income that generally benefit the wealthy, including small-business profits and interest income:

"We now have an economy built to assure high corporate profitability even when it's operating far below capacity and when most families and workers are faring poorly," the Economic Policy Institute, another liberal think tank, wrote in an email on Thursday. "This is further evidence that there is a remarkable disconnect between the fortunes of business and those best-off (high-income households) and the vast majority."
Other critics point out that the stock market has been pumped full of air by the Federal Reserve, which has bought trillions of dollars in bonds, pushing investors to take bigger risks, in stocks and other assets.
Still others, let's call them econo-nerds, argue that the S&P and Dow records are meaningless because they are not adjusted for inflation. In that light, the S&P 500 has never gotten back to its inflation-adjusted high of nearly 2000, set back in August 2000. You could argue that it makes no sense to adjust a price index by another price index, but there you have it.
The S&P 500 gained 10 percent in the first three months of the year, while the Dow gained 11 percent, its best quarter since 1998. Stocks have managed to rise despite non-stop bad news out of Europe, including most recently the near-bankruptcy of Cyprus. Along with record corporate profits and wide-open Fed stimulus, U.S. economic data have been just good enough to not stand in the way of the rally.
At the same time, mom-and-pop investors have finally started to tiptoe back into the market after years of staying mostly on the sidelines and hunkering down in the bond market. Some see this as a sign that the bull market, one of the best since World War II, might be peaking.
This post has been updated with details throughout.

Calling all HuffPost superfans!
Sign up for membership to become a founding member and help shape HuffPost's next chapter
BEFORE YOU GO
PHOTO GALLERY
The Most Popular Stocks In Congress