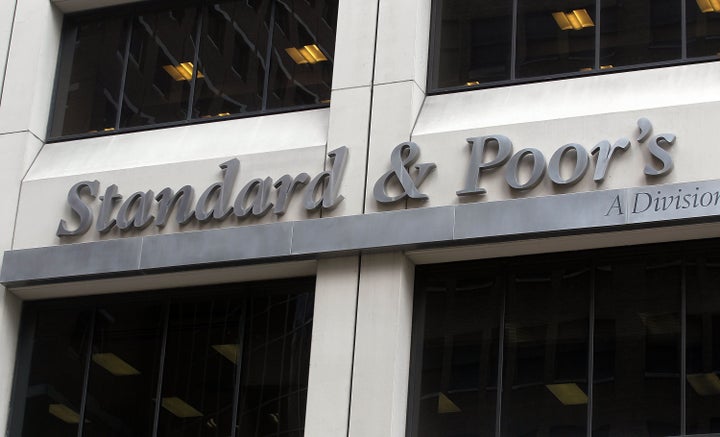 Though the credit rating agency Standard & Poor's no longer believes the United States merits a top triple-A rating, it is prepared to put its stamp of approval on a set of bonds backed by subprime mortgages, only a few years after its high ratings of other subprime-backed securities helped set the stage for a financial crisis and near-collapse of the global economy.
S&P is considering assigning an AAA rating, its highest possible grade, to 59 percent of a set of bonds known as Springleaf Mortgage Loan Trust 2011-11, Bloomberg reports. The Springleaf portfolio is backed by $497 million in subprime loans.
Currently, Standard & Poor's rates U.S. Treasury bonds at AA-plus, one notch below triple-A. If the agency assigns the Springleaf bonds a triple-A rating, it would suggest that S&P believes the subprime-backed securities to be a safer investment than Treasuries, even though three years ago, subprime mortgages played a large role in triggering a market panic, an implosion of the financial sector and ultimately a global recession.
In the years preceding the financial crisis, S&P, along with Moody's and Fitch Ratings, gave top marks to thousands of risky mortgage-related securities, leading to those assets becoming widely traded and forming the basis of a global speculative bubble.
Earlier this year, the Financial Crisis Inquiry Commission released a report in which it declared that "the three credit rating agencies were key enablers of the financial meltdown," noting that "the mortgage-related securities at the heart of the crisis could not have been marketed and sold without their seal of approval" and concluding that "this crisis could not have happened without the rating agencies."
Standard & Poor's made headlines during the first week of August when it lowered its rating for the United States' sovereign debt by one notch, to AA-plus from AAA, following the resolution of the debt-ceiling standoff in Washington. The downgrade touched off several weeks of stock-market volatility and sharpened concern among analysts and market participants that the fragile U.S. economy could slip into a double-dip recession.