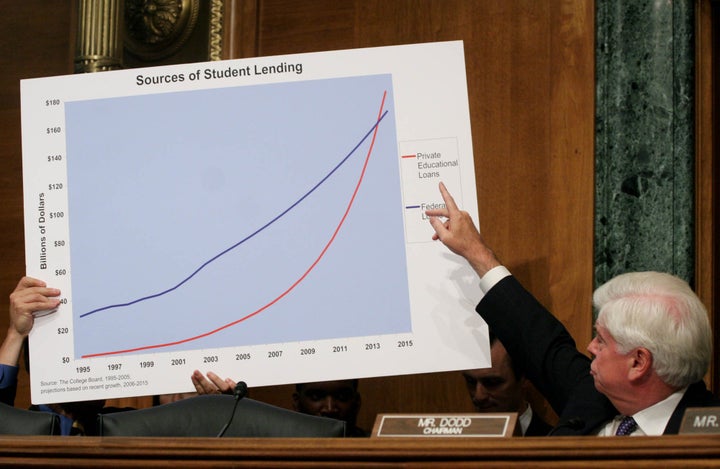 Thought the mortgage crisis was a rough ride? Buckle up for the next financial crisis.
Student-loan debt may be the next major U.S.-asset bubble to burst, according to Standard & Poor's.
The problem: colleges and universities are hamstrung with lower endowments, while students have increasingly lower prospects of ever paying back their loans. Student debt now outpaces credit-card debt, approaching $1 trillion for the first time. The Project on Student Debt found that in 2008, 67 percent of college students at four-year universities were graduating with student-loan debt. That number is even higher for students at private nonprofit and for-profit colleges and universities.
"Student-loan debt has ballooned and may turn into a bubble," the S&P said, as reported by Bloomberg. "There are more defaults and downgrades for some student-loan asset-backed securities."
S&P joins a growing chorus of economic observers warning that student-loan debt could become a significant albatross on the overall U.S. economy.
In 2011, Moody's Analytics issued a similar warning. In a report, Moody's concluded, "The long-run outlook for student lending and borrowers remains worrisome. Unlike other segments of the consumer-credit economy, student loans have not demonstrated much improvement in performance despite some improvement in the broader economy. ... [T]here is increasing concern that many students may be getting their loans for the wrong reasons, or that borrowers -- and lenders -- have unrealistic expectations of borrowers' future earnings."
The National Association of Consumer Bankruptcy Attorneys also recently released a survey, which found that four in five bankruptcy attorneys are finding more clients with student debt as a significant problem.
But there's more bad news.
A new report from the Pew Research Center released Thursday found the employment rate for young adults at a 60-year low. In addition, fewer parents are now expecting their children to be fully independent by age 22, making it even more difficult to pay off those student loans.
The Project on Student Debt notes the average debt for students at public universities is about $20,000, but grows to between $27,650 and $33,050 for students at private schools.
Related
Popular in the Community