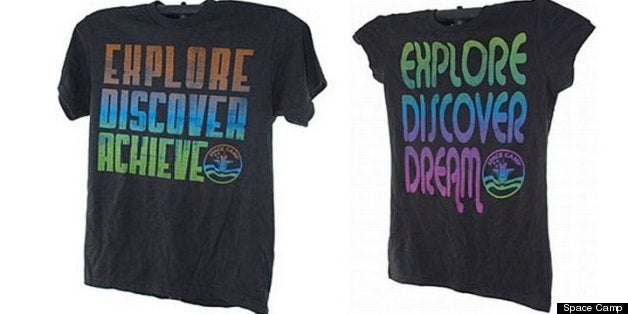 First came controversy over the his/hers Iron Man and Avengers T-shirts that stoked consumer controversy over their mixed gendered messages about heroism. Now, behold this even more glaring example of gendered marketing, since, unlike the Marvel comics shirts, these T-shirts are male and female equivalents of the same design from the same manufacturer. And they're being sold over at the online store for Space Camp, which serves as an "education program to promote the study of math, science and technology."
The T-shirts start of well enough, encouraging both boys and girls to "explore" and "discover." But only the boys are prodded to go ahead and achieve, while young women can keep on dreaming. Sigh.
Now, this probably -- hopefully -- wasn't the intended message behind the shirts, and I'm not implying that Space Camp has some sort of secret sexist agenda at work. However, considering the persistent gender gap among science, technology, engineering and math (STEM) careers and the widespread initiative to attract and retain more women in STEM fields, the shirts are a depressing reflection of the male-dominated STEM status quo in the United States, and perhaps an example of why it persists. According to a 2012 report from the U.S. Congress Joint Economic Committee, as the proportion of American women earning bachelor's degrees has risen, the number of female degree-seekers in math, statistics and computer science has declined. Out of college, women fill only 14 percent of engineering jobs and 27 percent of computer science and math positions.
The STEM gender gap isn't due to an intelligence gap, as indicated by the results of a science exam administered to 15-year-olds in 65 nations by the Organization for Economic Cooperation and Development. In fact, girls outperformed boys on the science exam around the world -- except for the U.S. Researchers think that might have something to do with a "stereotype threat" that subconsciously undercuts girls' academic performance by sending a message that STEM courses are for boys. Surely, framing STEM career success as something female Space Campers can merely "dream" about doesn't help matters.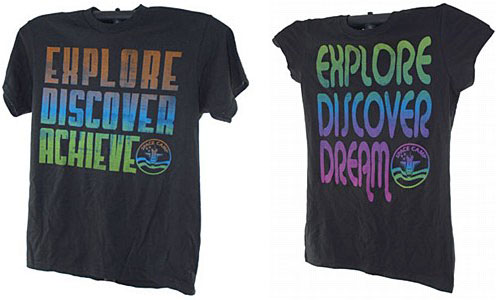 REAL LIFE. REAL NEWS. REAL VOICES.
Help us tell more of the stories that matter from voices that too often remain unheard.