According to a report in the L.A. Times, legendary street artist Space Invader was detained in Los Angeles last Friday. Invader, known for his colorful mosaics inspired by the classic arcade game from which he takes his name, is believed to have been one of two French nationals detained by the LAPD on suspicion of vandalism. A cousin of Thierry Guetta, aka Mr. Brainwash, Space Invader is a French citizen who keeps his identity secret, pixellating his face in video footage and photography.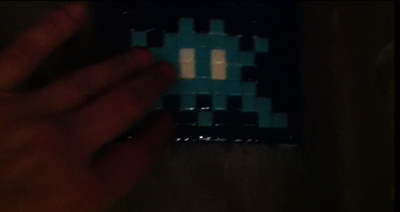 Still from Space Invader's video of himself installing a piece at L.A. MOCA / Courtesy of the artist
The police claim to have caught the two taggers near Los Angeles MOCA in Little Tokyo, hanging out by a historic building with buckets of grout and some tile pieces. The duo has been released while the investigation continues, but a police spokesman said that after the men were let go, Invader's trademark mosaics were discovered attached to several other buildings, including MOCA's Geffen Contemporary.
MOCA, of course, is hosting the epic street art celebration "Art in the Streets," which features numerous works by Space Invader (the museum is even selling Space Invader keychains for $7). The artist's personal Web site, meanwhile, features a digital floor plan of MOCA's space, evidently illustrating the locations of Invader pieces planted around the exhibition. Clicking on the icons on the map opens a video that seems to show the artist placing one of his blue-tiled mosaics somewhere in the scaffolding above the "Art in the Street" galleries, as security guards walk by beneath.
The map is titled "Map of the Blue Invasion" -- a possible reference to the street artist Blu, whose antiwar mural was whitewashed from the front of the MOCA's Geffen building in the lead-up to the show, somewhat tarnishing its credibility.
"Art in the Streets" is proving a likely blockbuster, attracting major crowds. But it has also attracted major controversy, as police allege that the celebration of graffiti is inspiring unlawful art in the surrounding neighborhood. Transit authorities announced that a tagger vandalized the Little Tokyo Gold Line train station recently, while artist Katsu hit the Geffen building with an unauthorized intervention. The Independent notes that three "Art in the Streets" artists -- Barry McGee, Steve Powers, and Todd James -- posted videos online showing themselves tagging a wall in Hollywood just last week. Police have vowed to crack down, and Invader may be their first big prize.
Of course, the arrest of Invader would fit with the script of such shows. Shepard Fairey was arrested for doing some art on the streets of Boston when he showed up for his retrospective at the city's Institute of Contemporary Art. Nor would it be the first time that the French artist faced the law in L.A.: In the past, he was ticketed by the L.A. Parks Department for placing one of his works on the Hollywood sign.
Calling all HuffPost superfans!
Sign up for membership to become a founding member and help shape HuffPost's next chapter