I was four that summer of 1962. We had just moved to Seattle from Detroit. My father worked for Huck, big manufacturing partner of Boeing, and had been transferred to be closer to his huge customer. I remember that we still were not totally settled in and our brand new rambler home was not yet landscaped. My parents took me and my younger sisters, Page and Muffie, to the World's Fair. It is one of my earliest memories. We went on rides, stood in long lines, and toured the pavilions. Mostly, what I remember is eating French food in the international food pavilion (which then set me on a lifelong love all things French) and going up the Space Needle. It was unlike anything that anyone had ever seen before. Like the Eiffel Tower, it was built for a world event yet also as a huge enduring symbol. What I didn't know as a four-year-old experiencing the World's Fair, was the story behind the Space Needle and the 1962 World's Fair as I had missed Sputnik and had no idea that this was a deliberate PR move by the US actively engaged in the Cold War with the Soviets.
You see, with the Cold War, the space race underway and Boeing having put Seattle on the map as an aerospace city, a major theme of the 1962 World's Fair was to show that the United States was not behind the Soviet Union in the realms of science and space. As a result, the major theme for the World's Fair was about the future. The Seattle World's Fair looked forward with an emphasis on science and space technology. The Space Needle, which turns 50 this year, continues as that enduring landmark on the Seattle skyline: a space ship hovering above the city, tethered ever so slightly.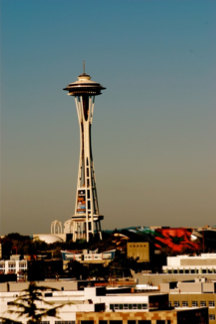 Fifty years later, Seattle continues to lead the world in science, technology and innovation. Boeing planes continue to be engineered in the region, which is now home to Microsoft, Amazon, a predominant number of organizations that are pioneering new medicines, new ways to deliver goods, services and content. The future is being created here every single day. And yet, as a recent survey by my firm shows, the Space Needle is expected to be around for another 50 years.
The last thing I remember about my day at the 1962 World's Fair was climbing out of our woody station wagon and accidentally letting go of my helium balloon. I watched as it floated away, and wondered if someday I too would be able to float up into the sky like that. Not yet. Maybe someday in 50 years from now, we will have mastered the ability to fly and I am sure that innovation will come from some brilliant Seattle mind.

Calling all HuffPost superfans!
Sign up for membership to become a founding member and help shape HuffPost's next chapter