In 1969, Neil Armstrong traveled out of this world, planted an American flag on the moon and declared the exploit one giant leap for mankind. Indeed, Armstrong was correct; mankind has since soared. In 2015, we welcome the #SpaceCheeseburger.
On February 19, NASA astronaut Terry Virts, who is currently aboard the International Space Station, tweeted (you can tweet from space, hallelujah) a photo of his space-crafted cheeseburger. The burger is not, in any way, visually appealing, but when it comes to burgers -- especially those eaten outside of planet earth -- taste trumps appearance.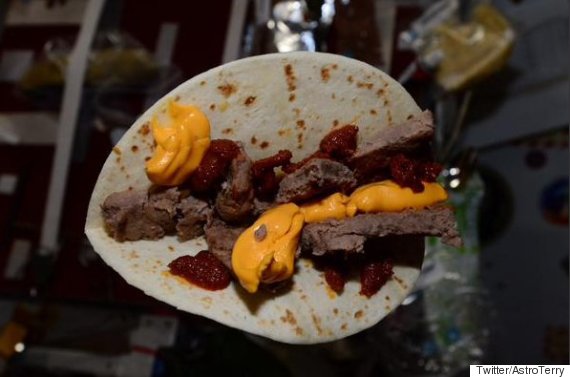 This ugly duckling is outfitted with beef patties, Russian mustard, tomato paste, cheese paste and a tortilla. The astronaut reported the #SpaceCheeseburger to be "VERY TASTY!" and even shared a photo of himself enjoying it.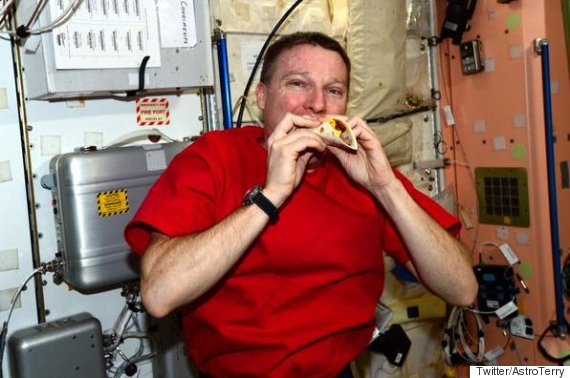 Other sources are not as complimentary about Virts' burger. "We're not the burger police or anything, but a tortilla filled with a strange meat-like product covered in cheese paste and red goop is not a cheeseburger -- but it sure is scary," Erin Mosbaugh writes on FirstWeFeast. Mashable's Brian Koerber questions Virts' mental health and NASA's priorities. "Seriously, NASA? You can get a man to the moon but you can't bring them bread?," he writes.
Tortillas are, in fact, all the rage in outer space; they're a resourceful sandwich alternative. The tortilla's extended shelf-life and its consistency (fewer crumbs than sliced bread!) make it the perfect package in a place without gravity.
If there's anything to learn from Virts' valiant achievement, it is to dream big -- to reach for the stars, the moon, beyond the Milky Way.