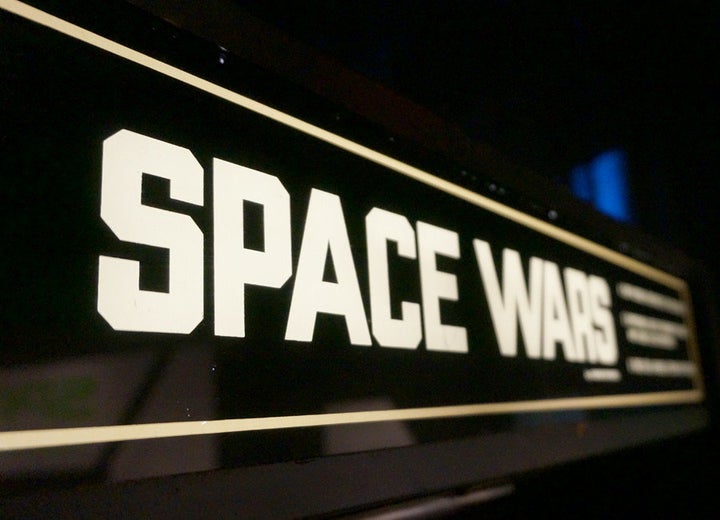 The recent Smithsonian exhibition, The Art Of Video Games decided to not make many of the games playable, and the Museum of the Moving Image Executive Director Carl Goodman explained to the Huffington Post how "Spacewar!" stands out in comparison. "What we're trying to do is to think about exhibitions that aren't just about video games in general. To focus first on presenting playable games," he said.
Goodman continued, "We wanted to have a show with a more distinct voice that looks at a subset of games, and in this case its also with the theme of science fiction and space and the legacy of one of the very first digital video games."
That video game which the exhibition uses as its focal point center is "Spacewar!" -- which premiered in 1962 during the Science Open House at the Massachusetts Institute of Technology (MIT). It was created by a group of researchers and students and originally conceived as a "capabilities demonstration" for the new-at-the-time Digital Equipment Corporation PDP-1 computer.
The themes, setting and game play of "Spacewar!" would have a significant influence on video games -- specifically science fiction and shooting genres -- over the next half century.
The connection "Spacewar!" has to modern games such as the incredibly popular "Halo 4" (which is featured in the exhibition) is not far fetched. Goodman explains, "Halo 4 may not be as different from 'Spacewar!' as you think, and this exhibition makes that connection. This is really an exhibit of triangles, spheres and projectiles."
The exhibition makes that connection through games carefully chosen by its curator, John Sharp, from a list of about 70 to 80 options. Sharp told the Huffington Post that "The Theory of Computer Toys," a manifesto of "Spacewar!" developers, was a major influence in the final game choices. "They [the "Spacewar!" developers] wanted to make something that maximized technology, they wanted to provide something with different kinds of experiences, all within a certain design space, and they wanted it to be a game. And we picked games that fit one or two or three of those criteria."
Photos of "Spacewar! Video Games Blast Off" at Museum of the Moving Image:
PHOTO GALLERY
Spacewar! Video Games Blast Off Exhibition
Half of the games and game consoles in the show are from the Museum of the Moving Image's collection. Goodman said, "We have a number of identical consoles that we can rotate in and out. As long as we have one that we preserve."
He singled out one of the arcade games in particular, "The Star Wars sit-down? Rare, very rare."
Games are important; they have a history. Like the Star Wars arcade sit-down. It tells a story like any object. Since 1995 there's been somewhere around 70 or more exhibitions that have brought videogames into cultural heritage institutions. But video games themselves have only recently begun to get the high art "seal of approval," mainly due to institutions like Smithsonian and MOMA.
Sharp explained, "So MOMA made this announcement (about their video game collection), but its really about the good house keeping seal of approval; they've earned the right to give to culture. That is what has made [the announcement] the sort of newsworthy thing that it is."
But if you ask Goodman, the news outlets are probably a little behind the times. "We've been doing this for 25 years, this is not something we jumped into," he said.
Goodman gives his own seal of approval to video games as having cultural significance, and not to just all of the gamers out there. "We see ourselves in the way of 'games for games' sake. There's a value to people other than the gamers, to the appreciation and understanding of video games as a creative and technological medium."
When asked if games are art, Sharp -- a former art historian -- said, "Some games are." He continued, "I think two of the games MOMA acquired are interesting. One of which is 'Passage' by Jason Rohrer, which is a very artful exploration of the human condition. But its also kind of a 19th century understanding of art."
Who has a say in what makes something art? "A lot of it was just taste," said Sharp. "The painting was not originally considered 'art' back in the 15th century, painting was considered to be not so different that making bricks. It was like making a piece of furniture. It was a mechanical art, not a liberal art. It has to do with taste standards of the time."
Is calling games art becoming what education in games was for a number of years? A cultural legitimizer? "It was about 'what can we learn from them,' and now we've got to where they're becoming high culture, they're 'art' so that makes them OK. But [games have] been with us for as long as there's been culture. We've been playing for as long as we've been singing, writing."
Even with games in their most basic forms being available as long as there's been culture, what makes a game educational, entertaining or artistic is up to the individual user experience. Considering the wide distribution of video games in our society, it isn't surprising to hear Goodman say, "Its been our experience there's just about anything somebody can grab onto depending on their age and experience."
Grandma or grandpa might be able to hold their own in a game of "Wii Bowling," a 9-year-old might destroy dad in "Skylanders," and mom might settle in for a routine hour of "Fashion Story" on the iPad, but for some people properly experiencing "Spacewar! Video Games Blast Off" is going to be challenging. Sharp says to really experience the exhibit you "can't really just sort of walk around and look at it."
To get the most of a playable game exhibition like "Spacewar!" Sharp said, "The best way for someone new to video games to start would be to spend 15 minutes with one game that seems interesting to them. Culturally we have a fear of failure you have to get over very quickly to embrace games. If you're not used to that it can be challenging to get something out of the show."
Regardless, Sharp says he thinks they're explaining things well enough, that even for those people watching somebody play they can get something out of the exhibition.
Goodman agrees, "People will come out of this exhibition having a better understanding of how to talk about video games."
The playable video games at "Spacewar! Video Game Blast Off" are:
Spacewar! - 1962
Computer Space - 1971
Space Wars - 1977
Asteroids - 1979
Star Wars - 1983
Battlezone - 1980
Tempest - 1981
Space Invaders - 1978
Defender - 1980
Missile Command - 1980
Galaxy Force II - 1988
Portal - 2007
Super Mario Galaxy 2 - 2010
Yar's Revenge - 1982
Star Fox - 1993
Halo 4 - 2012
Metroid II: Return of Samus - 1991
Osmos - 2009
Planet Zeon - 1982
Galaga '91 - 1991
Vertical Force - 1995
Correction notice: An earlier version of this story stated the Smithsonian exhibition, The Art Of Video Games decided to not make many of the games playable. According to the Smithsonian exhibit FAQ, some of the games are playable. This story has been edited to reflect that information.
REAL LIFE. REAL NEWS. REAL VOICES.
Help us tell more of the stories that matter from voices that too often remain unheard.
BEFORE YOU GO