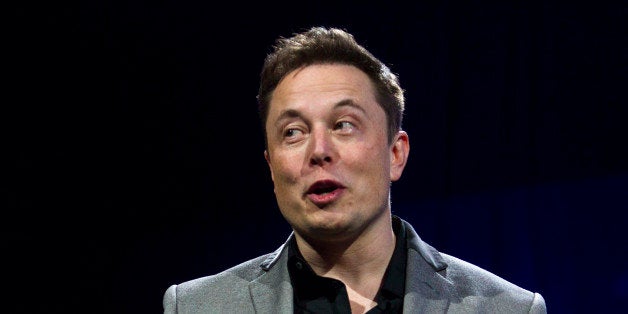 Elon Musk is one step closer to bringing the Internet to space.
The billionaire entrepreneur's private space-travel company, SpaceX, has requested permission from the Federal Communications Commission to start testing satellites that would beam down Internet from space.
The company filed a license application to "deploy a large constellation of satellites for low-latency, worldwide, high capacity Internet service," according to an FCC filing. An FCC spokesman declined further comment.
Phil Larson, a SpaceX spokesman, confirmed the firm filed a request with the FCC.
The satellite venture -- which, if successful, could pit SpaceX against Comcast, AT&T and other rival Internet service providers -- began last January when the company opened a new facility in Seattle. SpaceX aims to launch hundreds of satellites into orbit around the Earth -- circling the planet at about 750 miles above the surface, far closer than the typical communications satellites that soar at altitudes of 22,000 miles. That would allow the company to speed up data flows and deliver high-speed Internet to the more than 3 billion people who still have shoddy access to the Web.
In January, Musk said it could take five years to complete the first generation of satellites, and up to 15 years to reach full capacity. It's unclear how far along the project has come since then.
The satellite program is a key part of what may be Musk's loftiest career goal yet. Sure, the Tesla Motors CEO aims to rid the roads of gasoline-power vehicles. As chairman of the solar panel maker SolarCity, he hopes to make powering individual homes and businesses clean and efficient. And SpaceX was formed primarily to privatize space travel.
But during a Reddit Ask Me Anything Q&A session earlier in January, Musk said he may reveal plans to build a human colony on Mars sometime this year.
Such a vast and historic undertaking would require a connection to the Internet, he said.
"It will be important for Mars to have a global communications network as well," Musk said. "I think this needs to be done, and I don't see anyone else doing it."
Yet, he isn't alone. Virgin Group founder Richard Branson, who owns the competing space-travel firm Virgin Galactic, has backed a company called OneWeb, which also aims to ring Earth with Internet-providing satellites.
In March, Facebook revealed it has begun testing solar-powered unmanned drones that would soar through the sky, beaming down Internet from above.

Related