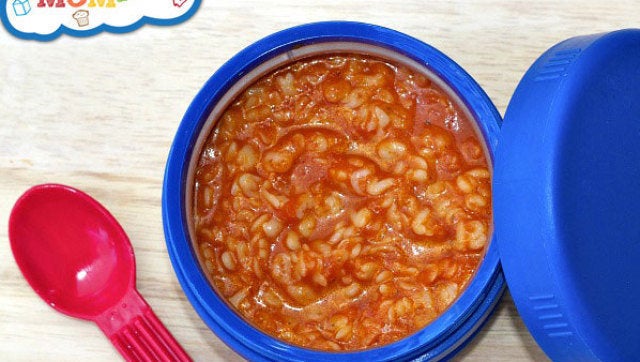 Would you feed your child a can of Spaghetti O's for lunch every day?
A few weeks ago, I received an email from a mom who recently found my website and needed help. In her email she wrote:
I am embarrassed to even email you... but I need help. For the last 2 years I've been sending my son to school with a can of Spaghetti O's for lunch -granted warmed inside a thermos. He's grown used to this lunch routine and he doesn't want to eat anything else. Please help.
My heart sank for this woman. I know how overwhelming it can be to come up with foods our kids will actually eat... add working full time and it's pretty easy to fall into a "routine" of sorts.
Lucky for her, I had gone through a similar situation myself. A few years ago, my children tried the infamous canned pasta in sweet tomato sauce (given by a family member at their house) and they thought dipping buttered white bread slices in the "sauce" was the greatest thing ever. Of course they did!
In order to remedy the "mom, can we get Spaghetti O's for dinner?" question, I decided to make my own version. Of course, my kids know that my ABC pasta is homemade but they still enjoy eating these for dinner and in their warmed thermos for lunch.
What's better than a quick meal? A meal that practically cooks itself, it's loaded with veggies and your kids love. In option 1, the sauce is made in the crockpot while you are busy doing other things --like working, caring for the other children or sipping a cup of coffee. Option 2 cooks low and slow on the stove top.
What I love about my sweet tomato sauce is that I can hide all sorts of veggies in there, except broccoli. Broccoli tends to leave telltale "I was here" bits of green specks. You can add extra veggies like yellow, green or orange squash and some spinach for the extra boost.
Mom-word-of-warning: be careful getting too adventurous because the "sauce" color will change and won't have the familiar red color.
Be careful when using a standing blender to mix all vegetables into a smooth pureed sauce. If available, use an immersion blender.
This yields a large pot of sauce, so you will have lots of dipping and thermos loving lunches going on. If you choose to freeze extras, allow the sauce to cool before freezing.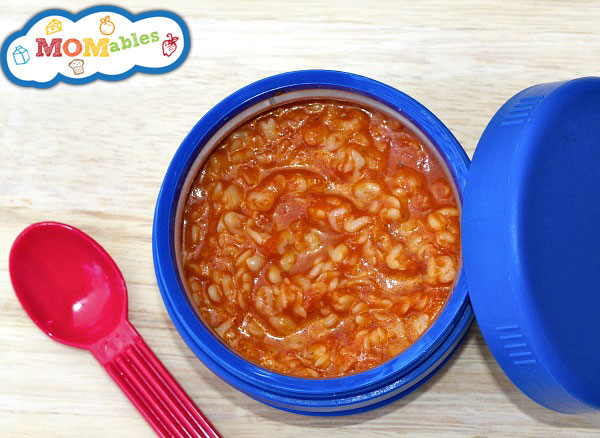 Sauce Ingredients:
• 1 Tablespoon olive oil
• 1 Red bell pepper, diced
• 2 Medium carrots
• 1 Stalk celery, diced
• 1 Small onion, diced
• 2 Cloves garlic, minced
• 1 Tablespoon tomato paste
• 1 28-ounce can crushed tomatoes or tomato puree
• 1 14-ounce can crushed tomatoes or tomato puree
• 1-2 cups additional vegetables (optional)
• 1-2 cups of water (same amount as added vegetables)
Pasta:
• 16oz bag of ABC pasta, shells or macaroni, cooked
Crockpot Directions:
1. Add all ingredients (except pasta) in a crockpot for 4-6 hours on low.
2. With an immersion blender, puree sauce. You might have to add a bit of water until you have the traditional sauce consistency you like.
3. Using an immersion blender or a traditional upright blender, carefully puree veggie tomato sauce.
Stove top Directions:
1. Heat the oil in a saucepan over medium heat. Add the bell peppers, carrots, celery, onions and garlic. Sauté until veggies are soft, about 5 minutes. Add the tomato paste and cook for 1 more minute, stirring constantly.
2. Add the tomatoes, reduce heat to low, and simmer for 10 minutes.
3. Remove from heat, puree with an immersion hand blender (or in a regular blender) until almost smooth.
4. Return sauce to the heat and simmer until thick, 10-20 minutes. The longer you simmer this sauce the thicker and more flavorful it will become. You can simmer up to 2 hours.
5. Using an immersion blender or a traditional upright blender, carefully puree veggie tomato sauce.
To serve: Serve pasta on a plate. Pour sauce over pasta. Mix well.
MOM Tip: Use leftovers for lunch. Preheat your thermos so the soup remains warm till lunch. Pack with a grilled cheese or bread roll and fruit.