I have eaten at a lot of amazing restaurants across the globe, but the second I sat down at Un Piano nel Cielo and was handed a water menu, I knew I was in for quite a treat.
The restaurant is located on the top floor of Casa Angelina, a stunning hotel on the top of a cliff in Praiano, on the Amalfi Coast of Italy. With a gorgeous view of the adjacent hillside of Positano and a sweeping panaroma of the Mediterranean Sea, the restaurant wears its name -- a floor in the sky – well.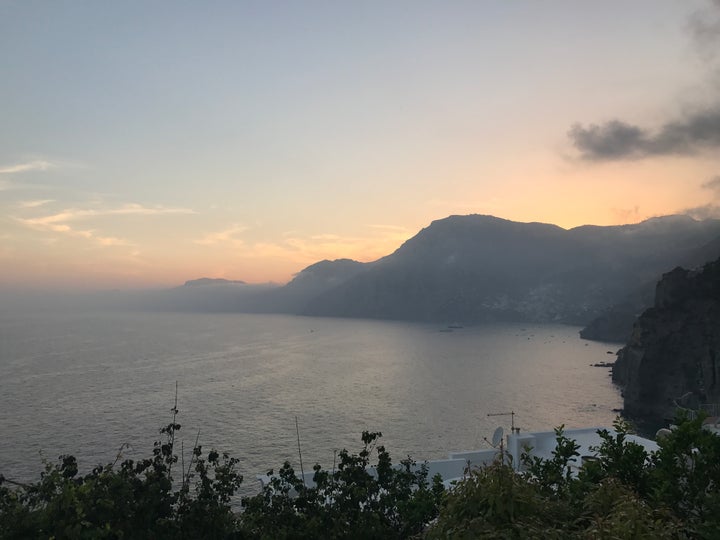 We were seated on the terrace on a perfect summer night as the sky darkened before us. We were immediately wowed by the menu's locally sourced food (fresh fish from the Amalfi Coast, mozzarella di bufala Campana, those mouth watering San Marzano tomatoes), the bread selection (I could write volumes on the bread offerings alone -- an array of inventive, freshly baked options), and the utterly flawless service.
But what stood out the most was the executive chef's creative takes on typical culinary delights, like the "Neapolitan sushi" I ordered to start my meal. Finely chopped spaghetti, cherry tomatoes, raw tuna bites and garlic were served in a Martini glass before me. I generally like my spaghetti served in a bowl, steaming hot with fresh marinara and meatballs and dusted with Parmesan, so I couldn't help but order it with a healthy dose of skepticism.
One bite and I was sold. It was nothing like I expected nor could have possibly dreamed up. But it was perfect.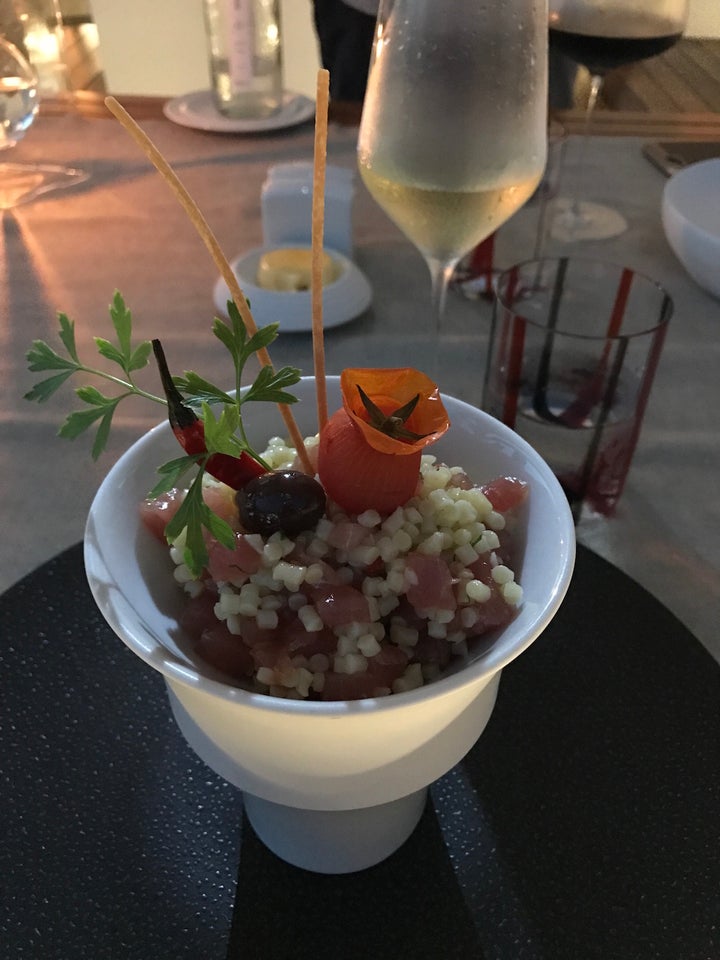 I learned (and my taste buds discovered) that executive chef Vincenzo Vanacore wasn't simply a master of imaginative twists like the Neapolitan sushi but also a skilled creator of the region's most authentic dishes.
In fact, the restaurant offers A Taste of Historic Amalfi menu to guests that features rare regional specialties, from zuppa di pesce (fish soup) to) ragù (pasta with meat-based sauce. And chef Vanacore actually comes out and shares some of the area's culinary traditions and customs, as well as the dishes' origins, preparation methods and his emotional connection to them (he's a native of Naples himself).
The icing on the cake (so to speak) of this perfect meal was the chocolate cart that pulled up as we were mulling over the dessert menu. Big blocks of dark, milk, and hazelnut-flavored chocolate arrived and my stomach suddenly, magically, had room for more. A server expertly sliced off pieces for us to enjoy before we ordered dessert.
I was literally in heaven. Or at the very least, at a true Piano nel Cielo.
Related
Popular in the Community