Spain will host next month's global climate summit after Chile withdrew this week amid growing protests against inequality and austerity.
The 25th Conference of the Parties, the United Nations' annual gathering to hammer out plans to cut planet-heating emissions, will take place in Madrid from Dec. 2-13, Michał Kurtyka, the official who oversaw last year's summit in Poland, announced on Friday morning.
Spain's Prime Minister Pedro Sánchez publicly offered the Spanish capital as a venue after Chilean President Sebastián Piñera abruptly canceled the event on Wednesday amid mounting unrest.
The location of the yearly confab had become something of a hot potato over the past year. Brazil, the initial host, pulled out last November after electing far-right President Jair Bolsonaro, a climate science denier. The next month, neighboring Chile offered its capital, Santiago. But as fiery protests erupted last month over a metro fare hike, Chile, the most unequal country in the 36-nation club of developed economies, also bowed out.
For Sánchez, 47, the save offers a political victory less than two weeks before Spaniards go to the polls for the fourth election in as many years. His Spanish Socialist Workers' Party won reelection in April after declaring support for "El Green New Deal de España," sometimes translated as "El New Deal Verde," making Sánchez one of the first heads of state to endorse the climate platform popularized by progressive Democrats in the United States.
The Green New Deal, in essence, is a centrally planned industrial strategy to eliminate climate-changing emissions and guarantee economic security to workers whose jobs depend on fossil fuels.
The move marked an escalation by a prime minister who, last November, proposed banning fossil fuel subsidies, divesting state funds of oil and gas, and generating 100% of its electricity from renewables by 2050. These were significant steps from what Climate Home News noted remains Europe's second-largest carmaker and biggest importer of liquefied natural gas in the European Union.
The Nov. 10 election is expected to generate low turnout, a concern for a prime minister who first came to power after defeating his center-right opponents last year by a razor-thin margin. In June, the conservative People's party and center-right Citizens party formed an alliance with the far-right Vox party to take control of Madrid's city council and roll back rules meant to reduce car traffic and pollution.
The populist politics undergirding the Green New Deal movement have energized voters in Europe, sparking what The Guardian called a "quiet revolution" this spring when green parties across the continent surged in the European Parliament elections. But Sánchez ― whose party, despite its name, espouses a center-left, market-friendly ideology ― is hardly a left-wing populist.
In September, the prime minister rejected a bid to form a coalition with the left-wing party Podemos, which proposed a much more ambitious Green New Deal program that included transitioning to 100% renewables by 2040 and nationalizing the utility sector. The failure to strike a deal forced Spain to schedule its fourth election in as many years, raising the risk of a conservative government that could reverse Sánchez's climate policies.
Bringing the climate summit, known as COP25, to Madrid allows Sánchez to "trade on his credentials as a charming statesman" while putting "partisanship and pretty narrow-minded politics ahead of principle and the plight of future generations," said David Adler, a policy coordinator at the think tank Democracy in Europe Movement 2025.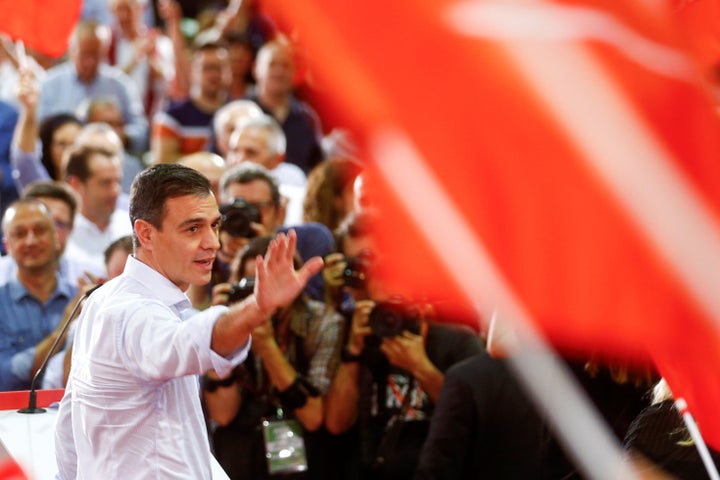 "It's hard not to read this through a cynical lens," Adler, who runs the burgeoning Green New Deal for Europe campaign, said by phone. "A lot of it fits into this broader portrait of someone who plays politics for personal gain, which has many of us in the climate movement deeply skeptical and suspicious of the motives that would have brought the COP to Madrid in the first place."
A spokesperson for the Spanish government did not immediately respond to a request for comment.
As the Green New Deal slogan garnered viral appeal on both sides of the Atlantic, it's been adopted by politicians of varying ideological ilks.
In the United States, Democratic presidential hopeful Bernie Sanders proposed a $16 trillion Green New Deal that includes such line items as $14.7 billion in federal investments for cooperatively owned grocery stores. Likewise, New York Gov. Andrew Cuomo, by most measures a conservative Democrat, dubbed his modest plan to increase his state's share of renewable electricity a Green New Deal.
In Europe, the British Labour Party put forward what some call among "the most radical" Green New Deal proposals in the world, aiming to eliminate carbon emissions by 2030, repeal "anti-union" laws and nationalize portions of the energy and transportation sectors. Then there's the "green deal" European Commission President-elect Ursula von der Leyen, a conservative German politician, made a central plank of her platform.
The latter, Adler said, is indicative of the kind of moderate policies center-left parties in Europe are rallying behind, vowing to enact overdue reforms without providing significant aid to the poor and communities already suffering from the effects of climate pollution.
"There's a decoupling of the 'Green Deal' agenda from the whole premise of the Green New Deal, which is the Rooseveltian notion of pressing idle resources into public service," he said.
His group aims to produce a new eco-socialist counter proposal for the continent by next month.
If it matters to you, it matters to us. Support HuffPost's journalism here.
Popular in the Community