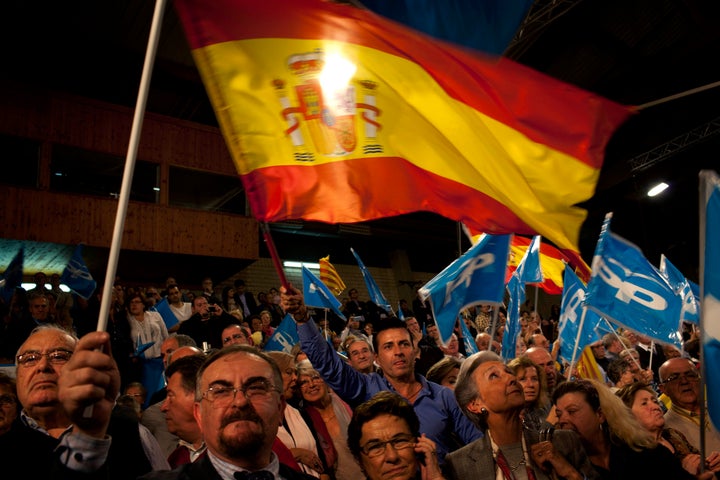 As Spain confronts the reality of its economic woes, it's becoming increasingly difficult to separate economic fact from political fiction. Last Thursday, Spain's minister of economy admitted that the 2011 budget deficit had missed the 6% of GDP target by about 2 percentage points and doubted that Spain could comply with the EU-imposed deficit target for 2012. With its debt risk still at high levels, the strategy of the new Spanish government is to shift the blame to the regional governments, like Catalonia, and at the same time use the crisis to grab back the power that was devolved to the regions in the 1980s. Unfortunately, the international media are starting to buy it.
Yet, while it may be true that some Spanish regions have overspent their means, in the case of Catalonia (capital: Barcelona) this is far from the truth.
In the past few years, Catalonia has been incredibly fiscally responsible, despite a no-win financial structure imposed by the country. One of the most productive regions in Spain (contributing 18.7% of Spain's GDP), it actually pays to the central government a staggering amount more in taxes than it receives from the central government in spending.
The imbalance has grown so large as to imperil Catalonia's own well-being. A 2005 report released by the Catalan government stated that Catalans had contributed 47 billion euros to the central government but had received only 30 billion euros in spending, resulting in a fiscal imbalance of almost 17 billion euros, or 9.8% GDP. A study released by the Spanish central government itself concurred, estimating the deficit to be 8.7% GDP. In other words, each year the equivalent of some US $21 billion goes directly from Catalan taxpayers to the central government. This makes it impossible for the Catalan government to make ends meet, despite the fact that it is responsible for delivering a wide range of services to its citizens -- responsibilities that have grown as the central government devolves (without cutting its own civil servant workforce!)
Not only is the funding too little, it is erratically paid; for example, so far Spain has refused to hand over 759 million euros -- ($1 billion USD) -- that had already been approved and included in the central budget. Catalonia's Minister of Economy accused the Spanish government of withholding the funds owed to Catalonia to both make Spain's debt look better and Catalonia's worse.
Since Catalonia has no relevant tax-collecting power of its own to make up for this lack of funding, its regional government has had to cut its budget by 10% -- incurring the wrath of many of its citizens. It tried to institute cuts its own way -- instead of immediately attaining the goal of 1.3% fiscal deficit demanded by Madrid, it chose a two year plan, with a 2.4% deficit for the first year, and 1.3% the next. Not wanting the regions to have such autonomy, the Spanish minister of economy recently announced that all new budgets from the regions would have to be approved by the Spanish executive branch -- something akin to requiring California's state budget to be approved by President Obama.
Despite the fact that it provides more funds to Spain than it takes in, Catalonia must sit by and watch the central government fund projects that do not help Catalan citizens. The Spanish government spent $60 billion building high-speed rail lines that link low density communities with marginal demand, like the connection between Toledo (population 80,000) to Cuenca (population: 56,000) which was finally canceled in June, 2011, because it cost around $22,000 per day to run, and over six months, had had only 2,796 passengers.
Meanwhile, there is no high-speed rail service at all from major port cities Barcelona (metro population: 5 million) to Valencia (2.3 million) or to the French border. Unfortunately, that is one example among many. Free highways, brand new schools, and empty airports abound all over Spain while Catalonia's commuters must pay exorbitant tolls, their schools are old and overcrowded, and the Barcelona airport is restricted from flying to certain international destinations in favor of Madrid's Barajas.
Add that to the palpable scorn expressed by too many Spanish politicians (and Spanish Twitter users!) for Catalonia, and you will realize why Catalan independence is now polling higher than ever before: around 44% would vote in favor of an independent Catalan state, in contrast with around 28% who would vote against. A week ago, the heretofore extremely cautious Catalan president alerted, in an interview with the Financial Times, about the growing emotional divorce between Catalonia and Spain and announced plans to achieve full fiscal sovereignty.

Indeed, with the 21 billion dollars that an independent Catalonia would save in a single year, it could wipe out its entire public debt in two years and still build a new airport in Barcelona, a much needed high-speed rail line to the French border, as well as several hospitals, schools and top-rate research centers.
The Spanish government must be concerned about losing its cash cow -- and is responding by doing its best to tamp down any independence Catalonia enjoys and convince the world that the Spanish deficit is Catalonia's fault. Don't believe a word of it.
This post is co-authored by:
Germà Bel, professor of Economics, Universitat de Barcelona
Carles Boix, Robert Garrett Professor of Politics and Public Affairs, Woodrow Wilson School, Princeton University
Elizabeth Castro, Publisher, Catalonia Press
Elisenda Paluzie, Dean of the School of Economics and Business, Universitat de Barcelona
Related
Popular in the Community