The Spanish understand something we don't, and it's a big part of what makes life fulfilling. It's called "ambiente."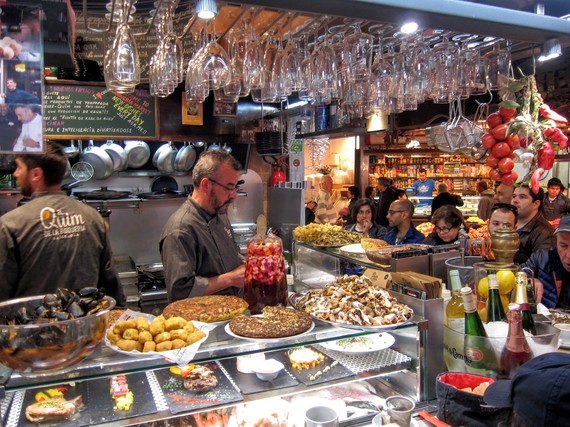 We might be tempted to translate "ambiente" as "the ambiance of a place," but the Spanish ambiente has a primal, almost mystical aura to it. I'll explain:
In my 80 countries traveled, I've noted that the Japanese, the French, and the Spanish have a kind of psychic sensitivity to the vibe between two human beings. It's completely non-verbal, but the Spaniards are a social species, and they have this wonderful, playful ability to create a mood that is conducive to bonding and fun between people--a kind of "feng shui of human interaction"--you can feel it when it's happening, and it's a delight.
Ambiente is the best reason to forego booking a hotel and to arrange a homestay with local families through Couchsurfing or AirBnB: the highlight of our time in Barcelona was staying with a family who had children the same age as ours. Saturday night we watched the ultimate soccer rivalry, Madrid versus Barcelona, on TV in a living room with three generations of screaming, hooting Spaniards who shook the place every time a goal was scored. Priceless.
Disfrutar is the current "It" restaurant of Barcelona: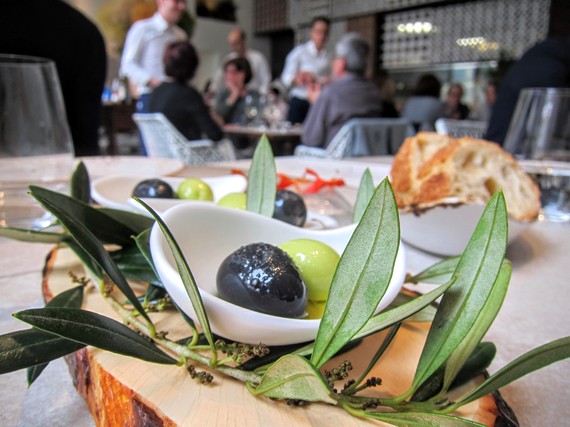 They are gunning for their second Michelin star, and I predict they'll get it, because yes, they have innovative pairings of food and wine that were both surprising and thrilling to my family's palette, but it's their mastery of "ambiente" that we will remember. Our conversation spilled over to two other tables around us as we raved about our food experience, and two nights later we ended up having dinner in the home of the couple dining next to us. Disfrutar's ambiente created that social joy for us.
Before I describe more of Barcelona: if you fly American Airlines to Barcelona like we did, you're going to have a layover in Philadelphia. Rejoice in this, because it is a huge gift: Big Bus Tours Philadelphia gave us an amazing one-day tour of Philly, including pick-up and drop-off at the airport as well as storing our luggage while we toured.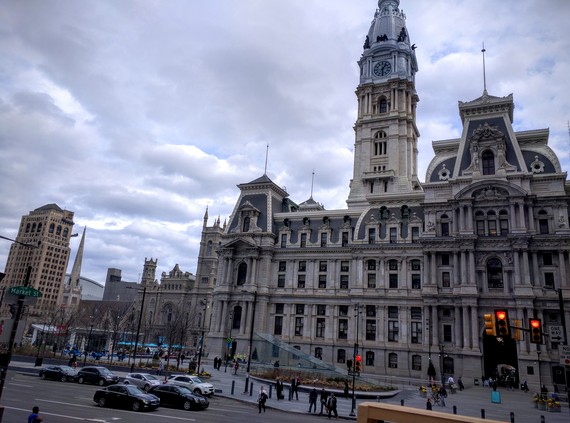 Their double-decker bus tour of the city is a must, because it gives you an overview of the city and allows you to determine what you want to zero-in and spend your time on. For us, the focus was on The Barnes Foundation.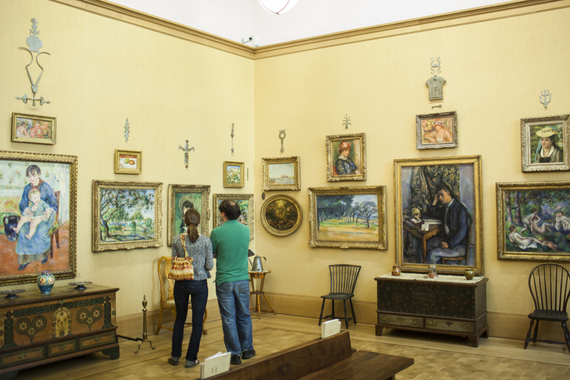 The Barnes feels a lot like the Frick Collection in New York City, which is my favorite museum in world. It's the intimate collection of a person who dearly loved art, and the paintings are intermingled on the walls with a strange motif--pieces of his ornamental metalwork collection: keys, hinges, locks, and other fittings from ancient European houses of the same era as these paintings. They have an allure because of their beautiful craftsmanship, and they also create a wonderful juxtaposition.
Now, back to Barcelona: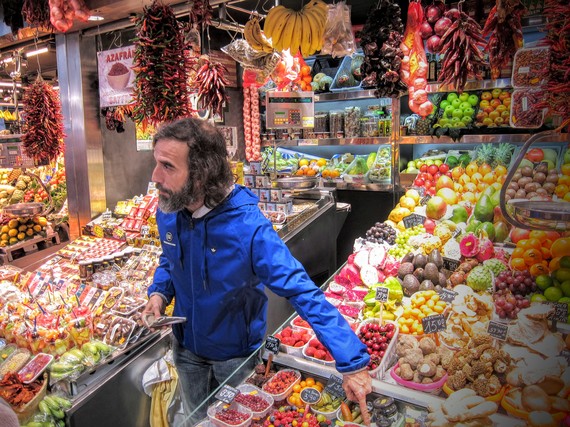 A local cooking class is one of our favorite entrees into a culture, and Barcelona Cooking School did not disappoint. Chef Candido Cid first took us shopping in Barcelona's famous fresh market, La Boqueria, and showed us the produce and the prep techniques that make Spanish cuisine pop.
When we returned to his kitchen (which is right on Las Ramblas, the main promenade of Barcelona), he delegated each of us to specific roles in the preparation of butternut squash soup, seafood paella, potato omelet, and the Spanish version of creme brulee for dessert. There's something primal about preparing food together, and we bonded as if we were all from the same tribe, as we gossiped around the cooking fire just like our Spanish ancestors must have.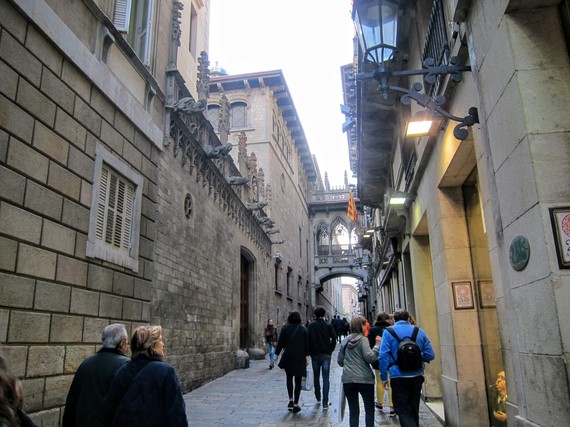 The Old City Free Walking Tour by Runner Bean Tours was another treat. Our guide led us on a cheerful foray into the narrow, winding alleys of Barcelona's oldest neighborhoods, including the Jewish Quarter and the ancient Roman City, while helping us to spot the historical gems that would have gone unnoticed without her.
We also took a day trip outside the city to Begur and walked along a cliff trail of platja d'aiguablava, home of an amazing restaurant.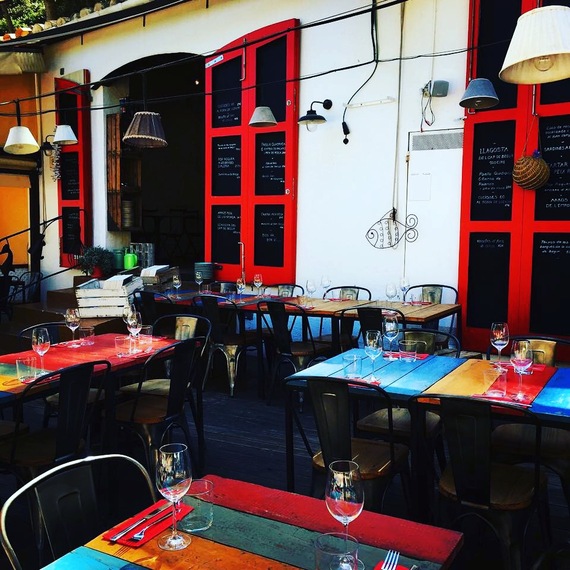 Toc Al Mar has ambiente galore, and food to match. Aside from the fresh, crusty, tomato-rubbed bread that is typical of this region, I loved the grilled rock octopus as well as the lobster risotto. And the waiter was a wine-pairing genius who brought us a bottle of white that changed my life.
Here's a shocker: due to the recent plethora of discount airlines, it's much cheaper to fly between Barcelona, Madrid and Lisbon than it is to rent a car or take the train. I had a romantic notion of weaving along curvaceous country roads, but in reality only the coast is lush. The interior of Spain is largely a semi-desert landscape. Save the travel time to spend it in three fine cities. I recommend Virginia Irurita for your tour planning needs, at Made for Spain and Portugal.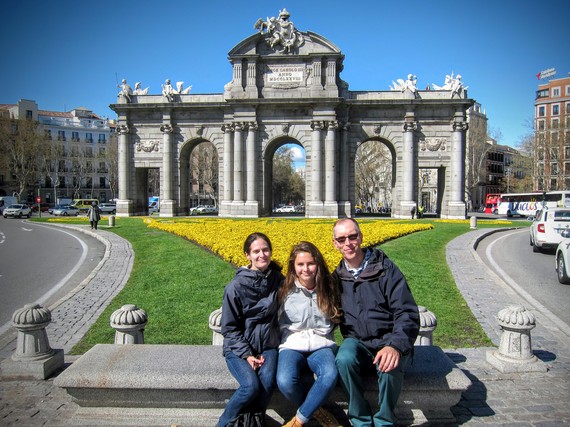 In city two, Madrid, our walking tour with Insider's Madrid was awesome. Our guide David, in addition to being an artist with a great sense of the esthetic, was also one of the nicest, most fun guides we've ever met. A former lead flight attendant on the Qantas A380's, David knows how to show people a good time.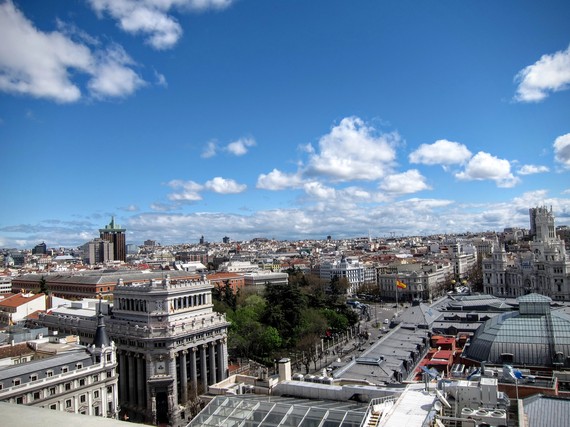 Together we enjoyed the Barrio de las Letras (the literary neighborhood), Retiro Park, and the Circulo de Bellas Artes with amazing views from the roof terrace, as well as the Gran Vía, the Royal Palace, and the San Miguel Market. The owner of Insider Madrid, Joanna Wivell, also organizes savvy tours around the country. She introduced us to an up-and-coming restaurant that knocked us dead.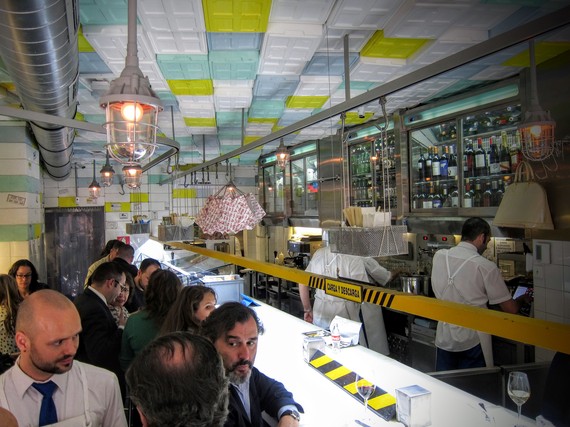 Sala del Despiece helped me rediscover some basic foods I was taking for granted. Their beef carpaccio was melt-in-your mouth, the beefsteak tomato injected with olive oil was remarkable, and the razor clams were in a savory sauce of joy. But the masterpiece is called Korean Truffle, and this meat dish looks like a scoop of vanilla ice cream until the chef takes a blowtorch to it. The end result is a lightly cooked melange of beef, spices and sauce that just thrilled our palettes. Highly recommended.
City Three, Lisbon--is an absolutely charming city with a character quite unique from its big sisters in Spain, and we got off to a great start at one of Lisbon's finest steak houses.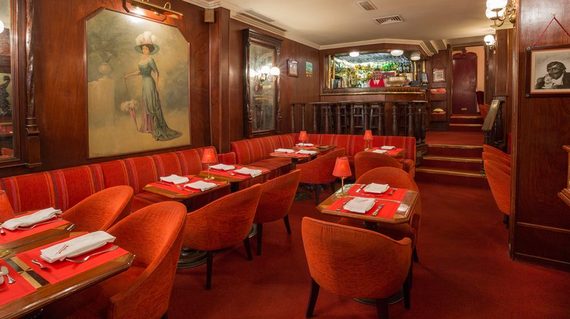 Cafe de Sao Bento feels like a 1950's New York club where the waiter acts as if he has known you forever and serves up your mouth-watering steak with style and grace. I loved their sirloin with the 30-year classic cream sauce, while my wife enjoyed their smoked salmon salad.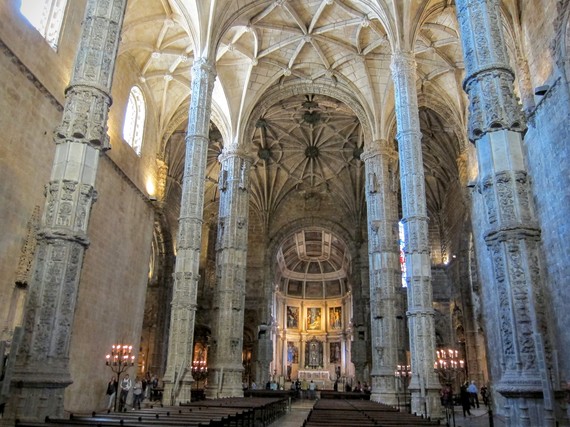 Just when you're sick of trudging through European churches, the Monastery of the Jerome Monks blows you away. This was the church by the port where the courageous Portuguese explorers of the late 15th century embarked on perilous journeys to Africa, Brazil and India, and the motifs of a sailor's life permeate the carvings and artwork of the church. Although we live 500 years after the fact, our tour guide brought all these motifs to life for us, along with the soaring spider-latticework of the ceilings and the stunning tile work for which the Portuguese are famous.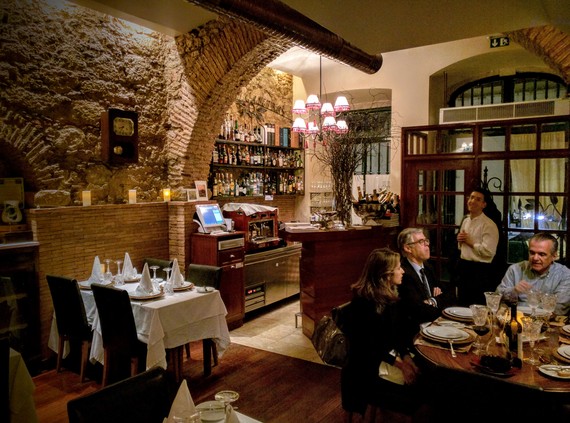 As Salgadeiras Restaurant is truly the king of ambiente. Set in a centuries-old former bakery made of stone, the decor has soft lighting and crisp, white linen that invite you to a relaxed meal you can savor. I savored the grilled goat kid "Moncao style" and my wife enjoyed the grouper, but my daughter was the winner with the prawns stroganoff over rice. They offered great wine pairings from their cave, which is set inside the former brick oven of the bakery. An uber-charming place.
We loved our day trip outside of Lisbon, which was organized by Portugal Premium Tours. Our guide Tiago took us to Evora and Monsaraz, but the highlight was our visit to a small, unpretentious vineyard named Ervideira that takes tremendous pride in its work. It was there that we met Liliana, the Queen Of All Wine Teachers.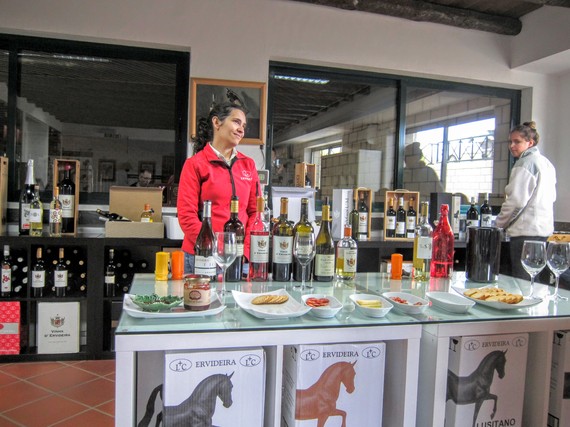 What annoys me about most vineyards and wine experts is that they are posers. They spend so much effort puffing themselves up (or making you feel stupid) that it's a toxic atmosphere for genuine learning.
Liliana was different. With great expertise but no pretension, she used different wines to illustrate her points as she taught us "The Big Three" of wine-tasting: how to distinguish a wine's age by its color in the glass, how to tell between fruity and full-bodied wines in your mouth, and how to notice the "persistence" on the sides of your tongue as you swallow the wine while breathing in gently through your nose, to more fully savor the taste. We were enthralled, and will remember Liliana every time we drink wine. She greatly improved our palette.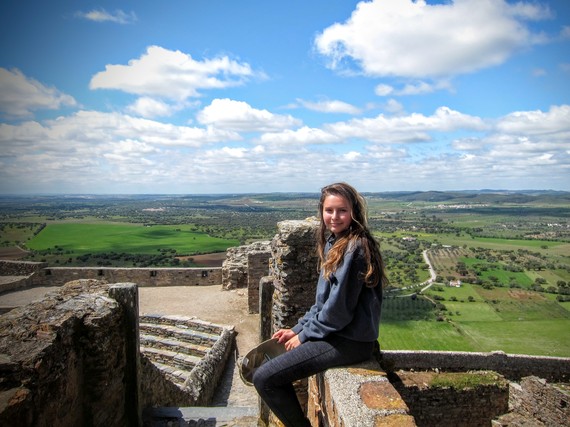 Our visit to the hill town of Monsaraz was stunning. All of the centuries-old stonework was beautiful, and the views of the countryside reminded us of Umbria and Tuscany in Italy.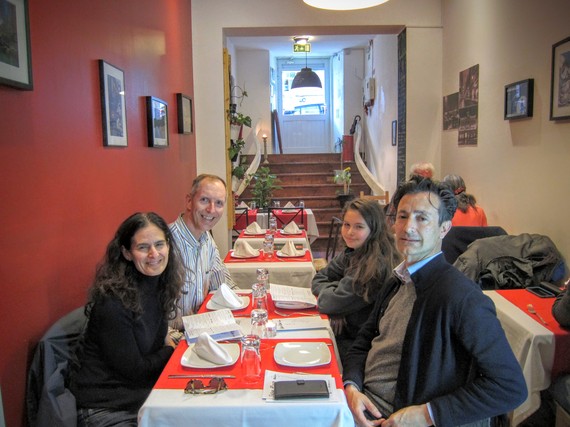 The food in Lisbon is amazing, so I'm going to finish up this review with two more superlative restaurants:
Our dinner at Salsa Rosa was great. They cook Portuguese food with a Brazilian twist. I had the veal cutlets with white bean puree while my wife enjoyed the salmon fillet with creamy coconut rice.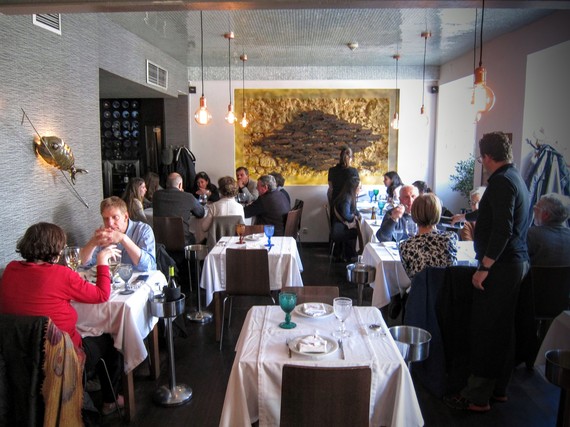 Frade dos Mares was an spectacular meal. The mussels au gratin were each a delightful mouthful, washed down with the most amazing red (yes, red) wine. The sommelier here is a genius, and you just have to trust him on his wine pairings. The Octopus Lagareiro was amazing. Tender and soft, with just the right blend of olive oil and spices.
Finally, the weather: Summer is too hot and too crowded to visit Spain and Portugal. April or May is perfect, because it's light-sweater weather. I wish you mucho ambiente on your adventure!