 It sometimes happens that when you're hard at work making fiction, you get invaded by the feeling that what's important is happening elsewhere -- something much more powerful than the story that you have been creating, with care and obsession. Human beings today need their daily dose of fiction, it's true; without it, we would not know how to live. But it is also true that, on many occasions, the rumblings of reality that come across our TVs and computer screens are so powerful that they knock the air out of you and leave you with the feeling that a film is something insignificant in comparison.
That's what happened to me on Tuesday, while I was working, an impressive tsunami of citizens at Neptuno Square howled for their right to dissent with the politicians who claim to represent them, as they were in session in Congress. The cries of this human tide, encircled and at times beaten and dragged by the 1,300 strong riot police at Neptuno Square, covered the front pages of newspapers around the world. Yet they have not managed to catch the attention of [Prime Minister] Mariano Rajoy in New York. During his address to the Americas Society/Council of the Americas, Rajoy turned to his habit of editing reality according to his whim, thanking the "silent majority of Spaniards who didn't protest."
Mr. Rajoy, I am part of that silent majority who didn't protest on September 25th, and I'm imploring you not to distort or appropriate my silence.
The fact that I was not physically present at Neptuno Square does not mean that I'm not outraged by the police attacks, the government delegate overreaction, the state-run TV network's manipulation of images, or about the cocky attitude of state agents in the Atocha Station (far removed from Congress) who, without identifying themselves, intimidated travelers and prohibited photographers from doing their work. I'm outraged, too, about the determination that we Madrilenians, upon finding our city besieged since morning, would turn against the protesters. (Mission failed: we Madrilenians suffer in silence or screaming, do not believe in the people who govern us from City Hall or in our Autonomous Community, people elected by fate because they were included in a closed electoral list).
Images, and everything that surrounds them, can be manipulated: colors, words, gestures, intentions -- it all depends on the narrator. Any given reality may mean one thing, or its opposite, according to the interests of the one who narrates it. The government's spokespeople, the president himself, can narrate what happened at Neptuno Square as they please -- they do it every day. But, fortunately, in modern times, it is impossible to be the sole narrator, no matter how many punches cops dole out to anyone toting a camera.
We live in a world dominated by new technologies (and, on this occasion, God bless them). In addition to multiple professional cameramen (impressive to see them work in the midst of this earthquake, just like war reporters. The testimony they provided us, product of moral and artistic bravery, is admirable), most protestors brought along not just all-too-true shouts and slogans ("They're robbers, they beat us -- they do not represent us!") but also cameras or cell phones. Those images will never see the light of day on state television, but they will appear on other digital news sites, or on YouTube.
On these images we can see with utter clarity the truncheon of a masked policeman (all the police were masked, except for infiltrators -- whom it was proven were indeed present), and the uncovered face of his victim: pale, with a gash in his head, a wound so real that abundant blood is flowing from it, rolling down the victim's cheeks, and dripping onto his shirt. Red blood, documented, narrated by one of the people who attended this "show."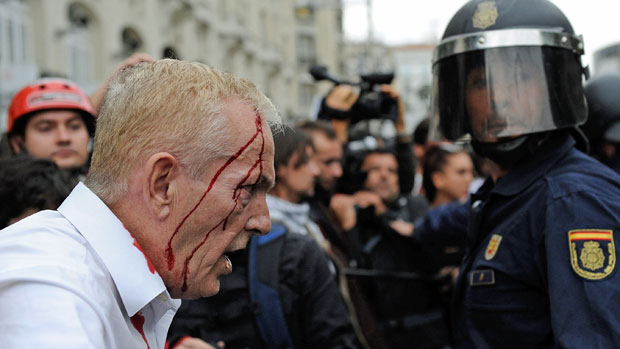 A man injured by the police. Photo: Getty
I provided only one picture as example, but in non-state media outlets there are many, many more acting as narrators contradicting official versions of the story, and for once, receiving heavy coverage in international media. Barbarities like the ones that went down this week may keep happening. But our raw reality ("raw" in the photographic sense -- that is, the first image of reality, the one that hasn't been photoshopped) -- so complicated but at the same time so simple -- will have multiple narrators and many points of view. For those in charge of public order, it's going to be extremely difficult to silence them.
Rubber bullets and dragging protestors on the road won't do the trick.
Translated from the original Spanish.
Related
Popular in the Community