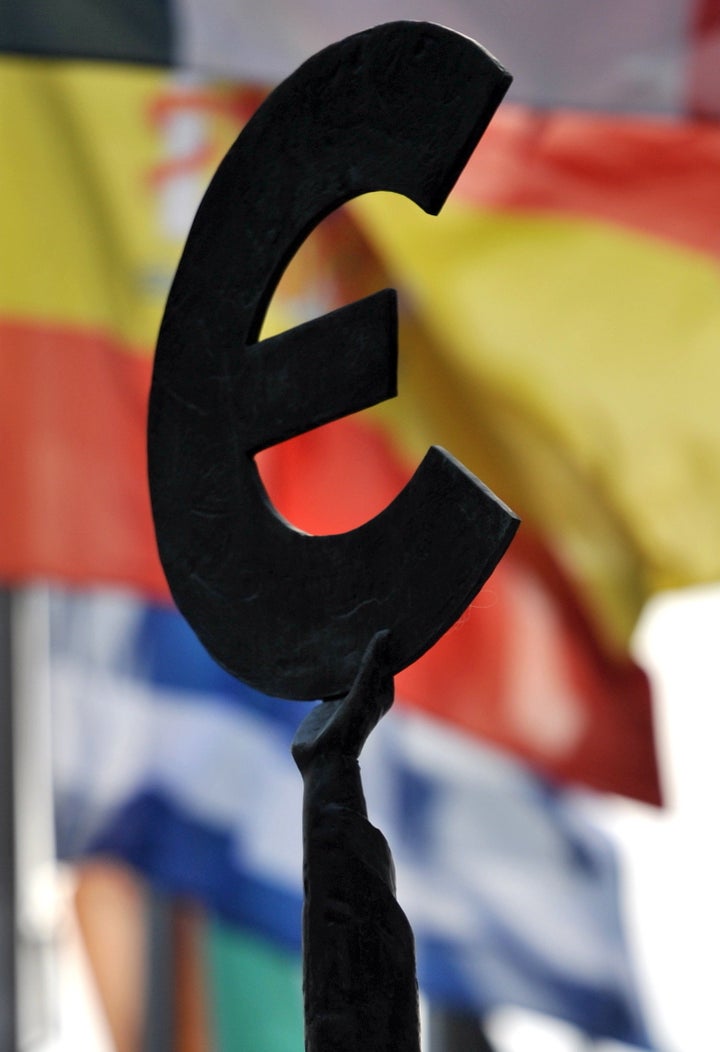 * Relief rally over 100 billion euro package fizzles fast
* All eyes on Greek election for next test in debt crisis
* Cyprus hints it may seek bailout soon
* Swedish PM criticises short-sighted crisis management
* China urges euro zone to take more decisive action
By Sonya Dowsett and Gareth Jones
MADRID/BERLIN, June 11 (Reuters) - Financial market euphoria over an EU bailout for Spain's troubled banks faded on Monday as investors sounded the alarm over its impact on public debt and worried whether Greek elections will deepen the euro zone crisis.
Madrid insisted it would stick to its borrowing plans this year after the European Union agreed to the bailout of up to 100 billion euros ($125 billion), which is aimed at rescuing banks battered by a property market collapse and recession rather than helping the Spanish state finance its budget deficit.
But yields on Spanish government debt rose as Saturday's deal failed to calm concerns that Madrid may end up locked out of funding markets like the three other euro zone countries already forced into bailouts - Greece, Ireland and Portugal.
With Greek elections this weekend overshadowing that country's future in the euro zone, EU officials said they had discussed limiting the size of withdrawals from cash machines, imposing border checks and introducing capital controls as a worst-case scenario should Athens leave the bloc.
Underlining how problems in one euro state can rapidly spread to others, Cyprus strongly hinted on Monday it may become the fifth member of the bloc to apply for an international bailout before the end of this month to help its banks, which are heavily exposed to Greece.

Finnish Prime Minister Jyrki Katainen said the Spanish plan agreed by euro zone finance ministers had improved the common currency's chances of survival by removing the biggest problem in dealing with the risk of financial contagion.
But Swedish Prime Minister Fredrik Reinfeldt, whose country has kept its own currency, said Europe was still not doing enough to tackle the fundamental causes of its economic stress.
"Spain and many other countries have a lot of reforms they need to do to become competitive, to get order in public finances, to recapitalise and get a sound banking sector, and if they don't do this, you can never solve it through short-sighted crisis management," he told Reuters.
The European Commission's top economic official, Olli Rehn, told Reuters that the pre-emptive action to support Spain "is critical for calming down market turbulence in Europe and (ensuring) the proper functioning of the financial system in Spain".
However, European stocks ended flat after leaping to a four-week high earlier in the day, while yields on the bonds of fellow euro zone struggler Italy rose sharply with Spain's.
"The bailout for Spain is a good short-term fix, not a long-term solution," Nicola Marinelli, portfolio manager at Glendevon King, said. "In this environment of short-term plasters, there are going to be periods of rallies and panic."
An early rally in Spanish debt petered out, and 10-year bond yields ended the day 25 basis points higher at 6.5 percent - on course for their worst day since early April and within 30 basis points of euro-era highs.
The Spanish Treasury said it would continue with regular debt auctions after Saturday's deal. While bailout funds should cover the cost of rescuing the banks, Madrid still has 37 billion euros to raise this year for its budget.
"Accepting aid for recapitalisation of the banking sector means it will have to finance itself on capital markets for its deficit and it's getting harder with yields climbing," said Viola Julien at Helaba Landesbank Hesse-Thueringen.
Bondholders are worried that the rescue will weigh on Spain's fast-rising public debt. They also fear that if the euro zone's future permanent bailout fund, the European Stability Mechanism, is used for the rescue, they will be subordinate to official creditors and face losses in any debt restructuring.
However, a senior euro zone official said the euro zone's temporary EFSF bailout fund could be used to allay these worries.

Greece's election next Sunday, the second in as many months, could further sour markets if radical leftists hostile to the austerity terms of the country's EU/IMF bailout outperform the mainstream conservative and centre-left parties that signed the deal, or the vote ends in another deadlock.
European finance officials have held a series of conference calls in recent weeks on contingency plans should Greece leave the euro, officials said. However, they emphasised this was merely about being prepared for any eventuality rather than planning for something they expect to happen.
"It is sensible planning, that is all, planning for the worst-case scenario," one source said.
The Bank of Greece said it was not aware of any plans such as for capital controls in the euro zone.
Spanish Prime Minister Rajoy said on Sunday Madrid had scored a victory by securing aid from euro zone partners without having to submit to a full state rescue programme, saying Spain's rescue had "nothing to do" with the procedures imposed on Greece, Ireland and Portugal.
But EU Competition Commissioner Joaquin Almunia and German Finance Minister Wolfgang Schaeuble said that as in those other bailouts, a "troika" of officials from the International Monetary Fund, the European Commission and the European Central Bank would oversee the financial assistance.
Schaeuble told Deutschlandfunk radio: "The Spanish state is taking the loans, Spain will be responsible for them ... There will likewise be a troika. There will of course be supervision to ensure that the programme is being complied with, but this refers only to the restructuring of the banks."

Spanish state finances are already under European Commission surveillance under the EU's excessive deficit procedure.
The bank rescue package will add up to 10 percentage points to Spain's debt-to-gross-domestic-product level, taking it close to 90 percent, while the country faces a grinding recession, with nearly one worker in four unemployed.
Some economists believe Spain will eventually need a full state bailout, and that Italy may be next in line because of a similar combination of high debt and no economic growth, despite reforms initiated by Prime Minister Mario Monti.
Italian Industry Minister Corrado Passera dismissed the idea that Rome might need external help at some point.
"Italy has done what was necessary to save itself in past months," Passera, a former banker, told reporters in Milan, saying austerity measures taken so far had positioned Italy as "among countries better placed to deal with the financial turmoil Europe finds itself in".
However, Austrian Finance Minister Maria Fekter declined to rule out the possibility of Italy having to seek aid from European partners in the months ahead. Fekter said that "given the high rates that Italy already pays to refinance on markets, it can also come to supportive aid".
China, to which Europe has looked largely unsuccessfully for financial support, said on Monday that the euro zone deal for Spain was a useful short-term fix, but urged the bloc to take more decisive action to safeguard longer term stability.
"This can be of great use in controlling short-term risk," said Vice Finance Minister Zhu Ghuangyao. "But, in the interests of mid- or long-term stability, we hope the euro zone will improve consensus and take more decisive action."
The Chinese critique of Europe's slow-moving steps mirrored comments by U.S. officials worried that the euro zone debt crisis is hurting world economic recovery and President Barack Obama's prospects of re-election in November.
U.S. Treasury Secretary Timothy Geithner welcomed the euro zone support for the recapitalisation of Spanish banks as "concrete steps on the path to financial union, which is vital to the resilience of the euro area".
European Union leaders will discuss longer-term plans for deeper euro zone fiscal and banking union at a summit on June 28-29, as well as measures to revive growth. The more ambitious reforms would require treaty change that would take months, if not years, to approve and implement.
"More fiscal integration would likely involve more explicit transfers of sovereignty," Rehn told the European Parliament in Strasbourg. "This may be possible only in the medium term."

Related
Popular in the Community