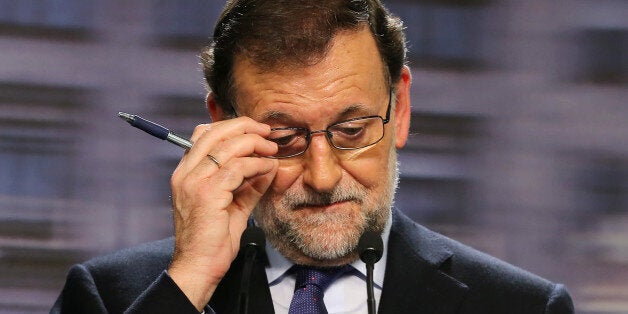 Spanish voters reject the two-party system that presided over austerity and mass unemployment
In Spain's elections last Sunday, the two parties that have ruled the country for the past three decades took serious losses. This has important implications for the future of not only the country but also the rest of Europe. It is yet another example of how and why the eurozone remains in political upheaval, six years after the global recession. European economic policy, including austerity, has failed miserably; the eurozone has more than twice the unemployment rate of the United States. But the officials who decide economic policy are not offering a viable alternative; on the contrary, they want further fiscal tightening and regressive changes.
The ruling right-wing Popular Party (PP), headed by the country's increasingly unpopular Prime Minister Mariano Rajoy, took 123 seats of a 350-member parliament, with 28.7 percent of the vote. The center-left Socialist Workers' Party (PSOE), which lost to the PP in 2011 because of its support for austerity, won 90 seats. Since neither party is close to a majority, it remains to be seen whether a stable government can be formed.
Although the Spanish economy has been growing for the past year and a half, the recovery hasn't trickled down to most of the population. Unemployment is at 21.6 percent -- one of the highest among developed countries -- and 47.7 percent for youths. About 60 percent of the jobless are long-term unemployed, out of work for more than a year. Since 2007, more than 3 million people have joined the ranks of those classified as at risk of poverty and social exclusion.
The two-party system was crashed first by Podemos, which surprised pollsters by winning 69 seats in Sunday's vote. A leftist party less than two years in existence, Podemos grew out of mass protests against austerity, joblessness and the corruption of the PP, including Rajoy. Led by Pablo Iglesias, a 37-year-old professor with a long ponytail and inexpensive blue jeans, Podemos captured the biggest following in the country by November 2014. But then a new party, Ciudadanos (Citizens), appeared, sometimes referred to as the Podemos of the right. With clever marketing and an appeal to youths, Ciudadanos ascended quickly to media stardom and ended up with 40 seats in the elections. But it was Podemos that offered a programmatic economic alternative to current failures -- including measures to increase employment, public investment and educational opportunities as well as progressive tax reform and an end to austerity.
Popular in the Community