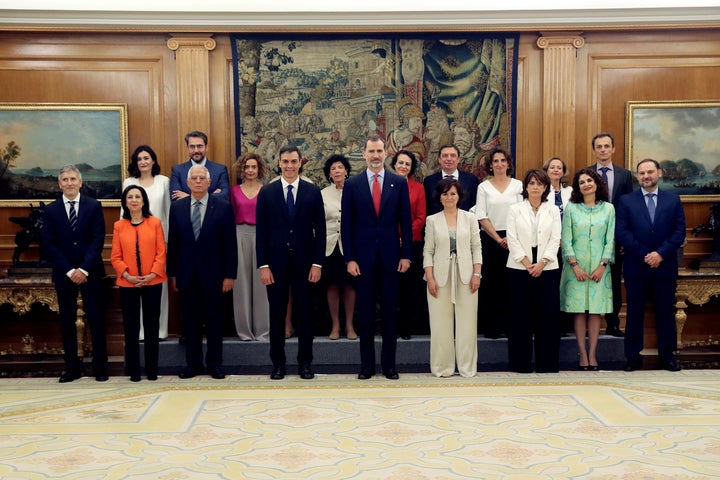 Spain's King Felipe VI swore in the country's new government ministers on Thursday, ushering in a Cabinet with the highest proportion of women out of any administration in Europe.
Prime Minister Pedro Sanchez' cabinet has women leading 11 out of 17 ministries, including in roles such as deputy prime minister, finance minister and defense minister. The number is a record high for Spain.
The percentage of female ministers is also higher than in several other governments, such as Canada, France and Sweden, whose leaders have avowed commitments to gender equality.
At around 61 percent women, including the prime minister, Spain's government has by far the highest percentage of female ministers of any European or North American country, according to the latest OECD data. President Donald Trump's cabinet, for instance, is made up of only around 26 percent women.
Sanchez described the country's new cabinet on Wednesday as the "best of Spain," and "pro-gender equality, cross-generational, open to the world but anchored in the European Union." He also referenced Spain's nationwide feminist walkout that took place in March, when around 5 million workers marched against gender violence and discrimination. 
Sanchez is a socialist who took power this week after conservative Prime Minister Mariano Rajoy lost a no-confidence vote last Friday, following a corruption scandal. 
In choosing his new government, Sanchez tapped several people from unorthodox backgrounds. Among his Cabinet picks is a former astronaut who will head up the science ministry and a journalist who will become culture and sports minister.
Sanchez' cabinet additionally includes an openly gay former judge who took cases involving the Basque terrorist group ETA, which announced in April it would lay down its arms after a 40-year separatist campaign. 
The ministers were sworn in without bibles or crucifixes, as previous governments have customarily done.
It's unclear how long Spain's new government will be in place, however. Sanchez vowed to call elections in the next two years, and he leads a minority government that controls only around a quarter of Spain's parliament. 
HuffPost Spain contributed reporting to this article.
Calling all HuffPost superfans!
Sign up for membership to become a founding member and help shape HuffPost's next chapter