Defending World Cup champion Spain crashed out of contention at the 2014 World Cup in stunning fashion with losses in its first two group-stage games. Chile sealed Spain's fate with a 2-0 win at Estadio Maracana in Rio de Janeiro on Wednesday. The dynastic Spanish side that bookended its victory at the 2010 World Cup with titles at the UEFA European Championship in 2008 and 2012 will complete its trip to Brazil with a meaningless game against Australia on June 23 in Curitiba.
After surrendering a total of six goals in those three tournament triumphs, Spain conceded seven goals in consecutive losses to the Netherlands and Chile. Spain becomes the latest defending World Cup champion to fail to advance past the group stage. In 2010, defending champion Italy left South Africa after a loss and two draws in the group stage. In 2002, defending champion France suffered a surprise 1-0 defeat to Senegal in its opener and would head home after another loss and draw.
Following a lopsided 5-1 defeat to the Netherlands in the teams' opener, Spain arrived at the Maracana knowing it needed a stronger performance against Chile to keep alive its hopes of advancing. After the Netherlands defeated Australia, 3-2, earlier on Wednesday, Spain knew it needed a win to stave off elimination. With a partisan crowd behind it, Chile started brightly, nearly pressuring Spain into an own goal. In the 19th minute, striker Eduardo Vargas finished off a Chile surge up the right wing by slotting a shot past Spain goalkeeper Iker Casillas.
Chile would double its advantage shortly before halftime after Casillas failed to deal with a free kick from winger Alexis Sanchez. Casillas punched the ball back into a crowd in the penalty area and it was corralled by Chile's Charles Aranguiz. Following one controlling touch, Aranguiz sent the ball past Casillas and into the net.
In 53rd minute, Sergio Busquets missed a gilt-edged chance to pull back a goal from Spain after Diego Costa delivered a cross with a bicycle kick. With the goal gaping, Busquets somehow put the ball wide with a poor touch of his left foot.
Spain would bring on Fernando Torres and Santi Cazorla as the second half progressed but to no avail. When the final whistle sounded, the Chile fans at the Maracana roared and Spain's era of dominance ended.
Related
Before You Go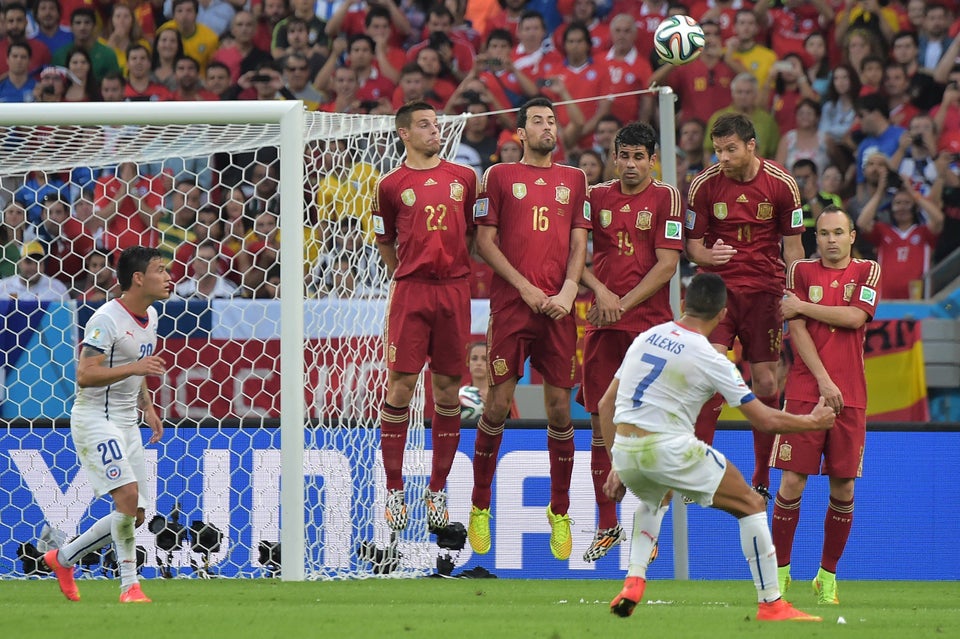 PHOTOS: Chile vs. Spain
Popular in the Community