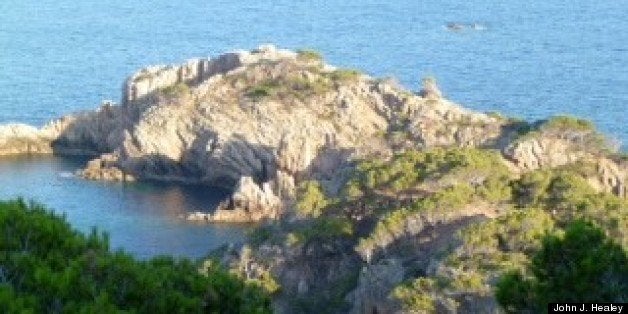 The following article was published on May 11th, translated into Spanish, in Spain's daily newspaper El País
Dedicated to Frederick Starr Wildman Jr. and to Pascal Tiger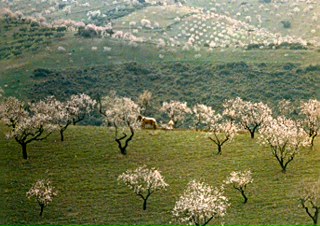 It began with an Iberia flight from New York to Málaga in the spring of 1969. The Málaga airport consisted of a single building and a much smaller whitewashed structure with a red tiled roof and potted geraniums. The runway ended at a simple, two-lane highway. On the other side of the highway, unobstructed, were some fields, the beach and the Mediterranean. Everything else was cultivated fields, a village in the distance, and beyond the village a range of old, low mountains where a small, fallen pine tree that rested upon a boulder stood out clearly. During the next 30 years, whenever flying in or out of Málaga, as the airport and that part of the world changed so dramatically, I would always stop and make a point of locating that fallen pine.
The house I lived in for the first four months was in this area. It was a finca called Buena Vista found along a narrow road where many rundown villas stood. The house had a round, unadorned fountain out front and a garden protected by Cyprus and lemon trees. The large wooden front door had a smaller door within it and in the patio out back where meals were taken grew a large pink oleander. Tenuous couples of mixed nationalities cohabitated with children, dogs and cats. The man who owned it was a renegade North American from New York and Connecticut who was a wine connoisseur, an amateur historian and brilliant conversationalist in English, Spanish and French. Separate from the house there was a dilapidated library filled with hundreds of old Penguin books on badly made shelves and a beautiful edition of the works of William H. Prescott.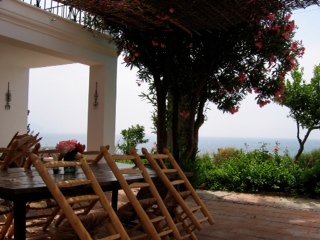 A frequent guest was a handsome Australian who upon his arrival to Spain wore tweed jackets and an ascot pretending to be an English Lord. By the time I met him he wore bangles and tight shirts and his hair was long. He was generally stoned, very smart, and known affectionately to all as 'Sir' Donald. Gerald Brenan, the famous hispanist who in his youth had brought Virginia Woolf and Lytton Strachey by mule to the village where he lived high in the mountains south of Granada, lived across the way and was a constant presence. I had just turned 19. I grew a beard. I read ferociously. Before moving north into France, I hiked up onto the mountain to find the fallen pine. I sat next to it tired and content, surrounded by rosemary and thyme, taking in the view of Málaga and the sea.
Since then I have lived all over the country, in Madrid, in provincial capitals, in coastal villages and in a tiny mountain hamlet. My daughter was born in Granada. On the night it happened an elegant midget from a traveling circus staying at my hotel was drinking brandy in the lobby. He was wearing a three-piece suit, and assessed the situation immediately. He ran out into the street and stopped what little traffic there was so that I could make an illegal turn. My daughter was born in a beautiful 18th Century clinic run by nuns. The walls were painted ochre and yellow and orange trees grew in the patio. It was torn down some years later and replaced by an awful green and beige apartment building.
After decades of being frustrated by how ignored Spain has been in the American press, where Europe always meant France and Italy, suddenly it is in the news virtually every day for the wrong reasons. Huge numbers of Spaniards are unemployed. Many families, unable to keep up with mortgages that were granted in too sly a manner when credit was cheap, are being driven out of their homes. The educational system remains dysfunctional and grossly underfunded. The healthcare system, once enviable, is a sinking ship. Problems long ingrained in the country's political system have been exacerbated by the financial crisis. Spaniards no longer know where to turn.
This being said, my most recent stay here has been, as usual, a delight. Though the securely shut garbage bags I carefully place in the sidewalk container each evening are regularly rifled through during the night, by morning the streets are generally clean. The vast majority of Spaniards, those born here and those who have come from afar, continue to be honest, easy-going and articulate. They work hard, some of them very hard, but without the puritanical self-righteousness found ubiquitously in the United States. Some essential services continue to work, more or less. La nave va.
Within the ups and downs all nations experience throughout time, certain characteristics remain constant. This is true even though as one grows older -- barring involvement in truly horrific circumstances -- one tends to idealize the past. Few foreigners have expressed this sentiment better with regard to Spain than Ernest Hemingway in the wonderful final chapter of his not so wonderful Death in the Afternoon. Keep in mind the following was written in 1932:
'... Pamplona is changed, of course, but not as much as we are older. I found that if you took a drink that it got very much the same as it was always. I know things change now and I do not care ...Let it all change. We'll all be gone before it's changed too much and if no deluge comes when we are gone it still will rain in summer in the north and hawks will nest in the Cathedral at Santiago and in La Granja...We never will ride back from Toledo in the dark, washing the dust out with Fundador, nor will there be that week of what happened in the night in that July in Madrid....'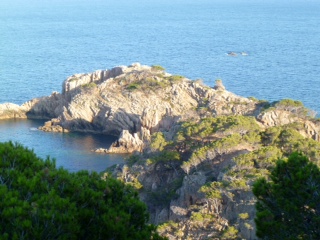 Over the past 43 years I too have seen many lovely things 'go' from Spain that will never return. The fallen pine is no longer in its place. The outskirts of Málaga and the Costa del Sol, ruined by greed and building projects pumped with steroids are unrecognizable. But other things persist and draw me back: the scent of acacia on late summer nights in Madrid, darting swallows at dusk and dawn, jasmine vines in the shade of a patio in the hills above La Herradura, swimming in a crystalline cala near Tamariu when everyone else is at lunch, walking our dog along the vast empty beach of Corrubedo after the last stragglers have gone, the smell of burning oak and olive wood late on a winter's night in the Alpujarras, stopping in virtually any small village when driving from province to province, and ordering a café con leche, in a glass, in some quiet bar. The children I used to know who now have children of their own.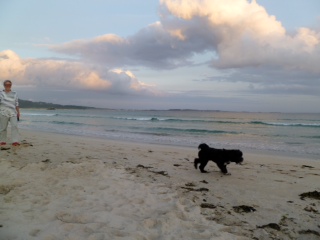 I owe two things to Gerald Brenan. Thanks to him I first read Joyce's Ulysses in its first edition, published in Paris in 1922 by Sylvia Beach. The second was an offhand comment he made at dinner one evening I've never forgotten. 'You must remember,' he said, his eyes hard to see through thick lenses, ashes from his cigarette falling upon his shirt, 'Spain is a nation of 30 million kings.'
Popular in the Community