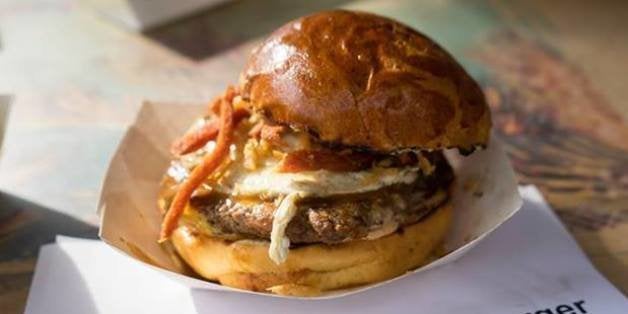 You know a place is serious about a particular food when 25,000 people show up at an annual festival just to honor it.
In Hawaii, that food is Spam.
This past weekend, Honolulu hosted the 12th annual Waikiki Spam Jam, which is a successful show of both love and marketing for the ham and pork shoulder byproduct. The Aloha State consumes five million pounds of Spam every year, according to the New York Times, which breaks down to about six cans per person.
After the lunch meat (named after a portmanteau of "spiced ham") was introduced to the South Pacific during WWII, it became as ingrained in Hawaiian culture as Dole pineapples and tourism. Every year, the Spam Jam shuts down Waikiki's famous Kalakaua Avenue, filling it with chefs from around 20 Honolulu restaurants who vie to make the most inspirational, surprisingly delicious recipe using the caramel-colored, versatile meat.
Thankfully, Spam Jammers Instaspammed the whole thing. Below, we ranked 11 of the most creative "delicacies" -- from "Why Didn't We Think Of That" to "What The Hell":
11. Spicy Spam Snackers
Like salty pork sliders with Sriracha-mayo sauce -- ingenious!
10. Spam Nachos
When fried, small pieces of Spam taste like bacon bits, making these the ultimate beach nachos.
9. Spam Pancake Slammer With Spam Fries
8. Spam Pad Thai

Maybe you didn't know this about peanut butter, but it goes great with Spam and noodles.
7. Spam and Macadamia Nut Sundae
Think about it: Shaved and fried Spam slices add a great salty crunch to a sweet sundae.
5. Elegant Truffle Spam Musubi

Spam Musubi is a Hawaii classic -- even President Obama loves it. And sometimes, all you gotta do is add truffle oil to take it to the next level.
2. Peanut Butter Ice Cream And Candied Spam Popsicles

Once again, OnoPops' originality has floored us.
1. Spam Flan
So maybe there are some things you just shouldn't put Spam on.
Related