It's tough to know what Spain's basketball teams were thinking when they chose to collectively make "slit-eyed" gestures (above a stenciled dragon) while posing for a pre-Olympics advertisement.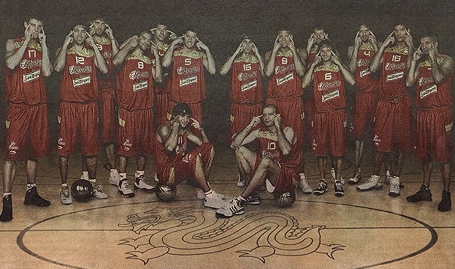 Spain's Olympic basketball teams have risked upsetting their Chinese hosts by posing for a pre-Games advert making slit-eyed gestures. The advert for a courier company, which is an official sponsor of the Spanish Basketball Federation, occupied a full page in the sports daily Marca, the country's best-selling newspaper.

The advert features two large photographs, one of the men's basketball team, below, and one of the women's team. Both squads pose in full Olympic kit on a basketball court decorated with a picture of a Chinese dragon. Every single player appears pulling back the skin on either side of their eyes. The advert carries the symbol of the sport's governing body.
Read the full article here.
Popular in the Community