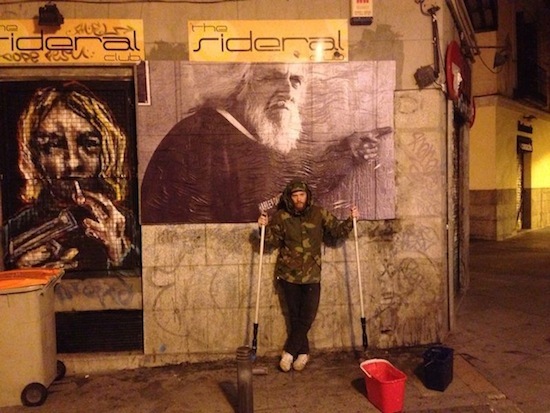 Sergio de Arrola is a Spanish guerrilla artist and photographer who is uncomfortable with the moniker "artist." His work ranges from portraits taken in South America to a photo essay of American life shot while pedaling his bicycle from New York to Los Angeles in 48 days. Sergio's mission, it seems, is to depict the world in black and white, as well as striking color. These days, one of the Spaniard's most attention-grabbing projects involves "pasteup" large format printing and his "Banksy" style guerrilla street art displays. In the dead of night, Sergio and his team stealthily paste massive images all over Madrid. Glue, rollers and huge photos are the basic tools this photographer employs in his efforts to transform the various barrios of Spain's capital. I recently caught up with de Arrola to talk about art, large format printers, travel and run-ins with the Spanish authorities. He was also kind enough to give me permission to share his photos with the rest of the world here. Here's what he had to say.
What do you like about being an artist and photographer? What do you dislike about the artistic life?
Sergio de Arrola: I don't know if I consider myself an artist. I think I'm working on it. I work everyday trying to make coherent work that represents myself as a human being. I like art that involves emotions and real life. I like to talk with the people in my portraits. I love to relate to the emotions of the people that I portray in my work. I don't hate anything about art. I can hate some institutions or people that try to cheat and that don't try to make something serious.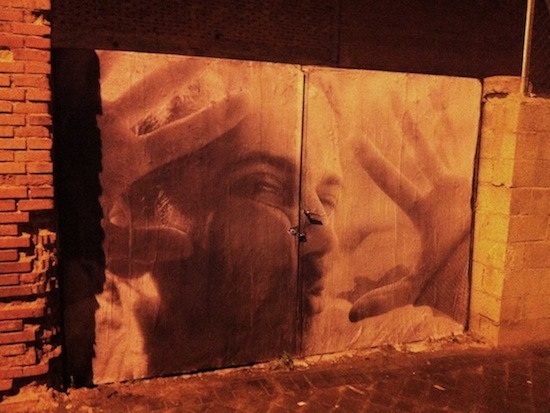 You've worked in Barcelona and Madrid. Can you compare and contrast your art and life in both cities?
Barcelona is a really arty city. When I arrived there in 2004, it was even more so. The city was painted with colorful graffiti from artists from all around the world. Back then Madrid was the opposite. It was a very "political" city. Art was only in museums and "serious" institutions. Now the balance has changed. Barcelona is trying to be more "serious," and Madrid is becoming funkier. I really love the beach and the vibe of Barcelona, but I also enjoy living in a big city like Madrid, where you're more anonymous than in a little town.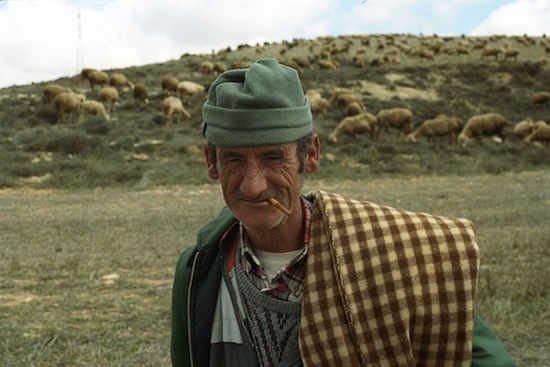 Why did you create the Rolling Habits street project?
The main reason was because I wanted to share my photography with people in a direct way. Show them my work when they're working or just living life. I think people are more receptive when they're walking in the street compared to when they're walking around a museum. I enjoy this. I also like seeing my work in different formats. Normally when you take a photo, the context is closed, but when you paste it up on a wall, this changes. The image is given a new dimension because it's interfering with the environment. In the future, I hope I can paste photos up in other cities and countries.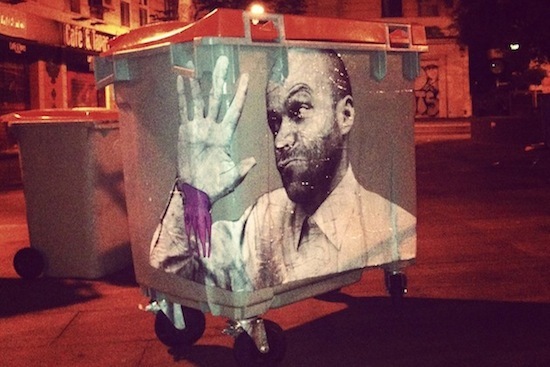 Have you ever gotten into trouble with the police for pasting up large format photos around Madrid?
Sure! Sometimes we run around in the night to avoid contact with the police. If you're not doing anything too risky or prohibited, like crossing the highway or something like that, in the end it's only paper and glue -- and the glue is almost water. If the police catch you, you can just take the paper off the wall. It's always better if I don't talk with the police too much. The work is illegal, but at the same time it's kind of friendly. On the M-30 highway in Madrid, I once pasted up 30 portraits (two meters each) on the walls to the highway entrance. When the police caught us, they were very aggressive at first, but in the end, everybody was laughing and chilling out with five police cars and 10 cops, plus four of my friends. The police took some of my posters away as a "proof" to show to some "important" guy.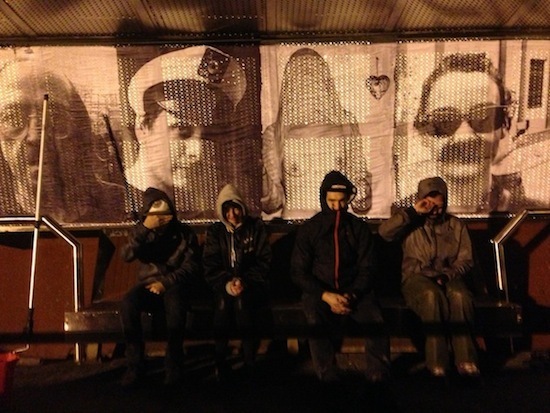 What is your favorite brand of large format printer?
My experience in printing is totally amateur. I'm not an expert. I have an HP5000. It's a large format plotter. You can print up to 1.5-meters wide, so it's perfect for big paste up projects.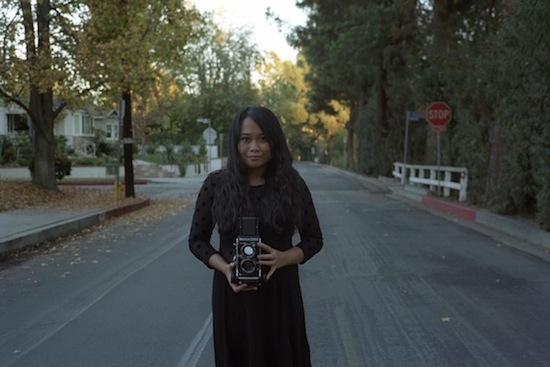 What other projects are you working on now?
I have an "intervention" paste up on a 14-meter wall in Barcelona that I'm very excited about. It's gonna be massive! I'm also editing a book about a bicycle trip I made in the U.S. last year. I took lots of portraits and very nice images about the loneliness and the beauty of North America. I'm also thinking about my next big trip. I want to join a tour from Cairo to Cape Town. This time it's not gonna be alone, but the intention is the same. I'll take portraits and reflect on the reality of the places I visit.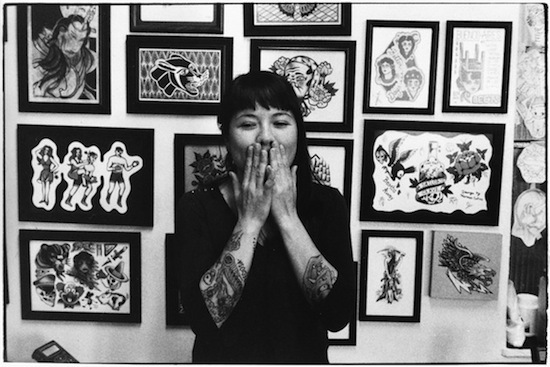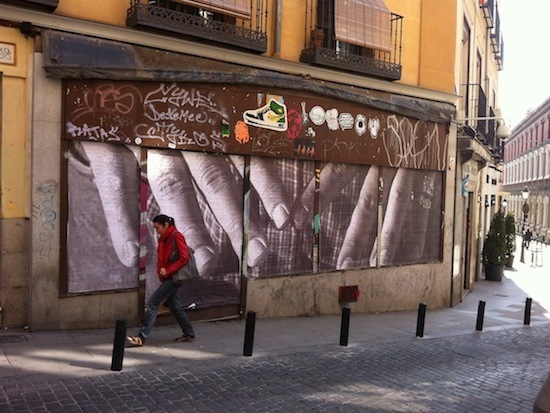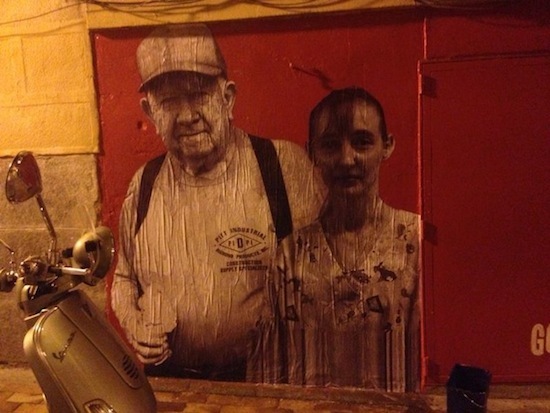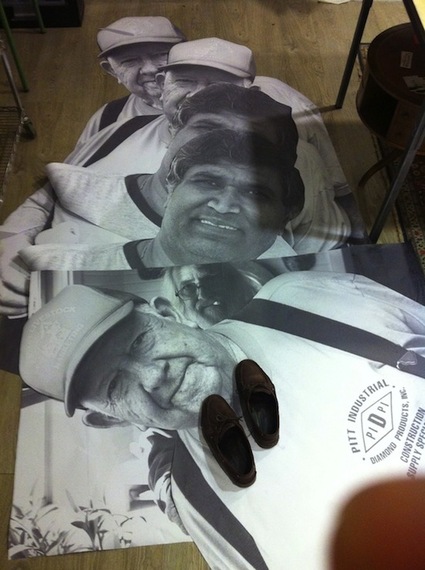 Related
Popular in the Community