Spanish authorities are facing heavy criticism after the release of a video that appears to show riot police using excessive force against protesters who rallied against the country's new restrictive abortion bill.
Released by the group Periodismo Humano, or "Human Journalism," the five-minute clip circulating the Internet shows unarmed protesters being thrown to the ground, and in some instances, being struck by police batons.
According to the video's caption, riot police approached protesters who remained in Madrid's Plaza of Jacinto Benavente after the end of demonstrations against Spain's new abortion restrictions on Friday and dispersed them with force.
"Son of a bitch, don't ever touch me in your fucking life," one of the young women screams at a police officer, who immediately pushes her while another hits her with a baton and throws her to the ground.
Police sources told EFE news agency three people were detained in connection with the protests on the grounds of resisting arrest, disobedience and threatening an agent of authority.
"The numerous video recordings and photographs uploaded to social networks by eyewitnesses demonstrate some excessive actions, with blows to unarmed youth, without provocation, and detentions that are difficult to justify," said Rafael Simancas, PSOE's deputy for Madrid.
Spain's government approved a new bill on Friday that will set tight restrictions on abortion. The new bill only allows for the practice in the case of rape or when there is a serious health risk to the mother or fetus. The legislation also stipulates that women will need approval from two doctors who are not part of the procedure, that doctors will be able to decline to perform the procedure for reasons of conscience and that minors will need to obtain permission from their parents.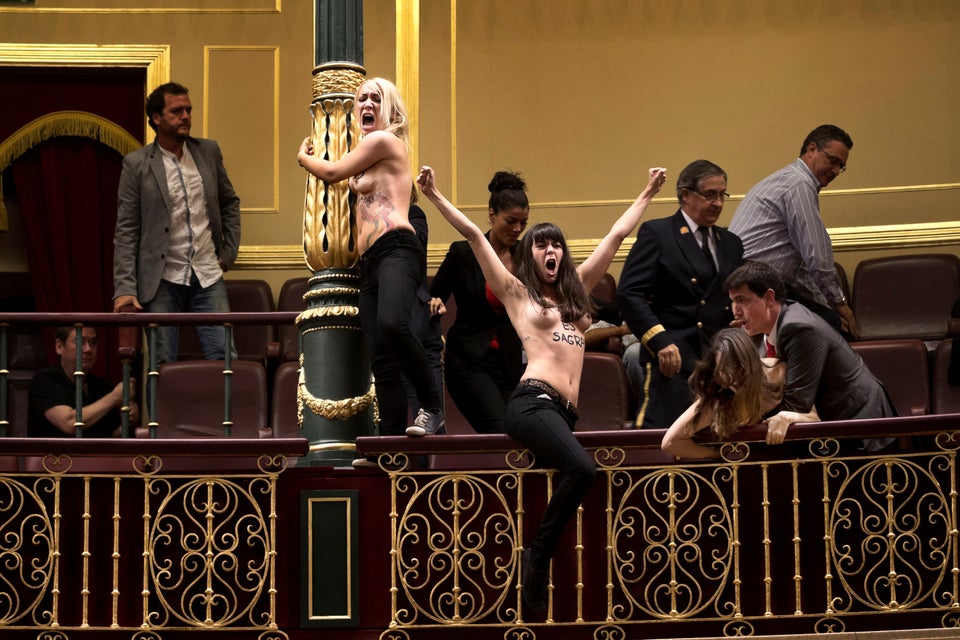 FEMEN Protest In Spain (WARNING: NSFW)