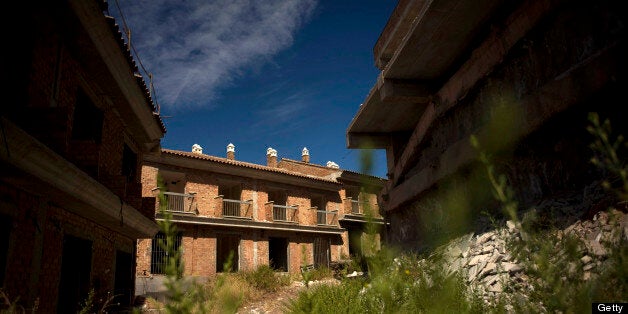 The washbasin in Juana Alonso's bathroom is brand new, but no water comes out of the tap. No bulbs hang from the light fittings.
The house is unfinished; no one was meant to be moving in -- but Juana couldn't wait.
Along with dozens of neighbours, desperate victims of Spain's recession brought on by the collapse of the housing boom, she has moved into an abandoned building project on the outskirts of her town, Bollullos Par Del Condado, in sweltering southern Andalucia.
"I got to the point where I couldn't pay the rent. It was impossible. This place was open, so we came in and here we are," says Juana, 53, an unemployed care assistant, smoking wearily on her doorstep.
On the edge of a green field where horses graze, Juana and her neighbours found this mini estate of more than 70 elegantly painted three-bedroom houses, empty and partly plundered.
She says about 70 families have moved into the estate in the past three weeks, into houses that are all but finished but lack water and electricity.
"I'm hoping something will budge and they'll give us light and water and an affordable rent," she said, red-faced and sweating in the 40-degree heat. "That's all we're asking for. We're humans, not dogs."
Some of the houses have missing doors and toilets, but all at least have a roof to shield their occupants from the beating sun of early summer.
Like countless projects across Spain, the site was abandoned by property developers when the bank loans dried up in the 2008 financial crisis. Local authorities have remained silent on the status of the site.
Unlike many of Spain's so-called "ghost towns", life has returned to this one, in the form of local families ruined by the crisis.
In a farming region where unemployment is nearly 37 percent -- high above Spain's huge overall rate of 27 percent -- these empty lodgings have drawn the poorest of Spain's poor.
Andalucia's left-wing regional government in April passed a measure to temporarily block evictions from homes belonging to banks or real estate firms and allow poor families to stay in them for a modest rent.
The measure also imposes fines between 1,000 and 9,000 euros ($1,300 and $12,000) on banks and real estate firms that hold on to empty homes which are fit to live, in a bid to increase the pool of affordable housing.
It came too late for Juana and her neighbours, who say they are now waiting for the authorities to tell them whether they can stay in the unfinished houses.
A few doors down from Juana, Toni Garcia, 23, sits on a chair outside the house she has occupied. Her three-month baby lies in her lap, dressed only in a nappy in the choking heat, sucking milk from a bottle.
Nearby, neighbours fill buckets from a great plastic barrel -- water with which to wash or make coffee, using food and kitchen supplies donated by charities.
"We had to come here because we had no other choice," says Toni, who used to work as a farm labourer in the region's rich olive groves. "I don't mind sleeping on a park bench, but I don't want that for my children. I at least want them to have a roof over them."
Brought on by a building boom going bust, the crisis has made many homeless while also, ironically, leaving countless near-finished properties ripe for squatting.
There are at least 700,000 empty homes in Andalucia, according to the regional government.
"We were paying 225 euros a month, which is the cheapest rent you can find. But since I'm not earning and neither is my partner, they were going to throw us out" of our previous home, says Toni.
"We saw all the doors open here and realised there was no one in the houses. These houses were just going to fall to pieces," she says. "So we moved in."
Her neighbour Jose Manuel Rodriguez, 34, stands frowning in the bare hallway of the house he has occupied with his partner and his 11-year-old daughter.
He used to work in the strawberry fields that cover much of the surrounding Huelva area, but work has dried up.
"We entered here without causing any damage, quite the opposite," he says.
"We called the police and the town hall, telling them that we are here. We said all we want is to negotiate a dignified solution, a home -- either in this house or another," he adds.
"Let the town hall or the regional government, or whoever this place belongs to, get a move on and find a solution to this social problem."
Copyright (2013) AFP. All rights reserved.
Support HuffPost
The Stakes Have Never Been Higher
Related
Before You Go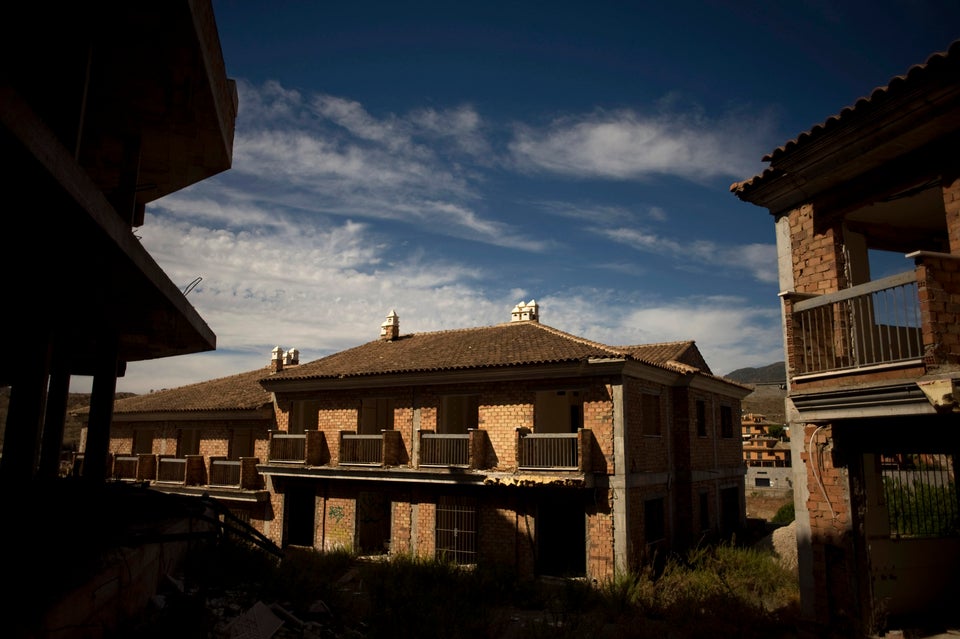 Spain's Housing Bust: Deferred, Empty, Unfinished
Popular in the Community