Galleons loaded with silver, gold, cacao (chocolate) beans, chile peppers, tobacco and other bounties of the New World sailed for Spain from the Caribbean seaport of Cartagena for over two centuries starting in the 1560s. The goods came from mines and plantations across Central and South America, including the huge wealth of Potosi (Peru's "silver mountain").
Sailing in the safety of convoys, sometimes with as many as 40 ships, the treasure fleets usually made it to Spain in five or so weeks depending on the weather.
Brimming over with profits from the shipping business -- and from a marketplace for incoming loads of slaves from Africa -- early Cartagena was an attractive target for pirates roaming the Caribbean. It was likely the most looted port in the New World until Spain got its act together to defend the city, circling it with a seven-mile-long wall studded with gun turrets backed up by forts in key locations.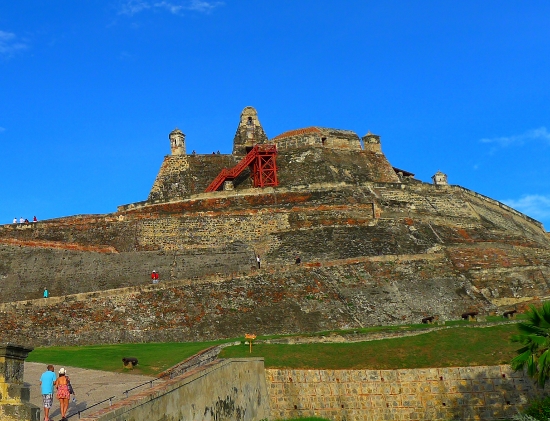 Super-fort of Castillo San Felipe towers over the city. Photo by Bob Schulman.
You can't miss the crown jewel of the defense network. It's the monster fortress of Castillo San Felipe de Barajas (named after Spain's King Philip IV), and it covers a 130-foot-high hill towering over the city. Originally built in the mid-1600s, it was rebuilt and enlarged several times over the years to become the greatest fortress Spain ever built in the Americas.
English Admiral Edward "Old Grog" Vernon, fresh from a victory at another Spanish port at Portobelo, Panama, literally ran into a stone wall at Cartagena in 1741 when he tried to invade the city. He showed up with a force of 23,000 men and 186 ships bristling with 2,000 cannons, but Castillo San Felipe -- defended by just 3,000 Spanish troops and six ships -- stood off a month-long siege of the city.
The Spanish victory at Cartagena was one of the greatest defeats of the Royal Navy. Also red-faced after the battle were 4,000 American colonists from Virginia who fought for Admiral Vernon under the command of Lawrence Washington, half-brother of George Washington.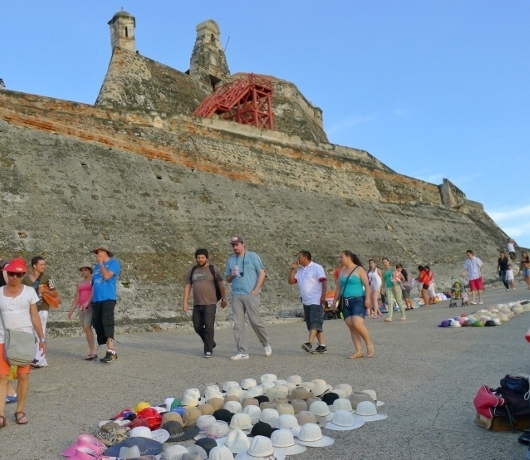 Tourists climb the fort's walkways. Photo by Bob Schulman.
Looking much like a mountain of concrete, the fortress is in remarkably good shape. Visitors will rub elbows with thousands of other tourists climbing its walkways (it takes about 15 minutes to get to the top), scampering around its bunkers and batteries and posing for pictures on its cannons. From the highest level it's easy to see how sharp-eyed Spanish gunners could blast enemy ships down in the bay, and in another direction pick off soldiers trying to attack the fortress on foot.
Another eye-popping view from the top of the fortress is a panorama of this city of a million or so people. In one section you'll spot modern high-rise condos, in another the domes and soaring crosses of historic churches, and in another rows of glassy office buildings.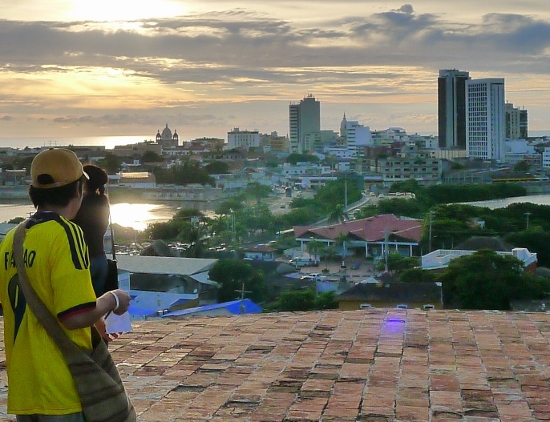 Panoramic view of Cartagena from a high level of the fort. Photo by Bob Schulman.
Down on the ground, visitors to Cartagena are invited to take a trip back to its colonial days by wandering around "old town" behind the city walls. You'll stroll through cobbled lanes lined with buildings painted in pastel blues, greens, yellows, reds, pinks and browns, many of them the mansions of shipping barons and bankers in the years of the treasure fleets.
Adding to the Andalusian fantasy of old town's seemingly endless blocks are elaborately decorated arched doorways and balconies with flowers poking through iron railings and lattices. You'll saunter by charming al fresco restaurants, all kinds of bars, museums, churches, convents and statues of Colombian heroes. A tip: Don't miss a look at the dark side of old world Spain in the Palace of the Inquisition.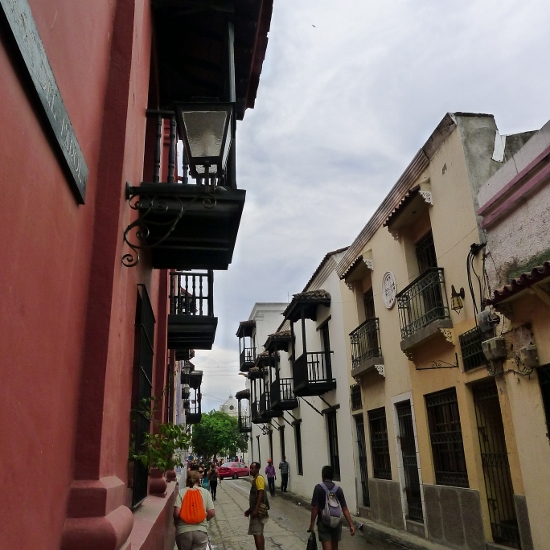 Colonial buildings line the lanes of 'old town.' Photo by Bob Schulman.
Need a rest? You're welcome to join the local folks snoozing or chatting on benches around the area's magnificent squares and parks while musicians, jugglers, clowns, mimes and the like pass by, hoping to earn tips of a few pesos.

Staying there: Cartagena offers better than 90 tourist-class hotels in and around the city.
Getting there: Nonstop flights to Cartagena are scheduled from a few U.S. airports such as New York-JFK, Miami and Fort Lauderdale. Flights from other U.S. gateways often involve one or more stops along the way as well as connections at points such as Bogata, Colombia, or Panama City, Panama.

Historical notes: After leaving Cartagena -- often having to fight off pirates lurking outside the bay -- the treasure fleets headed for Havana, where they met up with other fleets sailing to Spain from the eastern Mexican port of Veracruz. The latter ships carried a combination of Mexican riches and goods from Asia such as silks and porcelain shipped from Spain's trading post in Manila to the western Mexican port of Acapulco, then hauled on mule trains across the country to Veracruz.
The combined fleets ended their journeys on the docks of Seville, Spain, where a government office controlled all ventures into the New World and collected taxes on booty from the colonies.
Popular in the Community