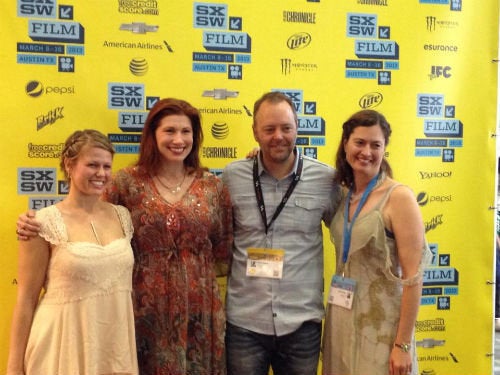 I was thrilled to attend SXSW this year with Rally.org. As a veteran of film festivals like Sundance, I was eager to see a film at the famed Austin festival. There was one film in particular that I wanted to view: SPARK - A Burning Man Story.
I first heard about Burning Man a decade ago from a younger, hipper, cousin; it sounded like a ridiculously wild and hedonistic place. Over the years, more and more friends of mine started to go to Burning Man and they all came back telling me that I had to go experience it for myself -- period, not negotiable. I was mystified as to why on earth people would spend that much time and money lugging everything you need all the way to the Black Rock Dessert in Nevada, when you could stay at a perfectly comfortable hotel for a lot less money and enjoy a great bed, a real bathroom and maybe even a swimming pool or beach. Compounded by the fact that I hate crowds (I'm a bit claustrophobic), I really do not enjoy camping (I had a crazy person camping near me once who walked around all day with a knife and a bottle of vodka and after that I vowed to never camp again) and I'm guessing that I probably wouldn't enjoy massive dust storms. Alas, I thought I would never be the right type of person to venture off to the mythical place that I had heard so much about.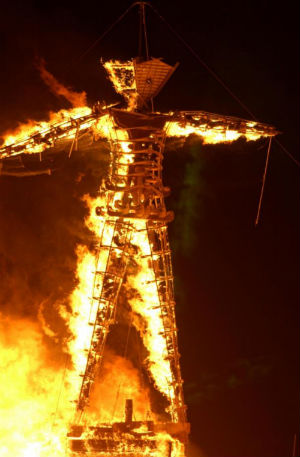 However, I really do love adventures, and I can't resist the temptation to explore new places and see new things. I have felt conflicted by these two opposing desires for the last decade. It occurred to me that the only logical solution would be to simply watch a movie about Burning Man from the comfort of a theater or my own home. That way I could vicariously enjoy the spectacular art, experience the "Burners" alternative universe and feel a part of this elusive 'club' without the schlepping, planning, logistics... and dust storms.
Well, my wish finally came true. Director & Producer Steve Brown, a tech entrepreneur and first time filmmaker and Jessie Deeter, Producer of Who Killed the Electric Car?, did a superb job making SPARK - A Burning Man Story. The cinematography was sublime, the artist's stories were compelling, the art and the entire event is not to be believed -- unless of course, you see it for yourself. The documentary allowed me to at long last be a voyeur to this notorious gathering. I didn't have to deal with any of the harsh desert elements, didn't have to spend hours cleaning alkaline dust off of every pore of my body and belongings, didn't have to fight to get some sleep while others partied on until dawn.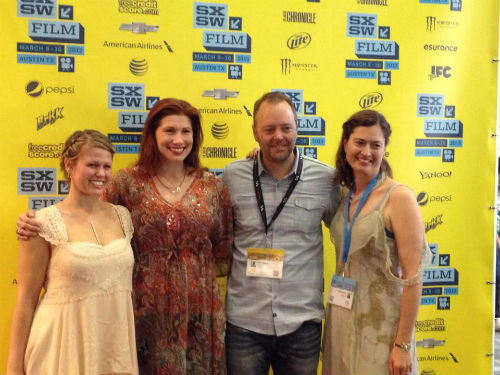 Associate Producer Theresa Desautels, Artist Katy Boyton, with Director & Producers Steve Brown and Jessie Deeter at the premiere of SPARK: A Burning Man Story at SXSW (photographed by Hilary Armstrong)
Burning man founder, Larry Harvey, described his mission in leading Burning Man as "creating a place that would give people permission to act on their dreams." Burning man is a place for radical self-expression, it is more than the sum of all the art created, it is a utopian way of life that is a far cry from our capitalistic society. Director & Producer, Steve Brown said, "Larry's advice and Burning Man itself inspired me to take a chance and make this film." Everyone at Burning Man completely goes for it. They rally in one way or another to get to Burning Man or to create a masterpiece to share it with others. As a viewer, you are passive. Seeing the film made me realize that I need to actually go to Burning Man to fully experience it.
Three hardworking, uber-talented and very unique artists are featured in the film. The filmmakers help you see and understand all the effort that goes into the art installations and art experiences. The film also explains the history of how Burning Man came to be and shines a spotlight on the devoted founders and workers who make it all a reality each year. I was completely inspired by the movie, with a deep longing to be as creative as the people who create art for Burning Man.
Watching SPARK - A Burning Man Story is like watching Willy Wonka's Chocolate Factory as a kid; you want to walk through the screen and dive into the chocolate pond. The difference of course, is that Burning Man isn't an imaginary land -- it is real and it is within reach, so why on earth would I keep postponing the trip of a lifetime! We all remember Veruca Salt and the poignant Willy Wonka life lessons about being greedy, demanding and selfish. Burning Man leaves a permanent imprint on everybody who goes about a way of life that is based on a giving society. The movie was the proverbial golden ticket of temptation to see and experience something that most people can only imagine.
Of course the big question will always be: Are there enough golden tickets for everyone who wants to go? But I have no doubt that between the devoted organizers of Burning Man, and through this glorious film, those that want to someday experience Burning Man in person or on the big screen, will have their dreams come true.
If you want to hear more about SXSW go to Hilary's blog post, "Surviving SXSW."
Calling all HuffPost superfans!
Sign up for membership to become a founding member and help shape HuffPost's next chapter