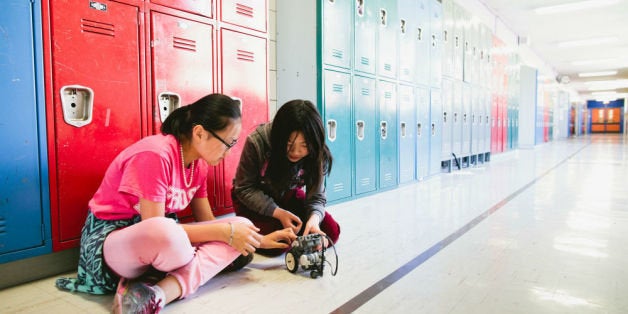 When I was in 11th grade, my physics teacher, Dr. Stoneback, shocked the entire class -- literally -- while demonstrating a Van de Graaff sphere. With one student touching the odd-looking silver machine, the rest of us linked hands in a circle, expecting our hair to stand up on end. But the instant the last person in the chain touched the sphere, our "circuit" closed, and the charge it released made everyone practically jump out of their skins.
Looking back, the voltage may have been a bit too high, but the experience got the whole class -- indeed, the whole school -- talking. It also (pardon the pun) supercharged my interest in math and science, ultimately propelling me toward a degree in astrophysics.
Aside from teaching me about electromagnetism, that day taught me another important lesson: Inspirational moments in school, the kind that transform students from passive attendees into active participants in their own learning, often come not from a textbook or a worksheet, but from fun, hands-on experiences. Ms. Napolitano, my daughter's fourth-grade science teacher, could have simply explained "force equals mass times acceleration" on a whiteboard, for example. Instead, she had her students make marshmallow catapults and discover Newton's first law for themselves -- to the profound chagrin of the kids who missed that particular class.
This is exactly the kind of learning we support at the Overdeck Family Foundation and Bedtime Math. We believe that a solid, healthy, early start sets children up for success at home, in school, and in life. As kids get older, great teachers, stimulating content, and mind-expanding challenges inspire their love of learning. That's why Bedtime Math has launched thousands of free after-school math clubs: so kids can dive into hands-on, playful activities, turning an often abstract subject into "the cool thing to do." And in our rapidly changing world, it is our responsibility to reimagine schools in ways that do better for our kids.
My husband, John, and I love DonorsChoose.org because it directly enables teachers to get the materials they need to create those inspirational moments of learning. Stuff -- be it a Van de Graaff sphere or a few bags of marshmallows -- costs money, but it's a big part of what makes classrooms tick. Those materials and supplies help students go on to become the scientists, engineers, doctors, and creative problem solvers we will need to tackle the world's challenges, including the need for sustainable-energy sources, improved access to clean water, and cures for endemic diseases.
For #BestSchoolDay, we chose to focus on the Washington, D.C., area because we work closely with the CityBridge Foundation there to help transform education in the nation's capital. Additionally, John grew up in the area and has many fond memories of school trips to places like the National Air & Space Museum. Most of all, however, we're participating in #BestSchoolDay because it's going to help create thousands of unforgettable learning experiences in classrooms across the nation and send the message that students in every community deserve the opportunity to be inspired.
#BestSchoolDay is also a powerful reminder to us all that, while helping teachers create special moments is crucial, it doesn't have to be wildly expensive. In the classrooms we're sponsoring, and in many others across the country, the items teachers need to create really cool beginner's physics experiments or to introduce kids to engineering-design principles tend to be relatively modestly priced. In some cases, all these teachers are asking for is help buying paper and markers. In other words, with just a little help, these classrooms' goals are within reach.
We hope that #BestSchoolDay will encourage people all over the country to do what they can to help a teacher make a difference in the lives of his or her students. Even a small donation can have a major impact on a classroom -- and on the trajectory of a student's life. Join us by visiting DonorsChoose.org, and see how even one small act of kindness can help create a school day kids will never forget.
Laura Overdeck is the founder of Bedtime Math, a nonprofit that offers kids playful recreational math to help them love it and excel at it, and together with her husband John, founded the Overdeck Family Foundation, whose mission is helping all kids achieve their greatest academic potential.
This post is part of #BestSchoolDay, a national fundraising movement to ensure students have the supplies and opportunities they need to succeed. Visit here to see a map of all the classroom projects being funded and join more than 50 actors, athletes, entrepreneurs and philanthropists in supporting classrooms across America. To join the conversation on Twitter, use the hashtag #BestSchoolDay.
Calling all HuffPost superfans!
Sign up for membership to become a founding member and help shape HuffPost's next chapter