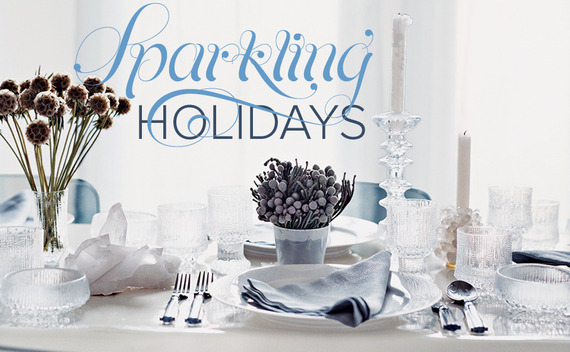 photography by MIKKEL VANG directed by DARA CAPONIGRO produced and written by STEPHEN ORR market editor EUGENIA SANTIESTEBAN
For centuries, traditions have kept our spirits buoyed through the shortest, darkest days of the year with candles and strings of lights. Continue the custom with gleaming decorations that cast a serene glow on the season (and require far less effort than trimming a tree).
CRYSTAL CLEAR
Transparent pieces of quartz, frosty glassware and chunky candlesticks that resemble icicles refract the last afternoon rays at a midwinter feast. A white patent tablecloth--you can simply cut it to the desired dimensions and wipe it clean with a sponge for repeated use--enhances the reflection.
QUICK SILVER
Shiny branches of fruit and leaves create old-fashioned glamour in a vase that echoes their topography and glint.
GARLAND, DECONSTRUCTED
No need for a fussy composition of wire and heavy evergreens-- just lay loose stems (here, eucalyptus) on the mantel with a 6' strand of metal beads and a silvered pinecone or two. White peacock feathers make a light-catching tracery against the dark background.
NORDIC LEGACY
A birch-bark tree strung with a tinsel-and-glass-bead garland is reminiscent of a Scandinavian Yule log. A resin candlestick and a mirrored cup filled with snowberries complete the spartan yet folksy trinity.
INDOOR WOODLAND
Tall shoots of yellow crab apples act as an alternative tree when hung with homemade-looking stars, leaves and snowballs. The decoration subtly spills over onto the entryway table, while a pair of carved-basswood deer animate the fairy tale.