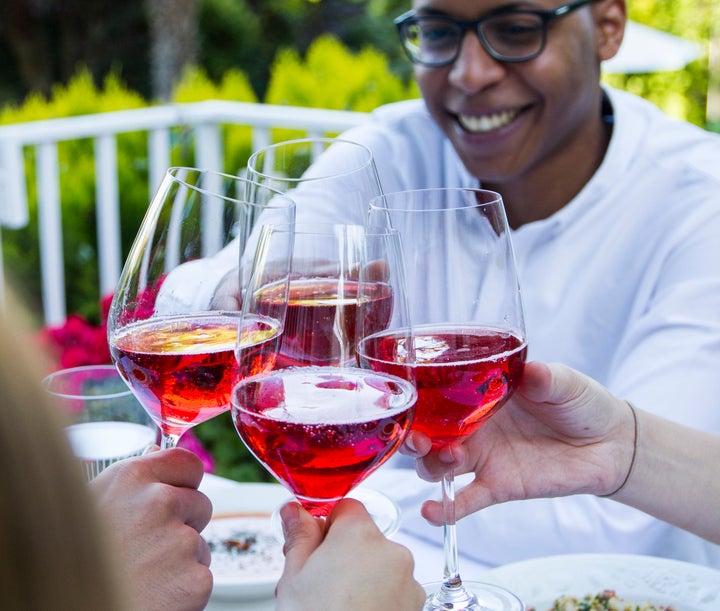 That means people have forgotten about their favorite bottles of red and are delving into the best pink wines the market has to offer (and that means both bottles and cans). This is great news for all the rosé enthusiasts, but not so exciting for those who don't really dig the pink stuff. (We know you're out there.)
For you, we have a suggestion: sparkling red wine.
You might already know about Lambrusco, the most popular variety, but there are so many more out there that you should try.
The best types of sparkling reds.
Italian Lambrusco is the most popular sparkling red, but it hasn't always had the best reputation. Lambruscos available in the U.S. some years back lacked complexity, but the options these days have vastly improved.
There are many options within Lambruscos, so it's just a matter of finding the right one. Some are very sweet and light (they'll be labeled dolce) and others are on the drier side, labeled secco. While that might seem confusing, it just means that no matter which type of wine you like, there's a Lambrusco for you.
But Lambrusco isn't the only Italian option out there. Another popular one is Brachetto. Brachettos are made in the Piedmont region of Italy ― and they are gently red, lightly sweet wines with low alcohol ranging around six percent. Brachetto, which has been made locally since Roman times, can be sweeter than some of the other options. But that doesn't mean that it isn't worth trying ― consider drinking it with dessert, or as dessert.
Before you embark on your sparkling red journey, there's one tip you should keep in mind: look at the alcohol percentage. To make sure you don't end up with a cloyingly sweet bottle, look for an alcohol percentage around 11 to 13 ― and be wary of anything under 8 percent (unless its a Brachetto). Cheers!