Whether you are cooking your turkey indoors or outdoors, butterflying the bird (spatchcocking) has numerous advantages.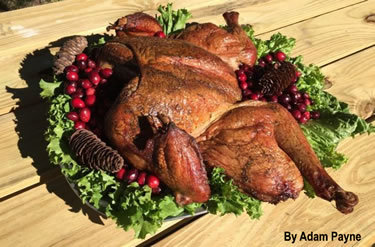 2) It allows you to season both sides evenly.
3) It cooks faster at the same temperature. Faster cooking means less moisture loss and when it comes to turkey breasts, moisture is critical. On a day when the air temp was 65°F I have cooked a spatchcocked 18 pounder in less than 90 minutes on a Weber Kettle at about 325°F. Your cooking time will depend a lot on the outdoor air temp, the thickness of the breasts, and the unique characteristics of your grill or smoker. I would guestimate 60 minutes or so for small birds about 14 pounds, and 2 hours for a 20 pounder. But air temp plays a major role, so give yourself a cushion.
4) Because heat enters the meat from two sides the top side doesn't dry out as much.
5) When breasts are done, thighs are too. This can be tricky on Norman Rockwell birds because you usually want the breasts about 10°F lower temp than the thighs, and since the thighs are thinner, this happens naturally when the bird is butterflied.
6) The meat is not tall and it fits better on a grill with a low lid. It is perfect for Weber Kettles.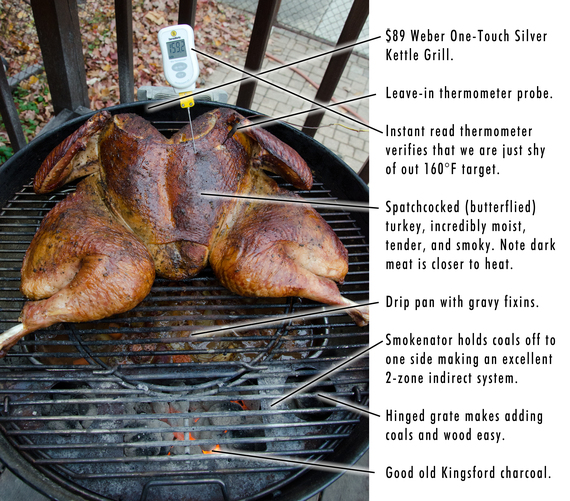 7) Carving is a lot easier. The thighs come off with one easy cut. No fumbling around looking for the joint. The breasts are easier to remove too.
8) The back can go in the gravy making it tastier.
For more of my tips on turkey, including how to shop for turkeys, when to start defrosting, why you should dry brine not wet brine, how to butterball your bird, why you shouldn't stuff the bird and how to make stuffing muffins, why two smaller birds are better than one big one, why 325F is the best roasting temp, how to carve, what to do with leftovers, what wine to serve, and recipes for side dishes including drunken cranberries, click here.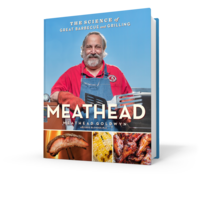 All text and photos are Copyright (c) 2015 By Meathead, and all rights are reserved. For more of Meathead's writing, photos, recipes, and barbecue tips & technique, please visit his website AmazingRibs.com and subscribe to his email newsletter, Smoke Signals. You can order his book "Meathead, The Science Of BBQ & Grilling" on Amazon. Follow Meathead on Facebook, or Twitter.