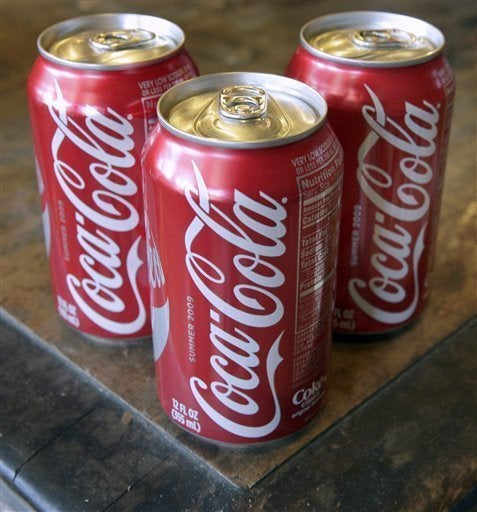 For a doctors' group to take a high six-figure sum from Coke is like accepting hundreds of thousands of dollars from Big Tobacco to create physician-approved website content that claims smoking cigarettes can be part of a healthy lifestyle.
The AAFP website will likely push Coke's agenda to encourage consumption of sugar-filled beverages, as well as low-calorie or sugar-free drinks containing aspartame, saccharin, sucralose and acesulfame potassium. Research also raises questions about the safety of beverages with artificial sweeteners, with some studies even link to weight gain.
Dr. Henley insisted that Coke's high six-figure grant will "enhance the content," that "Coke has nothing to do with writing the material" and that the AAFP has set up a "firewall" to prevent any conflict of interest. "...The development of content is evidence-based and not influenced by the funder [Coke]," he insisted.
What's more, Dr. Henley said that when the revamped, more "robust" website is unveiled in January, you'll even see peer-reviewed literature that links sweetened soda to obesity.
"It's a credit to Coca-Cola" that they were still willing to provide funds knowing that the website may contain "content that's not good for some of their products." Suffice it to say that I was stunned by these naive remarks, because how can you bite the hand that feeds you?
"We have standards," she claimed, noting that companies must demonstrate "a proven record of responsibility." Implying that Coke fit the bill, Dr. Heim contended that www.familydoctor.org would continue to be a "respected site," with "credible scientific material."
Essentially, the doctors' organization is jumping out of bed with Big Pharma to get intimate with Big Soda. It's like swapping one toxic relationship for another and getting cozy with a selfish partner, who's more concerned about the bottom line than Americans' waistlines.
Meanwhile, in mid-October, a group of 22 "distressed and disappointed" physicians, nutritionists and researchers, headed up by the Center for the Science in Public Interest's Michael F. Jacobson, Ph.D., condemned the Coke-AAFP partnership and urged the medical society "to regain its credibility by rejecting the deal with Coca-Cola." If it declines to do that, the health experts called on the AAFP to support a warning label on caloric sweetened beverages and a federal tax on soft drinks to fund health promotion or health insurance programs.
The open letter of opposition was signed by such esteemed scientists and physicians as Henry Blackburn of the University of Minnesota, George A. Bray of the Louisiana State University, Caldwell B. Esselstyn, Jr., of the Cleveland Clinic Wellness Institute, Joan Gussow of Columbia University, Lisa R. Young of New York University, and Carlos A. Camargo, Jr., Meir Stampfer, Walter Willett, and Grace Wyshak of the Harvard School of Public Health.
"It's a disturbing trend throughout medicine... when medical organizations and researchers accept support from a [company] with a vested financial interest... in a product [such as Coke], drug or device," Dr. Blackburn, a University of Minnesota public health specialist and epidemiology professor, said in a phone interview. This means, he added, that "it's unlikely" that the academy will speak out against soda."

In his statement, Dr. Walker cited a study by the UCLA Center for Health Policy Research, which found that 41% of children aged 2 to 11 and 62% of youths aged 12 to 17 drink one or more sugar-sweetened beverages per day," which is the same as "consuming an amazing 39 pounds of sugar each year in sugar-sweetened beverages alone."
To be sure, Coke officials and other opponents may argue that soft drinks aren't solely responsible for our obesity epidemic. They'll also insist that people don't exercise enough and they overeat other unhealthy foods. While that may be true, medical professionals and health experts tell patients and clients that eliminating empty-calorie, sugary drinks (or "liquid sugar," as the CSPI's Dr. Jacobson puts it) is the single fastest, easiest way to lose weight. In addition, research reveals that cutting out or curtailing soda consumption can reduce the risk of type 2 diabetes and heart disease.
Since, to date, the American Academy of Family Physicians hasn't reneged on its Coke partnership, we urge:
(1) that health advocates, scientists and nutritionists, as well as AAFP members, call on the medical group to return the Coke money and dissolve its relationship with the soda giant;
(2) that AAFP members immediately resign and stay at arm's length until the organization isn't intimate with Coke anymore;
(3) that the AAFP leadership apologize to its members and all Americans for this misguided move to partner with Coke;
(4) that consumers boycott the AAFP www.FamilyDoctor.org website and search elsewhere for credible information; and
(5) that the AAFP urge visitors to its website to limit or eliminate consumption of soft drinks--both sugar-sweetened and sugar-free--to prevent obesity and maintain good health.
And, of course, please share your comments here on the Huffington Post, too.